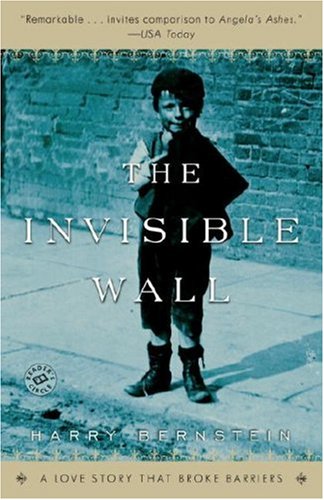 THE INVISIBLE WALL
A Love Story that Broke Barriers
---
"There are places that I have never forgotten. A little cobbled street in a smoky mill town in the North of England has haunted me for the greater part of my life. It was inevitable that I should write about it and the people who lived on both sides of its 'Invisible Wall.' "
The narrow street where Harry Bernstein grew up, in a small English mill town, was seemingly unremarkable. It was identical to countless other streets in countless other working-class neighborhoods of the early 1900s, except for the "invisible wall" that ran down its center,
"There are places that I have never forgotten. A little cobbled street in a smoky mill town in the North of England has haunted me for the greater part of my life. It was inevitable that I should write about it and the people who lived on both sides of its 'Invisible Wall.' "
The narrow street where Harry Bernstein grew up, in a small English mill town, was seemingly unremarkable. It was identical to countless other streets in countless other working-class neighborhoods of the early 1900s, except for the "invisible wall" that ran down its center, dividing Jewish families on one side from Christian families on the other. Only a few feet of cobblestones separated Jews from Gentiles, but socially, it they were miles apart.
On the eve of World War I, Harry's family struggles to make ends meet. His father earns little money at the Jewish tailoring shop and brings home even less, preferring to spend his wages drinking and gambling. Harry's mother, devoted to her children and fiercely resilient, survives on her dreams: new shoes that might secure Harry's admission to a fancy school; that her daughter might marry the local rabbi; that the entire family might one day be whisked off to the paradise of America.
Then Harry's older sister, Lily, does the unthinkable: She falls in love with Arthur, a Christian boy from across the street.
When Harry unwittingly discovers their secret affair, he must choose between the morals he's been taught all his life, his loyalty to his selfless mother, and what he knows to be true in his own heart.
A wonderfully charming memoir written when the author was ninety-three, The Invisible Wall vibrantly brings to life an all-but-forgotten time and place. It is a moving tale of working-class life, and of the boundaries that can be overcome by love.
Ballantine Books
Paperback
February 2008
336 Pages
9780345496102
Praise
"[An] affecting debut memoir . . . When major world events touch the poverty-stricken block, the individual coming-of-age story is intensified without being trivialized, and the conversational account takes on the heft of a historical novel with stirring success." —Publisher's Weekly (starred review)
Harry Bernstein returns home and, magically, takes us with him. With its dancing prose and captivating descriptions of neighborhood life, we experience with the child Harry all the wonder, thrill, and heartbreak of being a working-class kid learning to navigate the balkanized world of Christians and Jews within a single English mill town. Bernstein gives us a people's history, a street-level perspective on a world that might otherwise have been lost, with crucial lessons that will endure throughout time."—Michael Patrick MacDonald, author of All Souls
Discussion Questions
How would you classify The Invisible Wall? A social history exposing the evils of religious prejudice and bigotry in a certain time and place? A story of star-crossed lovers? A young boy's coming of age?
Are the Jews in The Invisible Wall guilty of prejudice against the anti-Semites surrounding them? Can an oppressed group be held to a similar standard of moral or ethical behavior as its oppressors?
What lessons does The Invisible Wall have to teach about religious co-existence post-9/11, both here in America and in the world at large?
How might The Invisible Wall be different if it were taking place today and, instead of Jews and Christians, the street was divided between Jews and Muslims? Sunnis and Shiites? Blacks and whites? Republicans and Democrats?
In the accompanying interview, Harry Bernstein states that "wars always bring people face-to-face with reality, causing all the false barriers to disappear." Do you agree or disagree?
Despite all that divides them, there is a level of everyday mutual dependence linking the Jews and Christians of Bernstein's street–gaps in the invisible wall, so to speak. What examples of this mutual dependence can you think of, and do they work to dismantle the wall or to reinforce it?
Do you think that the source of the antagonism and distrust between Jews and Christians in The Invisible Wall is really religious, or are there other, less visible but perhaps more important factors at work? What might they be?
By encouraging Lily to improve herself through education, is her mother sowing the seeds that ultimately lead to Lily's dissatisfaction with the boundaries of Judaism and her involvement with her Christian neighbor, Arthur?
Religious prejudice is just one of the invisible walls dividing the street and society described by Bernstein. What are some of the others, and how do these various divisions affect people on both sides of the street?
Why do you think Lily's father prevents her from going to the grammar school after she's won the scholarship?
What does America represent to the Bernstein family?
Even though The Invisible Wall is a memoir, it often reads like a fairy tale. Do you think the author has deliberately given his story a fairy-tale shape, and if so, why? What are some of the fairy tale elements in the book, and do they ring true to you?
Do you think Bernstein has forgiven his father? Do you think his father deserves to be forgiven?
Does the rabbi's son, Max, betray his father and his faith by going to Russia to fight in the revolution?
At one point, Rabbi Orlov tells Lily, "You and I don't agree on a great many things, yet we have one thing in common that would eventually have overcome all our differences. We are both Jews." What do you think of this statement? What does Lily believe?
Arthur expresses a very different point of view: "We're not very different from one another, not different at all, in fact. We're all just people with the same needs, the same desires, the same feelings. It's a lie about us being different." Do you agree or disagree, and why?