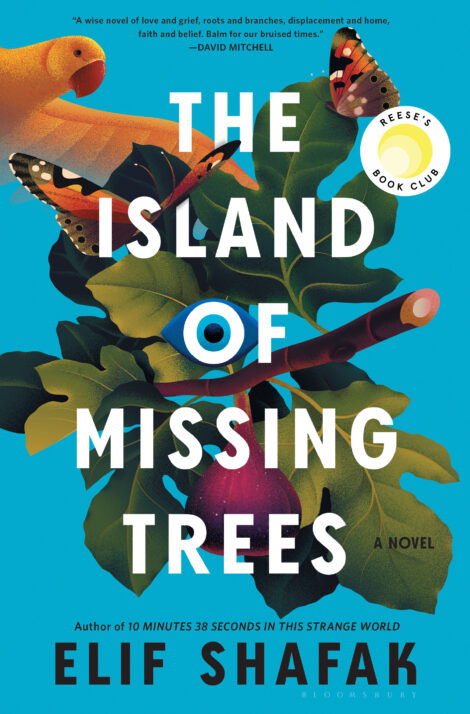 THE ISLAND OF MISSING TREES
---
A rich, magical new novel on belonging and identity, love and trauma, nature and renewal, from the Booker-shortlisted author of 10 Minutes 38 Seconds in This Strange World.
Two teenagers, a Greek Cypriot and a Turkish Cypriot, meet at a taverna on the island they both call home. In the taverna, hidden beneath garlands of garlic, chili peppers and creeping honeysuckle, Kostas and Defne grow in their forbidden love for each other. A fig tree stretches through a cavity in the roof, and this tree bears witness to their hushed, happy meetings and eventually, to their silent,
A rich, magical new novel on belonging and identity, love and trauma, nature and renewal, from the Booker-shortlisted author of 10 Minutes 38 Seconds in This Strange World.
Two teenagers, a Greek Cypriot and a Turkish Cypriot, meet at a taverna on the island they both call home. In the taverna, hidden beneath garlands of garlic, chili peppers and creeping honeysuckle, Kostas and Defne grow in their forbidden love for each other. A fig tree stretches through a cavity in the roof, and this tree bears witness to their hushed, happy meetings and eventually, to their silent, surreptitious departures. The tree is there when war breaks out, when the capital is reduced to ashes and rubble, and when the teenagers vanish. Decades later, Kostas returns. He is a botanist looking for native species, but really, he's searching for lost love.
Years later a Ficus carica grows in the back garden of a house in London where Ada Kazantzakis lives. This tree is her only connection to an island she has never visited—her only connection to her family's troubled history and her complex identity as she seeks to untangle years of secrets to find her place in the world.
A moving, beautifully written, and delicately constructed story of love, division, transcendence, history, and eco-consciousness, The Island of Missing Trees is Elif Shafak's best work yet.
Bloomsbury Publishing
Paperback
February 2023
368 Pages
9781635579796
Praise
A Reese's Book Club Pick
Winner of the 2022 BookTube Silver Medal in Fiction
Shortlisted for the Women's Prize for Fiction
"A beautiful contemplation of some of life's biggest questions about identity, history and meaning." ―Time, "Most Anticipated Books of Fall"
"A brilliant novel—one that rings with her characteristic compassion for the overlooked and the under-loved, for those whom history has exiled, excluded or separated." ―Robert McFarland, author of Underland
"An excruciatingly tender love story that transcends cultures, generations and, most remarkably, species."―Naomi Klein, author of On Fire
"Shafak's novel conveys how our ancestors' stories can reach us obliquely, unconsciously . . . Shafak is cleareyed about how difficult it is to reach across the gulfs within our families."―The New York Times Book Review
"A poignant novel of love, grief, and the generational trauma . . . a worthy read for our times, when so many conflicts have driven people to flee, carrying with them the horrors of war and the grief of leaving their homelands and loved ones behind."―Foreign Policy
"A commentary on the bitter legacy of war . . . [and] also a commentary on the folly of our adversarial relationship with nature and our refusal to learn from the flora and fauna with which we share the planet . . . [Shafak] understands the interconnectedness of all things great and small."―Claire Messud, Harper's
"The Island of Missing Trees isn't just a cleverly constructed novel; it's explicitly about the way stories are constructed, the way meaning is created, and the way devotion persists . . . [Shafak is] that rare alchemist who can mix grains of tragedy and delight without diminishing the savor of either."―Ron Charles, The Washington Post
Discussion Questions
1. When Ada says she felt possessed during her outburst in school, Meryem jumps at the chance to dispel whatever djinn could have invaded Ada's spirit. But Ada, like her mother, is unconvinced by traditional methods. Meryem, defeated, suggests, "Maybe we give other names to grief because we are too scared to call it by its name" (page 247). Explore how grief appears throughout the book. What or who does each character grieve? How is grief expressed in nontraditional ways? Do you agree with Meryem? And if so, what is so frightening about admitting that we are grieving?
2. Throughout the novel, butterflies appear as a recurring symbol. Butterflies are engraved on the box that Kostas gives to Defne as a token of his love, Ada doodles them absentmindedly before her screaming spell, and it is a butterfly who discovers the grave of Defne and Kostas's baby during a mass migration to Cyprus. What is the significance of the butterfly's appearance in these moments? What does this insect symbolize to you and why? Do you see other natural symbols throughout the book? If so, what do they signify?
3. The fig tree often critiques the customs and habits of human being many take for granted. She notices that though the islanders were rarely united in politics, they share common attitudes of the human experience, including superstitions. She says, "We are scared of happiness, you see" (page 129). She theorizes that especially in cultures that have gone through drastic times of turbulence and trauma people expect every happy moment will be followed by an equal allotment of suffering. Discuss this statement. In your opinion, are humans afraid of happiness? Where does this fear or existential angst originate? How do the characters in this book, human or nature, sabotage or embrace their joy? Do you see this pattern in your own life?
4. In her years, the fig tree meets many animals and insects. A mouse once tells her of the books he munched on in the legendary Ledra Palace, now dilapidated from neglect. A line from Ovid caught his eye: "Some day this pain will be useful to you" (page 307). Examine this quote. Every character in this novel experiences a kind of suffering, sorrow, or melancholy. Explore the ways in which each person uses these negative experiences to better understand themselves and contribute to the world. How does our pain transform us in the long run? Can it ever be more than destructive and can it ever be turned into something more constructive both for us and others? Is there any way pain can be both useful and destructive?
5. Throughout the novel, Shafak reinterprets the concepts of borders and sovereignty, and focuses on those things that do manage to travel beyond borders—such as migrating birds, the Etesian wind, food and its rituals, superstitions or unexpected bonds of love. Reflecting about the border between Turkish and Greek Cyprus, the Green Line, she draws attention to the color which evokes natural beauty rather than competition or bloodshed. In Kostas's love letter to Defne, he writes, "I've been thinking that you are my country" (page 183). And both Defne and Ada share a commitment to being islanders, rather than Turkish or Greek, Muslim or Christian. What statement is Shafak making about the nature of belonging, humanity, and ownership? Are ethnic/national/religious borders necessary or perhaps inevitable, or are they arbitrary? What compels humans to delineate what is ours from what belongs to others? How do Defne and Kostas grapple with these questions?
6. Consider Ada's scream in the novel's opening scene. She says, "It felt like I was screaming at everyone—everything" (page 175). Although she is humiliated by the viral video taken of her, she is equally confused when strangers start taping themselves screaming too and posting #canyouhearmenow in solidarity. Unknowingly, Ada reflected a societal desire shared by both women and youth across the world to be heard. What statements does the novel as a whole make about gender inequality and discrimination? In what ways are women both oppressed by their partners or governments and also triumphant and defiant? Explore the moments in the book where the strength or struggle of women was highlighted.
7. Interconnectedness and symbiosis are important themes for the characters of The Island of Missing Trees. Shafak illustrates the ways in which disparate natural elements intertwine to mutually thrive, how humanity and nature are connected through their reliance on the earth, and how humans are dependent on their histories even as they embark into the future. Discuss moments in the book where these themes are particularly apparent. What can we learn from our human attachment to the natural world? Why are the details of our pasts so important to us? Explore the symbiotic relationships in your life; what human/animal/natural aspects come together to form your everyday world?
8. Defne's death looms over the novel. Kostas argues that she did not die by suicide but rather was plagued with an invisible illness that inhibited her ability to heal from the past. Like a girdled tree that is "strangled by its own roots" Defne could not escape her pain nor could she ward it off with love (page 334). Ada wants to blame her mother for not having enough love inside of her to survive. With whom do you agree? In what ways does society prioritize physical pain over that which is psychological?
9. The novel offers many approaches to healing. Defne dedicated her life's work to unearthing victims of war as a form of reconciliation. In reverse, Kostas buries a fig branch in England to save the tree's life. Meryem uses tradition as a salve and Ada wants only to know the truth about her past. Defne insists, "We have to remember in order to heal," and yet forces Kostas to withhold their past from Ada (page 215). Discuss these contradictions. What lesson do these stories impart about the process of healing? Is one form of repair better or worse than another? What lessons could humans learn about healing from acknowledging the ways in which the natural world experiences pain?
10. Cyprus is the novel's main setting. Those who fled conflict, like Kostas, and those who stayed, like Defne and Meryem, struggle to understand one another. Their mixed feelings of pride, guilt, resentment, and sadness can overshadow the grief that they share. Shafak writes, "First-generation immigrants are a species all their own" (page 23). How do the characters in this novel mourn or celebrate their home country? Are any of them able to overcome their loss and, if so, how? How do we say goodbye to the place in which we were rooted?
11. At the end of the novel, we learn that Defne's spirit transmutes into the fig tree when it leaves her physical body. While Meryem had prayed for Defne's spirit to enter heaven, Defne explains: "I much preferred to stay where I am, rooted in the earth" (page 342). Discuss this final moment. Why would Defne choose to remain close to the life in which she suffered? What about the natural world is preferable to the human one? What shifts about the way we understand the fig tree's story, knowing that Defne had embodied her all this time?
12. Explore the novel's two significant love stories: Yiorgos and Yusuf and Defne and Kostas. These couples mirror each other in many ways: one Turkish and one Greek, one bold and one timid, and both seeking refuge from a war destined to destroy them. Shafak writes, "Love is the bold affirmation of hope. You don't embrace hope when death and destruction are in command" (page 168). From years of experience, Yiorgos and Yusuf taught Kostas and Defne how to build a relationship in secret. Discuss how these couples maintained their bond through the presence of fear and intimidation. If trauma can be passed through generations, can love as well?
13. The readers of Shafak's story rely on the natural world to complete the history of its human characters. Shafak writes, "The human mind was the strangest place, both home and exile. How could it hold onto something as elusive and intangible as a scent when it was capable of erasing concrete chunks of the past, block by block?" (page 200). Trees, comparatively, are "memory keepers" (page 211). When a story is told from many perspectives, how do we, as readers, decipher what is true and what is not? Is it safe to assume that the natural world is unbiased? In your opinion, is the fig tree a narrator or a character? Would it be possible to have the entire story without her?
14. The fig tree acts as interpreter for the animal kingdom and witness to the human storylines. Shafak writes, "Nature was always talking, telling things, though the human ear was too limited to hear them" (page 207). Explore your favorite moments in which the fig tree, or another natural element, attempts to communicate with the humans closeby. Are there moments of true communication? If so, when? Did Shafak's illustration of the fig tree change the way you see the natural world? What forms of nature pay witness to your life? What species are they and what do you imagine they would say to you?
15. Shafak writes, "Family traumas are like thick, translucent resin dripping from a cut in the bark. They trickle down generations" (page 128). Trees can live for hundreds if not thousands of years, and they continue to collect wisdom throughout their long lives. But humans exist briefly. The trauma they endure compounds on top of the trauma they inherit. Choose a character and discuss how generational trauma has impacted them. How does this inherited pain differ from contemporary suffering, if at all? How do Kostas and Defne navigate their collective trauma as a couple? By the end of the novel, do you think that Ada has had an opportunity to heal?
Excerpt
Island
Once upon a memory, at the far end of the Mediterranean Sea, there lay an island so beautiful and blue that the many travellers, pilgrims, crusaders and merchants who fell in love with it either wanted never to leave or tried to tow it with hemp ropes all the way back to their own countries.
Legends, perhaps.
But legends are there to tell us what history has forgotten.
It has been many years since I fled that place on board a plane, inside a suitcase made of soft black leather, never to return. I have since adopted another land, England, where I have grown and
thrived, but not a single day passes that I do not yearn to be back. Home. Motherland.
It must still be there where I left it, rising and sinking with the waves that break and foam upon its rugged coastline. At the crossroads of three continents – Europe, Africa, Asia– and the Levant, that vast and impenetrable region, vanished entirely from the maps of today.
A map is a two-dimensional representation with arbitrary symbols and incised lines that decide who is to be our enemy and who is to be our friend, who deserves our love and who deserves our hatred and who, our sheer indifference.
Cartography is another name for stories told by winners.
For stories told by those who have lost, there isn't one.
–
Here is how I remember it: golden beaches, turquoise waters, lucid skies. Every year sea turtles would come ashore to lay their eggs in the powdery sand. The late- afternoon wind brought along the scent of gardenia, cyclamen, lavender, honeysuckle. Branching ropes of wisteria climbed up whitewashed walls, aspiring to reach the clouds, hopeful in the way only dreamers are. When the night kissed your skin, as it always did, you could smell the jasmine on its breath. The moon, here closer to earth, hung bright and gentle over the rooftops, casting a vivid glow on the narrow alleys and cobblestoned streets. And yet shadows found a way to creep through the light. Whispers of distrust and conspiracy rippled in the dark. For the island was riven into two pieces – the north and the south. A different language, a different script, a different memory prevailed in each, and when they prayed, the islanders, it was seldom to the same god.
The capital was split by a partition which sliced right through it like a slash to the heart. Along the demarcation line– the frontier –were dilapidated houses riddled with bullet holes, empty courtyards scarred with grenade bursts, boarded stores gone to ruin, ornamented gates hanging at angles from broken hinges, luxury cars from another era rusting away under layers of dust . . . Roads were blocked by coils of barbed wire, piles of sandbags, barrels full of concrete, anti- tank ditches and watchtowers. Streets ended abruptly, like unfinished thoughts, unresolved feelings.
Soldiers stood guard with machine guns, when they were not making the rounds; young, bored, lonesome men from various corners of the world who had known little about the island and
its complex history until they found themselves posted to this unfamiliar environment. Walls were plastered with official signs in bold colours and capital letters:
NO ENTRY BEYOND THIS POINT
KEEP AWAY, RESTRICTED AREA!
NO PHOTOGRAPHS, NO FILMING ALLOWED
Then, further along the barricade, an illicit addition in chalk scribbled on a barrel by a passer-by:
WELCOME TO NO MAN'S LAND
The partition that tore through Cyprus from one end to the other, a buffer zone patrolled by United Nations troops, was about one hundred and ten miles long, and as wide as four miles in places while merely a few yards in others. It traversed all kinds of landscapes – abandoned villages, coastal hinterlands, wetlands, fallow lands, pine forests, fertile plains, copper mines and archaeological sites – meandering in its course like the ghost of some ancient river. But it was here, across and around the capital, that it became more visible, tangible, and thus haunting.
Nicosia, the only divided capital in the world.
It sounded almost a positive thing when described that way; something special about it, if not unique, a sense of defying gravity, like the single grain of sand moving skywards in an hourglass just upended. But, in reality, Nicosia was no exception, one more name added to the list of segregated places and separated communities, those consigned to history and those yet to come. At this moment, though, it stood as a peculiarity. The last divided city in Europe.
My home town.