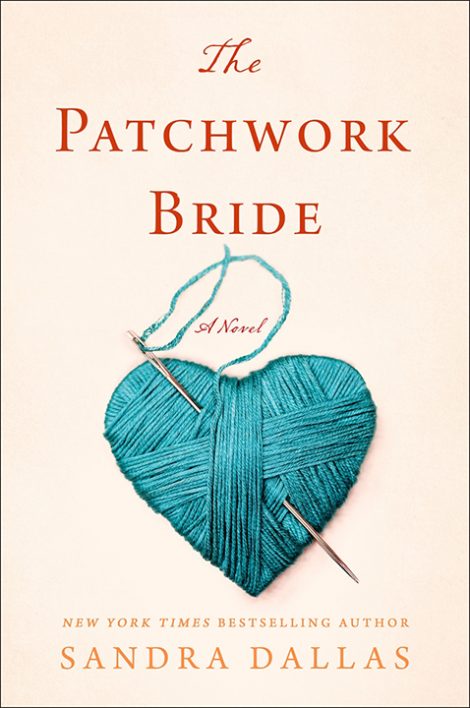 THE PATCHWORK BRIDE
---
From Sandra Dallas, the best-selling author of A Quilt for Christmas, comes The Patchwork Bride, the irrepressible story of a runaway bride.
Ellen is putting the finishing touches on a wedding quilt made from scraps of old dresses when the bride-to-be—her granddaughter June—unexpectedly arrives and announces she's calling off the marriage. With the tending of June's uncertain heart in mind, Ellen tells her the story of Nell, a Kansas-born woman who goes to the High Plains of New Mexico Territory in 1898 in search of a husband.
Working as a biscuit-shooter,
From Sandra Dallas, the best-selling author of A Quilt for Christmas, comes The Patchwork Bride, the irrepressible story of a runaway bride.
Ellen is putting the finishing touches on a wedding quilt made from scraps of old dresses when the bride-to-be—her granddaughter June—unexpectedly arrives and announces she's calling off the marriage. With the tending of June's uncertain heart in mind, Ellen tells her the story of Nell, a Kansas-born woman who goes to the High Plains of New Mexico Territory in 1898 in search of a husband.
Working as a biscuit-shooter, Nell falls for a cowboy named Buddy. She sees a future together, but she can't help wondering if his feelings for her are true. When Buddy breaks her heart, she runs away.
In her search for a soul mate, Nell will run away from marriage twice more before finding the love of her life. It's a tale filled with excitement, heartbreak, disappointment, and self-discovery—as well as with hard-earned life lessons about love. Another stunning, emotional novel from a master storyteller.
St. Martin's Press
Hardcover
June 2018
304 Pages
9781250174031
Praise
"Dallas has done it again, telling three different stories with her trademark homespun style. Strong female characters and intriguing storytelling draw the reader into this two-hanky read full of love and loss."—Booklist
"Skilled writing and pacing propel the story, which is warm and heartfelt."—Kirkus Reviews
"A touching and romantic tale by a talented storyteller."—​Historical Novels Review
Discussion Questions
1. Over the course of the book, we see Nell grow and change with each chapter of her life. How did her experiences shape her outlook? What were the similarities and differences between Nell when we meet her at the Rockin' A and how we see her in the present day (as Ellen)?
2. Sandra Dallas creates an authentic sense of place through her rich historical detail of the American West. How does setting play a role in this story? How did the time period influence Nell's actions throughout the story?
3. Nell runs away from each of the three men she's engaged to for various reasons. What are some of the characteristics that drew Nell to them? How are they similar?
4. More than just finding a husband to settle down with, Nell is looking to find true love—part of her hesitation about marrying Wade, though he's a "good catch," is that "she hadn't felt a tug at her heart." How do you define true love? Do you think Nell found it?
5. Were you surprised by June's decision at the end of the book? What would you have done in her shoes?
6. Nell's romances are a focal point of the book, but she also forms strong female friendships, particularly with Betty and Claire. What value does Nell gain from these relationships that differs from what her romantic relationships provide?
7. Betty, Claire, and Nell all experience or witness violence at the hands of a man. How do these experiences shape each of them and inform their perspectives on men and dating?
8. How did quilting serve as a connection between the generations of women in Ellen's family? Would you ever consider "ruining" a wedding dress to make it into a quilt? Why or why not?
9. One of the qualities that draws Nell to James is his kindness to children—did you view this differently after his "secret" was revealed? How does it serve as foreshadowing?
10. What does Ellen's reluctance to give up the ranch represent? How does it relate to Nell's story?
11. When June comes to Ellen after running away from her fiancé, how does Ellen's reaction compare with that of her own grandparents when she returned to Kansas after breaking off her engagements? How do their reactions reflect changing cultural values?
Excerpt
When Ellen was finished telling the story of Nell and Buddy, June leaned forward in her chair and asked, "She left just like that?"
"Stupid, wasn't it? She should have stayed and worked it out. But she was too stubborn."
"Did Buddy go after her?
"No, and that made her mad, too. She realized later that he didn't know where she was, because she'd asked her aunt not to tell him."
Nell had returned to her grandparents' farm in Kansas, Ellen explained. The farm was home. She might have gone to a city, but she needed to be where she felt loved. And safe. Besides, Nell wasn't so adventuresome anymore. She wanted to sleep in her own bed and wake up to the sounds of cows and chickens. She'd always loved chickens. Ellen paused and looked out at one of her own chickens that was pecking at the dirt. They wouldn't have chickens if she and Ben moved into Durango. They'd have to eat store-bought eggs from the Piggly Wiggly and chickens that had been killed and plucked in a factory. They'd taste like cardboard. Damn supermarkets, she thought.
Ellen moved her chair to get out of the sun. It was midday now, and the sky was cloudless, the sun very hot. An apartment wouldn't have a porch, either. Where would she go to cool off from the summer heat? She'd probably have to depend on that wretched air conditioning people were starting to put in. You couldn't even open the windows in some of those places. The veranda was one of the first things she and Ben had added to their honeymoon cabin. Except in the winter, they sat there almost every evening, looking out at the stars. Ben would talk about cattle prices, ask her opinion on improvements, because their marriage had always been a partnership. Sometimes they didn't agree, and they'd argue, argue loud enough that Maria would come outside and shush them. But sooner or later, one of them would give in, and there would be peace. Ellen almost missed those fights, the times she'd win Ben over to her way of thinking or Ben would convince her he was right. They would make up and know that they really did beat with one heart.
When the children were young, they played on the porch, galloping back and forth on stick horses, and when they were older, they honed their roping skills on chairs and tables. The veranda was their rumpus room. The children did their homework there, too. Ellen remembered how John had filled out his college application forms at a table on the porch. She had been sitting there when he came in from the mailbox one afternoon with a letter saying he'd been accepted at Harvard.
Although the nights were cold now, Ellen and Ben still sat on the veranda after dinner, watching the sunset streak the sky with violent swaths of purple and orange and pink. Ben would remember times long past, and they'd call each other by pet names they hadn't used in years. Sometimes they didn't need to talk. They just sat and held hands.
"Buddy and Nell might have worked things out, I suppose, but they were both too stubborn," Ellen continued, setting her sewing on the table. She had stitched while she told the story—intricate embroidery stitches that covered the seams between the patches of fabric.
"Like you?" June asked.
"Oh, no, she was much worse." Ellen smiled, as she ran her hand over a patch from a silk gown, a wedding dress that had been in the family. Maybe she shouldn't have cut it up, but some of the silk was split. The top was shredded, and only part of the skirt was any good. What was the point of keeping it?
A second chicken came along, and the women watched as the two chickens fought over a worn. They squawked. The first chicken triumphed, and the other walked away.
There was an afternoon train out of Las Vegas, and Nell barely made it, Ellen said, going back to her story. "You have to wonder what would have happened if she'd missed it. She might have changed her mind. Or Buddy might have come after her. Of course, neither of those things happened."
"Did she believe they'd make up somehow and she'd marry him after all?"
"No," Ellen said, shaking her head. "After Nell was home, she realized it was over. There had been too many hurtful words. Once she was back in Kansas, Nell knew she'd never marry Buddy after what they'd said to each other. She wouldn't be happy with someone who felt he had the right to tell her what to do," Ellen said.
"Like me?" June asked.
Ellen thought a moment. "That's for you and Dave to decide." Nell had other complications, she explained. She'd pretty much convinced herself that Buddy didn't really love her, and that maybe, after what had happened in that cabin, he no longer respected her. She knew that ranching is lonely work, and that Buddy wanted a wife. Maybe Buddy chose her because she was strong and worked hard. Nell was aware there were other girls if she turned him down. "There are men who think one woman is pretty much like another. And then, of course, Alice was waiting in the wings," Ellen said, staring into the distance. "Nell convinced herself of a lot of things."
"What became of Buddy?" June asked. "Did he survive the war?"
"Yes," June replied. "The Spanish-American War lasted only a few weeks, and there weren't all that many men in the fighting. Or that many casualties. In fact, some soldiers never even made it to Cuba before the war ended. All war is awful," she said, "but Buddy's war was short, so it wasn't as bad as the two world wars with all their carnage. Or Korea." Nell glanced at her granddaughter when she mentioned Korea, but June didn't react. "You know, of course, that Theodore Roosevelt, who was second in command of the Rough Riders, became president."
"Maybe Buddy went to Washington with him. Was his picture ever in the paper?"
Ellen shook her head. "Not that I know of."
"Maybe he came looking for her after the war."
He hadn't, because he didn't know where she'd gone, Ellen said. Lucy might have told him, but she died not long after Nell left, kicked in the head by a horse. Nell might have gone back to the funeral, but it was a long time before she learned what had happened to her aunt, and by then, it was too late.
"Lucy never married Mr. Archer?"
"No. It's funny. He might have married her, but she held out. Maybe Lucy giving Nell the dress she'd once intended for her own wedding was like admitting that she'd never marry again. Lucy was awfully independent."
"Like Nell?"
"Do you think Nell was really independent? Oh, she moved out west to live on a ranch in New Mexico, but she was after a husband. That was the main reason she went there. And that was why she moved on later." Ellen twisted her embroidery thread to make a French knot.
"What happened to Buddy?"
"He married, all right."
Just then, the screen banged, and Maria came out and asked if they wanted their dinner on the porch.
Nell pushed aside the quilt and stood, saying that would be nice. It wouldn't be long before it would be too cold to eat outside. "June and I can fetch it."
"I'll do it. You're supposed to take it easy. June, you make sure your grandma don't work too hard. The doctor says for her to rest."
"Oh, hell, I'm not an invalid," Ellen said. "Sometimes you treat Mr. Ben and me like we've got one foot it the grave."
"Well . . ." Maria crossed herself.
Ellen waved her hand. "Don't rub it in. We still have one foot out of the grave. If I'm going to die, I don't want to do it while I'm sitting in a chair."
Maria threw up her hands and went back inside. June asked her grandmother, "Is your heart that bad?"
"No, of course not. I just have to take my pills and be careful climbing stairs. The doctor won't let me on a horse anymore."
"So you don't ride?"
Ellen didn't answer.
"Granny?"
"Your grandfather doesn't understand when I tell him I'm supposed to stay off horses." Just the day before, Ben had saddled Ellen's mare and shown up at the kitchen door with the horse. When Ellen told him she wasn't supposed to ride, he looked as hurt as if she'd slapped him in the face. He said he wanted to ride out to the creek, and there wasn't anybody else to go with him. Lord, June had thought, she couldn't let him go alone. He'd have ridden into the next county, and she never would have found him.
"So you went with him?"
Ellen shrugged. "Somebody has to look after him." They'd had a nice time, too. Ellen had asked Maria to fix a picnic, and they'd spread an old quilt on the ground under a cottonwood and eaten the lunch. Then Ben had napped on the quilt, his hat over his face, while Ellen took off her boots and put her toes into the cold water. It was as nice an outing as they'd had in a long time. When Buddy woke up, he thought for a moment it was fifty years earlier, not long after they moved to the ranch. They had made love in that very spot. He seemed to remember and reached for her hand, and they had sat holding hands until suppertime. Maria feared that Ellen had been bucked off her horse and Ben had wandered away to get help. She was ready to send Wesley to search for them when they finally showed up.
"Can't Maria take over some of your work?" June asked.
"She already has, but there's just so much she can do. She can barely read and write." There was no way the housekeeper could keep books and fill out government forms. After all the years she'd lived with them, Maria didn't know a thing about beef except how to cook it.
"What about Wesley?" June asked.
Ellen smiled. "He's as loyal and honest and hardworking as the day is long, and there's nothing he wouldn't do for us, but would you trust him to run a ranch?"
"At least he can read and write."
"Can he?"
"I see your point."
June held the door, and the two of them followed Maria into the big kitchen. It was Ellen's favorite room in the sprawling ranch house. The man from Sears, Roebuck who designed kitchens had drawn up a plan with metal cupboards and a linoleum floor. It looked like something from a woman's magazine, not like a real ranch kitchen. Ellen had thrown away the drawing and hired a carpenter to make big wooden cupboards. She'd put in a countertop of bright Mexican tiles, some of them broken now, and a wood floor that had been worn down over the years by hundreds, maybe thousands of boots. There was a pantry with bins that held hundred-pound sacks of flour and sugar, a freezer big enough to accommodate an entire beef or maybe two, a stove with six burners—and a dishwasher. The heart of the kitchen was the scrub-top wooden table that could seat a dozen, and during roundup, there were often that many men gathered around it. Ellen had found the table at a ranch sale. Then she'd picked up old pressed-wood chairs that nobody wanted anymore. They were sturdy enough that a man could lean back in one until it rested on two legs and not fall over.
Maria went to the stove and stirred a big pot of chili with a long wooden spoon. She tasted it and nodded her satisfaction. "It's not too hot for you," she said.
"I'm not an invalid, Maria," Ellen told her. "I don't want chili that tastes like junket. You can't make a chili that's too hot for me."
Maria waved away the insult as she dished up bowls of meat and beans and sprinkled cheese on top. She wrapped hot tortillas in a towel, then set everything on a tray.
"Will Grandpa Ben be back in time to eat with us?" June asked.
"He won't be back till late afternoon. I imagine he'll have his dinner in Durango. He should be home by suppertime." Ellen hoped so, at any rate. Ben was liable to start jawing with the vet about horses and bulls that were long dead and lose track of the time. He could be stubborn when Wesley insisted he get back into the truck. "Who works for who?" he'd asked more than once. That was why Ellen generally took her husband into town on errands. She could argue him down.
"Well, good, because that gives you time to tell me about the two other weddings your friend ran away from."
Ellen started to pick up the tray, but Maria elbowed her aside and said, "My job. Too heavy for you, old woman."
"I'm no older than you," Ellen replied, although Maria was twenty-five years younger. Still, she let Maria carry the tray. The doctor had told her not to lift heavy things. She smiled at the housekeeper, who had been with her for more than twenty years.
Ben had found Maria hiding in the barn with a young boy. They were illegals and scared to death, he'd told Ellen. "She asked could they could sleep in the hay, but it isn't right when we have a place inside where she can sleep."
No, Ellen agreed that it wouldn't be right. She remembered a neighbor who had found Mexicans hiding in one of his sheds and had driven them out with a pitchfork.
"I told her they could stay the night in the foreman's cabin, since it's empty."
"The night?" Ellen asked.
"Maybe a little longer."
Ellen was sure it would be a lot longer. Ben was softhearted. He'd never been able to shoot a horse with a broken leg, and one of the hands had had to do it for him. He was always bringing home stray puppies and kittens. Maria and her son were more than homeless animals. So Ellen and Ben made the two feel at home, and before long, Ellen knew they would be a part of the ranch as long as they wanted to. Two years ago, the boy had been drafted into the army, but he'd promised to come back when he was mustered out and work as a cowhand. At least he would if Ben and Ellen still owned the ranch. Ellen wondered what Maria would do if they sold the place. They wouldn't have room for a cook and housekeeper in an apartment. And what about Wesley and Durrell, the other cowboy, who'd been with them for decades? They were getting along in years, too, and with mechanization, there wasn't so much employment for ranch hands, not the way it used to be when cowboys drifted from ranch to ranch, always looking for better jobs. Where would Wesley and Durrell go?
June and her grandmother followed the cook outside. As Maria set the food on the table, June snatched away the quilt. "Just what we need, spilling chili on this." She brushed yellow cottonwood leaves off a chair and set Ellen's stitching on it.
"I wonder if Nell ever forgot Buddy," June said after Maria went inside.
Ellen shook her head. "I wouldn't think so. You never forget first love." She glanced at her granddaughter, who was looking off toward the barn, thinking.
"Maybe I've done a stupid thing," June mused. "I should have stayed and talked to Dave after we both calmed down. Running off like that was foolish, wasn't it? It seems like I was just as impulsive as your friend Nell. But Dave is always so sure of himself. He'd have tried to convince me I was wrong. I didn't want him making the decision for me, Granny. I couldn't go through with it. I just couldn't. Do you think I was wrong?"
"There's not a right or wrong to it."
"If I don't marry him, do you think I'll regret it later?"
"Sometimes. If you marry him, you'll always wonder what would have happened if you hadn't. And if you don't marry him, you'll still have what ifs . . . Nell had a lot of what ifs . . . Three of them. Remember, she ran away three times. The second man was James."
"And he tried to tell her what to do, too?"
"Not exactly. She left him for an entirely different reason. And it didn't have a thing to do with stubbornness.
"What happened with him?"
Ellen sat back on the bench and pushed away her bowl. Then she picked up a fork and took a bite of the Mexican chocolate cake that Maria had made. The icing was as thick as the cake. The doctor had told Ellen to watch her diet, but she didn't. Why deprive herself if she was going to die anyway? she'd asked him. He hadn't had an answer. "James Hamilton was the second man Nell was engaged to, and oh my, was he a looker."
"Was he like Buddy?"
"Not in the least. In fact, he looked just like that young actor we saw in the movie in Durango when you and Dave were here last summer, Van Johnson. He was blond and freckle-faced. He was the picture of the all-American boy. You could have put his face on a Saturday Evening Post cover." Ellen used the tines of her fork to catch the cake crumbs on her plate, thinking she'd like a second piece. "Maybe Nell was attracted to him because he didn't seem at all like Buddy. And he seemed like prime marriage material. Don't forget, she was still looking for a husband. She was a lot more serious about it this time."
Copyright © 2018 by Sandra Dallas