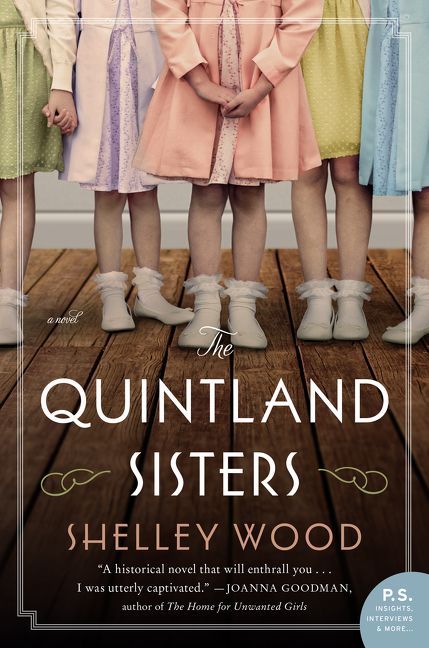 THE QUINTLAND SISTERS
A Novel
---
For fans of Sold on a Monday or The Home for Unwanted Girls, Shelley Wood's novel tells the story of the Dionne Quintuplets, the world's first identical quintuplets to survive birth, told from the perspective of a midwife in training who helps bring them into the world.
Reluctant midwife Emma Trimpany is just 17 when she assists at the harrowing birth of the Dionne quintuplets: five tiny miracles born to French farmers in hardscrabble Northern Ontario in 1934. Emma cares for them through their perilous first days and when the government decides to remove the babies from their francophone parents,
For fans of Sold on a Monday or The Home for Unwanted Girls, Shelley Wood's novel tells the story of the Dionne Quintuplets, the world's first identical quintuplets to survive birth, told from the perspective of a midwife in training who helps bring them into the world.
Reluctant midwife Emma Trimpany is just 17 when she assists at the harrowing birth of the Dionne quintuplets: five tiny miracles born to French farmers in hardscrabble Northern Ontario in 1934. Emma cares for them through their perilous first days and when the government decides to remove the babies from their francophone parents, making them wards of the British king, Emma signs on as their nurse.
Over 6,000 daily visitors come to ogle the identical "Quints" playing in their custom-built playground; at the height of the Great Depression, the tourism and advertising dollars pour in. While the rest of the world delights in their sameness, Emma sees each girl as unique: Yvonne, Annette, Cécile, Marie, and Émilie. With her quirky eye for detail, Emma records every strange twist of events in her private journals.
As the fight over custody and revenues turns increasingly explosive, Emma is torn between the fishbowl sanctuary of Quintland and the wider world, now teetering on the brink of war. Steeped in research, The Quintland Sisters is a novel of love, heartache, resilience, and enduring sisterhood—a fictional, coming-of-age story bound up in one of the strangest true tales of the past century.
William Morrow Paperbacks
Paperback
March 2019
464 Pages
9780062839091
Praise
"Wood cleverly combines fact and fiction in a fast-paced novel that will leave readers contemplating how the best intentions of government intervention can have dire, unanticipated consequences." – Publishers Weekly
"…an ambitious, meticulously researched, and imaginative debut novel that is engrossing and compelling. Exploring the shared sisterhood of the quintuplets' caretakers and the trouble with unwanted celebrity, this heartwarming novel will win over loyal readers of Patricia Harman, Jodi Picoult, and Carol Cassella." – Booklist
"The Quintland Sisters is an impeccably researched historical novel that will enthrall you. From the moment Shelley Wood introduced the remarkable Dionne quintuplets, I was utterly captivated…I could not get this story out of my head long after I finished reading it." – Joanna Goodman, author of The Home for Unwanted Girls
"This gorgeously written novel about miracles, love and resilience is perfect for fans of Joanna Goodman." – Marissa Stapley, bestselling author of Mating for Life and Things to Do When It's Raining
"…a stunning novel…Meticulously researched and sensitively told, this book is a journey not to be missed." – Heather Young, author of The Lost Girls
"…Wood deftly captures the fascinating collisions between faith and science, powerful and poor, and the tensions that arise when a rural town and its inhabitants are cast under the relentless scrutiny of the public's obsession with one extraordinary family." – Elise Hooper, author of The Other Alcott and Learning to See
Excerpt
May 28, 1934
If I don't write this down this very minute, or as much of it as possible, I will forget half of it, or something will happen—one of them will die—and everything I might have written will be changed by that, instead of the way it feels now.
The doctor has just left and everyone else seems to have more or less forgotten about me. Marie-Jeanne asked him if he'd drop me off back in Callander, but before he could answer, I asked if I could stay and the doctor nodded curtly, then headed out to his car. Now Marie-Jeanne and Mme. Legros are busying themselves heating chicken broth on the stove for Mme. Dionne, who is finally starting to stir again. M. Dionne has gone to find the parish priest. He tore off in his own truck, the door slapping closed behind him as if the house itself had done something wrong. Poor M. Dionne. He had been pacing the front porch, back and forth, back and forth, until the doctor finally asked him to step back inside and told him about the babies. His expression made him look like a face from the funnies, stretched wide and delirious with disbelief.
While the midwives were looking after Mme. Dionne, I fetched my pencil and scribble book from my bag and took my seat again beside the chairs at the open stove. I've tried to draw the babies entwined in their box surrounded by all the bricks and flatirons we heated on the fire, then wrapped in rough blankets. I know I haven't quite captured them, but it doesn't matter. I just want something to remember this night, no matter what happens.
IT WAS MOTHER'S idea that Marie-Jeanne Lebel, the local midwife, should come to fetch me, no matter the hour, the next time she was called out. Of course that ended up being in the middle of the night. And naturally it was Mother, not me, who had already decided midwifery might be a reasonable career for me to consider—always in demand, a respectable job for a woman, particularly a bilingual one like me. Mme. Lebel worked mostly with the French families.
"Even those who can't pay with money will find some other way to keep you clothed and fed," Mother liked to remind me. "Scribbles, drawings, and books won't put food on the table."
Mme. Lebel stopped by our place on her way home from church yesterday and asked if I was truly up for attending a birth with her. Mother answered yes on my behalf. The truth is, I really had very little idea what was in store, and if I'd known I would never in a million years have agreed to this. Mme. Lebel said there was a lady a few blocks away whose baby was likely to come at any minute, and that she'd stop by for me later that day or night. I should be showered and dressed in clean clothes. Not my best clothes, mind, but something clean.
So I was ready, reluctantly, when the midwife rapped at the door sometime past midnight. A small man I didn't know was waiting in a battered farm truck at the curb and looked rigid with anxiety. Mme. Lebel said tersely that the lady in our neighborhood had delivered that evening—it had happened too fast for her to call me—but that a Frenchwoman in the nearby hamlet of Corbeil had gone into labor two months early and there would likely be complications.
"Two months is too premature," she clucked. "The baby may not survive."
Mme. Lebel has a deep voice that sounds like an engine running in low gear and she smells like peppermints. "Call me Marie-Jeanne," she growled, after I mumbled something about hoping I could be of use. The man in the truck was gripping the steering wheel like a life ring, his face in darkness, the streetlight illuminating his hands, brown and callused from the fields, the nails black and jagged. Marie-Jeanne waited until we were seated in the truck before introducing him as M. Oliva Dionne, and he mumbled a terse bonsoir as he steered out of town, his foot heavy on the pedal.
"M. Dionne and his wife, Elzire, already have five children," Marie-Jeanne murmured, her voice flat. "The youngest is just under a year."
Fifteen minutes later, M. Dionne pulled up in front of a small farmhouse tucked in the rocky pasture that runs along the Corbeil-Callander road. A feeble light glowed softly from the windows, but the moon was high and bright, revealing a sagging porch and a short flight of steps leading up to the door. Faces, those of the other children, I presumed, were pressed against the glass of a window on the upper floor. One gave a cautious wave as we hurried into the house.
Elzire Dionne was on her back, clutching the frame of a thin wooden bed in a ground-floor room off the kitchen when we arrived, bellowing in pain. Two oil lamps flickered weakly, the flames seeming to shudder with each cry from the bed. M. Dionne hurried to her side, his eyes wild, and his wife clamped a plump hand around his rough fingers. Marie-Jeanne bustled in and shooed him away, ordering him to head upstairs and to keep the other children from worrying about their mother. Little waifs, all of them—they'd crept down the narrow stairs when we arrived looking like a pack of scarecrows, their mismatched nightclothes swaying off their bones.
Another lady was in the room, seated beside Mme. Dionne, rosary beads clicking through her fingers. Marie-Jeanne spoke with her in French and introduced her to me as Mme. Legros, related in some way to the woman giving birth. Mme. Legros didn't look up or acknowledge me, just continued murmuring in rapid French to Mme. Dionne.
"You can get more water on to boil," Marie-Jeanne told me, joining Mme. Legros. I ducked back into the kitchen, grateful to be away from the sounds Mme. Dionne was making, her face furrowed. "And get the clean towels from my bag," the midwife barked after me.
After a minute or two, Marie-Jeanne came into the kitchen, where I was trying to fill a cast-iron pot with a pump at the sink. "Call M. Dionne back downstairs," she told me gravely. "He must go for the doctor."
Inside the farmhouse, the air was chill and dark. There were no electric lights and the moon was no help, having slipped behind the tall barn. The only warmth came from the kitchen stove, but it was scarcely enough to reach the adjoining room. Spring comes slowly to our corner of Ontario, especially out on these farms, the homesteads little more than blunt boxes surrounded by sprawling fields, marsh, and forest. Here, even in May, the wind racing over Lake Nipissing can still have ice on its breath and leave frost on the windows.
M. Dionne roared off in his truck, wheels spinning in the gravel. The groaning from Mme. Dionne grew even louder, her breath coming in grunts and pants. I poked my head into the room off the kitchen to see what more I could do. One oil lamp glowed sadly on a wooden dresser beside the bed. The other had been set on a spindly chair at the foot of the bed, where Marie-Jeanne now hovered, planting her big hands on the flailing shins of Mme. Dionne and talking to her sternly about breathing and pushing.
I could scarcely look at Mme. Dionne. Her lids were crimped shut as if her eyeballs might have already popped out and rolled away, and her brown hair was plastered to her skull like she'd come in from a storm. I stepped forward to try to wipe her brow, but her head was whipping back and forth so violently she looked like something possessed, hardly human—just mounds of oily flesh, juddering in pain. Mme. Legros was now kneeling by Mme. Dionne's pillow, her head bowed, pulling the string of beads through her fingers and reciting the Lord's Prayer. It seemed to me at that moment that Mme. Dionne probably needed something a little stronger than the word of God, but this was not the place to say it.
"Push, push, push," Marie-Jeanne was commanding Mme. Dionne, who let loose with a bone-chilling howl as the baby arrived, the room filling with an animal smell. I'd always liked babies, or thought I did, so sweet in their prams or cooing in their mothers' arms. But this baby was like nothing I'd ever seen—no bigger than the rats our cat Moriarty used to catch and leave on the kitchen mat to terrorize Mother.
Its eyes were closed and swollen, giving it a reptilian look but with incongruous, long lashes. Its head was enormous, almost equal in size to the rest of its body, which was slick with what looked like kerosene in the dim light. Marie-Jeanne called for me to bring her a towel, and I scurried over.
"A little girl, Mme. Dionne," murmured Marie-Jeanne. Then she bid me crouch close beside her and set the little creature into the towel in my hands, hardly big enough to fill them, then pulled her scissors from a tray and snipped the cord. My sloshing stomach felt like its contents might lurch at any minute into my throat, but the panic of the moment kept my hands steady. The tiny thing was kicking feebly but made no sound. You could see that its face, even in the long, dancing shadows, was turning a deep, mottled blue. I feel worse than terrible for thinking it, let alone writing it down here, but I did not at that moment think of this scrap of life as precious or miraculous: it was grotesque and frightening and I wanted nothing more than to set it down and run.
Marie-Jeanne stood and took the baby from me and walked swiftly to the kitchen, throwing open the door to the woodstove and thrusting the tiny body toward the heat. For a moment, I feared her intention was to hurl the little thing into the flames, which is horrifying and serves only to explain my state of shock. But holding it facedown in the hot breath of the stove, she gently massaged its back, then turned it over, put her mouth over its lips, and blew. Just then Mme. Dionne starting lowing again, a deep, sorrowing sound I could feel, physically, like a blow. Marie-Jeanne thrust the baby into my arms and went back to Mme. Dionne. The little creature was so tiny it seemed I could have cupped it in my palms, like a butterfly. Cupped her. Then she moved and started mewing in my hands, and I couldn't help but think of her as a hairless kitten, not a human child. Mme. Legros hurried over and took the baby from me gently and settled it into an apple crate that she set before the open door of the oven.
Back at the foot of Mme. Dionne's bed, Marie-Jeanne ducked her head between the splayed legs and cried out, "Twins, Mme. Dionne! Push-push-push!"
Mme. Dionne's scream would have curdled the milk for miles around, but push she did and a second baby slid from her, this one even smaller than the first. Mme. Legros hustled back to the bedside and took Mme. Dionne's hands in hers, dipped her head, and started in on a fresh round of prayers.
Marie-Jeanne beckoned me over the same way she had before, and together we gently patted down the tiny thing, snipped the cord, and massaged its back just as we had the first, then she told me to settle the second beside her sister in front of the oven.
Suddenly the kitchen door yawned open again. It was M. Dionne returning with Dr. Allan Dafoe, the same doctor who brought me into the world seventeen years ago. He is as stout as ever, his round wire glasses nestled into the eye sockets of his large, round head and his toothbrush mustache tightly groomed, as if his nose were growing a slim beard of its own.
He strode swiftly to the bed in the adjoining room to examine Mme. Dionne, then returned briskly to the kitchen to wash his hands with water I'd set to cool beside the stove. Compared with his oversize head, the doctor's hands looked like those of a child, small and delicate—well suited to this work, I presumed. I hovered in the doorway, uncertain where I could be useful.
"Another is coming," he said brusquely. He spoke in English, but the two women clearly took his meaning because a look passed between them: alarm, tinged with horror. Sure enough, Mme. Dionne gave another piercing cry, and before Dr. Dafoe could relieve Marie-Jeanne of her position at the foot of the bed, a third baby arrived. This one was no more than a scrap of skin stretched tight over bones so tiny you'd think it was a chick just hatched and still slick. When we lived in Ottawa, I knew twin boys several grades below me in school, but I'm not sure it had ever occurred to me that three was possible, or spent a moment thinking about what it would be like for a woman to push out one child after another. By now Mme. Dionne looked like she was ready to give up altogether, she was so weak after the third little baby emerged. Her face and lips were bloodless, and her fingers reaching weakly for Mme. Legros were turning black at the tips.
I retreated as much as I could after the doctor arrived. I busied myself in the kitchen, closing my ears to the wails from the bed and trying not to peep constantly at the little things under the blanket. I boiled pot after pot of water and washed up what I could, even as there were more exclamations of astonishment and prayer from the room next door. Because the night was far from over.
There were five frail babies settled in the apple crate by the time dawn started creeping across the fields. Five. Mme. Dionne, by the end of it, was barely clinging to life, collapsing into a troubled sleep after the last little snippet arrived. Mme. Legros stayed by her side while Dr. Dafoe stepped away to speak with M. Dionne. He opened the door that led to the porch and bid M. Dionne enter, explaining in slow, simple English, as if to a child, the events of the past few hours. Neither man paid any attention to me working at the sink.
"Cinq?" M. Dionne said. "Five?" He is a small, reedy man, and the news seemed to shrink him still further. He looked fearfully at the apple crate but didn't step closer. "I have five already," he breathed. "What will people say?"
Dr. Dafoe put a hand on his shoulder. "The babies will not live—it's too soon for them. They're too weak. And Mrs. Dionne is in grave danger." He spoke so softly I couldn't catch his next words. M. Dionne looked up, aghast. "I will go for the priest," he said, then added, "Can I first please see my wife?"
Dr. Dafoe stood aside and beckoned Marie-Jeanne and Mme. Legros to step into the kitchen as I slipped back into my seat by the stove.
"Your first priority must be attending to Mrs. Dionne," he said gravely. "There is no chance the babies will survive more than a few hours. Make them as comfortable as you can, and if one is thriving more than another, you must focus on the one that is strong. We cannot save them all. I will go now for supplies and nursing assistance for the mother. Remember, your first obligation must be saving the life of Mrs. Dionne for the sake of the five children she has already." He paused and glanced around the dim room. "Indeed, any more would be too much of a burden."
Then he turned to the apple crate on the wooden chair by the stove and seemed to notice me for the first time. I saw his eyes dart over the left side of my face, where, in the flickering shadows, my birthmark would have made my face look even more lopsided and distorted than in daylight.
"Emma Trimpany," the doctor said, and he closed his eyes as if to keep from staring, pushing at his eyelids with his stubby fingers, exhausted. When he looked up again, he was careful to fix his gaze over my right shoulder. "What on earth are you doing here, Emma?"
Marie-Jeanne answered for me, taking a moment to sort out the English words. "She was joining me with M. Dionne when he picked me up in Callander earlier. Emma is considering to become a midwife." She gave me a weak smile. "Possibly she is having a second thought."
Dr. Dafoe took a step closer to the crate, sinking onto one knee so that he could peer beneath the blanket we'd tented over the basket and the open door of the stove. He shook his head as if he was only now processing the events of the long night. "My word," he breathed, finally. "My word. Five babies. Five girls, born alive. It's unprecedented."
He stood and took several glass droppers from his black bag and set them by the kettles on the stove. "If they wake, give them a drop or two of warm water." He was addressing Marie-Jeanne, who nodded, but he turned his stern gaze my way, as if it fell to me to make sure she understood. "Warm, mind, not scalding. Keep the irons and stones hot, but well wrapped, and replace this blanket regularly, with a hot one, draped over the back of the chair, to try to keep the heat contained. We shall do what we can, but—" He shrugged. "I'll go straight to the Red Cross outpost and be back as soon as I can." He left, closing the door quietly behind him.
The frogs have finally finished croaking in the fields behind the farmhouse, as if they know it's time they settled down and let the birds take over. I should be tired, too, but I'm not. I have stayed by the stove, sitting beside those tiny bodies, thinking, perhaps, that I'd see my first life leave the world within hours of seeing a first life arrive. An alarming thought, but also, I think, a suitable punishment. How I recoiled from these little things at first! I feel I've let myself down in some important way, or let down the person my mother is hoping I might one day become. Sitting here through the night, watching them sleep, bidding them goodbye if it comes to that—this is the only way I can think of to make it up to them.
I ducked my head to peer under the blanket just now. They are sleeping and still, so it's possible to see the five of them as humans in miniature. Their similarity to one another is eerie, even with nothing but their tiny heads poking out of their blankets. All of them have black hair and long, dark eyelashes, too thick, it seems, for their sunken cheeks. The longer I watched them, the more I could see that each one of them has something distinct, something to tell her apart from her sisters. I took out my scribble book in the hopes of capturing them. The one that came first has one eyelid bigger than the other. The second has a tiny crinkle in the upper cusp of her right ear. The third has the smallest nose, and the fourth has the most hair, which seems to curl in the opposite direction from that of her sisters. The fifth and last—she has nothing that looks markedly different, but she is the only one with any wriggle in her.
No one has bothered to give them names. Mme. Dionne has managed to swallow a few sips of broth, and M. Dionne has not yet returned. I set down my sketch and lowered my chin to the edge of the crate, close enough that I could hear, faintly, the feeble breaths of these tiny girls. I wrapped my arms around the sides of the box and dangled my fingers over the edges, hoping the babies might sense my hands and face hovering above them. I'm here, I whispered under my breath. At this very moment, I'm here. And so are you.