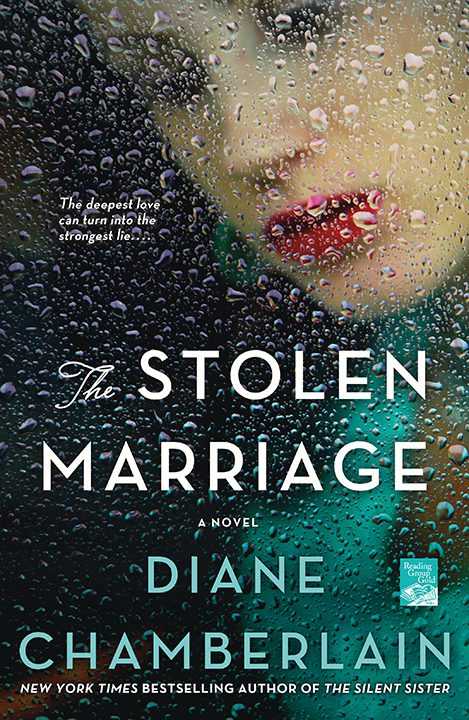 THE STOLEN MARRIAGE
---
Steeped in history and filled with heart-wrenching twists, The Stolen Marriage is an emotionally captivating novel of secrets, betrayals, prejudice, and forgiveness. It showcases Diane Chamberlain at the top of her talent.

One mistake, one fateful night, and Tess DeMello's life is changed forever.
It is 1944. Pregnant, alone, and riddled with guilt, twenty-three-year-old Tess DeMello abruptly gives up her budding career as a nurse and ends her engagement to the love of her life, unable to live a lie. Instead, she turns to the baby's father for help and agrees to marry him,
Steeped in history and filled with heart-wrenching twists, The Stolen Marriage is an emotionally captivating novel of secrets, betrayals, prejudice, and forgiveness. It showcases Diane Chamberlain at the top of her talent.

One mistake, one fateful night, and Tess DeMello's life is changed forever.
It is 1944. Pregnant, alone, and riddled with guilt, twenty-three-year-old Tess DeMello abruptly gives up her budding career as a nurse and ends her engagement to the love of her life, unable to live a lie. Instead, she turns to the baby's father for help and agrees to marry him, moving to the small, rural town of Hickory, North Carolina. Tess's new husband, Henry Kraft, is a secretive man who often stays out all night, hides money from his new wife, and shows her no affection. Tess quickly realizes she's trapped in a strange and loveless marriage with no way out.
The people of Hickory love and respect Henry but see Tess as an outsider, treating her with suspicion and disdain. When one of the town's golden girls dies in a terrible accident, everyone holds Tess responsible. But Henry keeps his secrets even closer now, though it seems that everyone knows something about him that Tess does not.
When a sudden polio epidemic strikes Hickory, the townspeople band together to build a polio hospital. Tess knows she is needed and defies Henry's wishes to begin working at there. Through this work, she begins to find purpose and meaning. Yet at home, Henry's actions grow more alarming by the day. As Tess works to save the lives of her patients, can she untangle the truth behind her husband's mysterious behavior and find the love—and the life—she was meant to have?
St. Martin's Press
Hardcover
October 2017
384 Pages
9781250087270
Praise
A Library Reads Top Ten Book of October 2017
"[A] well-crafted crime-tinged tale."—Publishers Weekly 

"The Stolen Marriage is the kind of story that will grab you and refuse to let you go until you turn the last page."—All About Romance
"Readers will be sucked in immediately…you just can't go wrong with a book with [Chamberlain's] name on the cover."—Southern Pines Pilot
Discussion Questions
1. How do the details of the backdrop of World War II, including rationing for war and the polio epidemic, enhance your experience of the story?
2. What kind of tone do you think the prologue sets for the rest of the novel? Did it succeed in making you want to read further? Why or why not?
3. Compare and contrast Tess's upbringing in Little Italy and Henry's upbringing as a wealthy member of Southern society. How do their backgrounds influence the decisions they make and how they navigate the world?
4. What do you think the significance is of Tess and her mother reading A Tree Grows in Brooklyn? Why do you think that story in particular resonated with Tess?
5. On page 138, Tess writes to Gina that she is still planning on becoming a nurse, despite her new family's disapproval, saying, "I've worked hard for this and I'm going to get that license!" Why do you think Tess clings to this dream and works so hard to make it happen?
6. Most of the letters in the novel are from Tess to Gina, and readers only get to see a few of Gina's responses. How do you think only having access to half of the conversation affected your reading experience? Did you feel like you were missing anything?
7. What do you think of Reverend Sam? Can he truly speak to the dead or is he simply trying to comfort Tess? Does it matter whether or not his "powers" are authentic?
8. On page 237, Adora says, "Everybody always 'spected Hank'd marry Violet and that would of been a terrible thing. Maybe you saved him from something terrible, Miss Tess. You think of it that way, all right?" Do you agree with her? Did Tess "save" Henry in the end?
9. Why do you think that when Tess was finally allowed to use her nursing abilities she suddenly became much more confident and able to stand up to her husband and Ruth?
10. Near the end of the book, Henry compares his experience of being "trapped" by society to Tess' experience of being "trapped" in marriage. Do you think this is a fair comparison for him to make? Why or why not?
Excerpt
AUGUST 1943
1
Little Italy, Baltimore, Maryland
"A big piece for the doctor," my mother said as she passed the plate to Vincent across our cramped dining room table. She held the plate in her left hand—her right hand was still a bit weak from the small stroke she'd suffered a few years ago—and the plate sagged under the weight of a slice of her Italian crème cake. She'd been stockpiling our rationed sugar for weeks to make that cake.
"Thanks, Mom." Vincent smiled at my mother. He'd called her Mom for as long as I could remember, something that pleased my mother no end. She adored him as much as I did. He was the son she'd never had. I called Vincent's parents, who now sat across the table from me, Mimi and Pop. The Russos lived next door to us in our Little Italy neighborhood. Our identical brick row houses had identical marble stoops and when I was very small and playing on the sidewalk, I had to concentrate hard to remember which house was mine and which was Vincent's. Our houses were nearly identical inside as well, the rooms filled with crucifixes, statues of Mary, and framed paintings of Jesus's sacred heart, as well as with the scent of tomato gravy and sweet sausage.
On this day, we were celebrating both my twenty-third birthday and the completion of Vincent's hospital residency at Johns Hopkins. I'd known Vincent from the time I was in the cradle, and I'd loved him madly since I was a teenager but I had to admit that even I felt a new attraction to him the first time I saw him in his white coat, Vincent Russo M.D. emblazoned on the pocket, a stethoscope slung around his neck. That white coat set off his dark good looks: his thick hair with the slight widow's peak. His wide white smile. His nearly straight nose, just a hint of the aquiline shape that was so prominent in his father's face. We'd been engaged for the last year, and in May, I would become his bride. We'd been planning our future together for a very long time. We knew where we would live: a younger, fresher part of Little Italy, close but not too close to our parents. We would have four children. Both of us had grown up as only children—a rarity in an Italian neighborhood—and we most definitely did not want that lonely existence for a child of ours. With only the rhythm method to rely on, we knew we might end up with many more than four, but that was fine. We fantasized that someday he would have his own pediatric practice and I would be his nurse. In a few months, I'd graduate from nursing school, take my licensing exam, and finally be able to call myself a registered nurse, a career I'd longed for since I was ten years old when my mother developed diabetes and a nurse taught me how to administer her insulin shots. Mom had been perfectly capable of giving herself her own injections, but she'd wanted to plant that seed in me, guiding me toward the career she hoped I'd pick. It worked. Nursing was my passion. How I'd handle being both a nurse and a mother to four-plus children, I didn't know, but I was excited to find out.
"Have you decided on your dress yet, Theresa?" Mimi asked as she swallowed a piece of cake. Like her husband, she had a soft, slight Italian accent. Theirs had been an arranged marriage of sorts. When Pop came over as a teenager from Sicily, he knew the daughter of an old family friend had arrived the year before and was waiting for him. I couldn't imagine marrying someone I barely knew, yet they were devoted to each other. My parents, on the other hand, had been born and raised in Little Italy and met at a dance. My father died when I was four and I barely remembered him. Mimi and Pop had taken my mother and me under their generous wings after his death.
"I can't decide between the two dresses we loved," I said, "but it's still so early." Mimi and my mother had been with me when I tried on the dresses. If I picked one out now, I'd have to be careful not to gain an ounce before May. I wanted Gina Farinola, my closest girlfriend, to go with me to help me make the final decision. Then we needed to find a maid-of-honor dress for her.
"You can't go wrong with either of them," Mimi said.
"I like the one with the little rosettes, Tess," Mom said. She leaned across the table to tuck a strand of my hair behind my ear. I'd inherited her thick, unruly, nearly black hair, the only difference being that her hair was now streaked with silver.
"Oh, the one with the rosettes was beautiful," Mimi agreed.
I caught the smile that passed between Vincent and his father as the girl talk continued. Those two handsome, dark-eyed, dark-haired men stayed at the table, smoking cigarettes and bickering about the Baltimore Orioles, while Mom, Mimi, and I began clearing the dishes and carrying them into the kitchen. Vincent was leaving most of the wedding plans up to me. The wedding would be small. We planned to invite only thirty people to the reception, which would be held in one of our favorite neighborhood restaurants. We couldn't afford much more than that, but I wouldn't have cared if only our families were present. It was the marriage I longed for, not the wedding.
My mother was washing the dishes and Mimi and I were drying when Vincent walked into the small kitchen. "Can I steal Tess away from you ladies?" he asked, his hand already at my waist.
"Of course." Mimi pulled the dishtowel from me. "Go on now." She gave me a little shove toward the door. "You two have fun."
Vincent took my hand and led me through the living room and toward the front door. "Let's go for a walk," he said. Outside, he put his arm around me as we turned left on the sidewalk. Vincent's touch had been electrifying me for years. The first time I'd felt that lightning bolt pass through me when he touched me, I was fifteen years old and he was nineteen and home from college. I'd been trying unsuccessfully to change the needle on the Victrola in the Russos' living room. Vincent had moved me aside, gently, his hands on my rib cage, and my legs went soft in the knees. He'd replaced the needle and turned to me.
"What do you want to hear?" he'd asked. I couldn't respond for the buzzing in my ears. My mind was suddenly mush and my body a solid mass of nerve endings. His smile told me he knew exactly how I felt. Then he asked me to a movie. That was the beginning of everything. Seven years we'd been together now. Seven long, wonderful, love-filled, and sometimes very frustrating years. We wanted more of each other than we could have. I looked forward to the day when we could finally sleep in the same room. The same bed. At last we would be lovers, a thought that filled me with a hunger for him. It was both amazing to me as well as a source of pride that we'd been able to wait this long. We hadn't even come close to making love because Vincent didn't want that temptation. He'd grown up expecting to become a priest, so it made sense to me that he would never pressure me to cross that line before we were married. Gina teased me about it. She and her boyfriend Mac made love before he joined the army and she thought Vincent and I were crazy for waiting. She didn't think sleeping together was a sin. Gina didn't think much was a sin, actually.
"Something's come up that I need to talk to you about," Vincent said now, lowering his arm from my shoulders and taking my hand as we walked. His tone, which had been playful all through dinner and our birthday-and-residency celebration, was suddenly serious and I wondered if I should be worried. My biggest fear was that he would be called up for service. He had a minor problem with his heart—a murmur, his doctor called it—and so far, that had kept him out, a fact he felt guilty about. The heart murmur caused him no trouble at all, thank God. "Why should I get to stay safe at home when so many others have to fight?" he would say. Selfishly, though, I was happy he couldn't be drafted.
"Do I need to be worried?" I asked now.
He gave my hand a squeeze, and in the golden evening light, I saw him smile. "No," he said. "You just need to be a bit … flexible."
"I can do that," I said, happy just to be holding his hand.
We walked past the row houses on our block, several of them bearing the red-bordered blue star flags in the windows, indicating that a family member was serving in the armed forces. One of the houses had two blue stars and one gold. It was sobering, walking past that house. This was a costly war.
The air was warm and silky on my bare arms as we headed toward the place we always went to talk: St. Leo's. Our church. The hub of Little Italy. Even as kids, Vincent and I had had whispered conversations in St. Leo's. It was where we made our first communions and confirmations and it was a source of comfort for both of us. It was also where we would become husband and wife.
We reached the church and, once inside, sat down in the last pew, still holding hands. I breathed in the scent of musk and candles and incense that seemed to emanate from the cold stone walls and the smooth wood of the pews. It was a scent I always equated with comfort and safety. As much as I loved St. Leo's, though, I knew it meant more to Vincent than it did to me. While I felt the comfort of knowing I belonged in this church where people loved me and cared for me, Vincent felt something deeper here. Something spiritual. He'd tried to explain it to me, but it was the sort of thing you couldn't force another person to feel—that intense closeness to God. One of the priests at St. Leo's had recognized Vincent's brilliance in math and science early on and encouraged him to go into medicine instead of the priesthood. "There are many ways to serve God," he'd told him. I would be eternally grateful to that priest.
There were only a few other people in the church this evening. They sat or kneeled in the pews much closer to the altar. A few of them were at the side of the church, lighting candles. Since the war began, another bank of candles had been added. We had so many young men to pray for these days.
I leaned my head on Vincent's shoulder. "So," I said softly. "What do I need to be flexible about?"
"There's been a small change in my plans for the next few weeks," he said. "I need to go to Chicago for a little while."
I lifted my head to look at him. "Chicago? Why?"
"There's an infantile paralysis epidemic there," he said. "They're asking for doctors to volunteer."
"Ah," I said, understanding. "You're thinking about your cousin Tony." Vincent's much older cousin had contracted infantile paralysis—polio—as a teenager. He was in his forties now and he wore braces on his legs and needed crutches to help him walk.
"Yes," he said. "I guess I'm a little more sensitive to polio than another doctor might be, but I'd want to help anyway."
That was Vincent. Always first to jump in when someone needed help. "There are so many kids living in poverty in this country," he'd told me once. "I'll devote at least part of my practice to helping them." I had the feeling we would never be rich, but that was fine.
"How long do you think you'll be gone?" I asked.
"I'm hoping only a couple of weeks," he said. "These epidemics tend to happen during the summer and run their course by fall."
I hated that frightening disease. Every summer, it seemed to set a different part of the country in its sights, attacking the children and leaving them horribly ill, sometimes paralyzed, for months or years or even the rest of their lives. As a nursing student, I'd seen a couple of children who'd been devastated by it.
Vincent let go of my hand and put his arm around my shoulders and I snuggled closer. "I don't want to be away from you any longer than that," he said.
A couple of weeks. That sounded like a lifetime to me right then and I felt like protesting, but I needed to support him. "I'll be fine," I said. "I wish I was done with nursing school so I could go with you to help." I had another week in my summer program and the fall semester would start shortly after.
"That would have been perfect." He squeezed my shoulders. "I'll miss you," he said, "but I'll be back in no time."
"I'll be fine," I said again. I was determined to mean it.
2
Vincent's two weeks in Chicago stretched into three, then four and I began the final semester of my nursing program. We'd never been apart for so long. He was desperately needed there, he wrote in his letters, which arrived a couple of times each week. They were short letters, his handwriting sloppy, hurried. He rarely called. The boardinghouse where he was staying had only one phone for eight men to share. Plus, he was so busy. He promised to be home by early October, but I was beginning to doubt his promises. Those few times I spoke with him, I heard something new in his voice. A different sort of energy and excitement. He couldn't stop talking about the children he was seeing and the work he was doing. And he was falling in love with Chicago, he said. Would I ever consider living there? That sort of talk worried me. Chicago? Leaving Baltimore and our families had never been part of our plan.
As for me, I'd talk about my challenging classes and how Mimi and Pop were doing and the plans for our wedding. I'd talk about loving him. About our future, when we would work together in his pediatric practice. About the children we would have. He'd make a gallant effort to respond to what I was saying, but after a sentence or two he'd ease the conversation back to his work. I knew he was committed to me. I knew he wanted a future with me, and yet I felt something like impending doom during those weeks apart. I tried to remind myself that many of my friends, Gina included, had boyfriends thousands of miles away who faced danger and death every single day. My fiancé was safe. How dare I want him even closer to me when he was doing such important work and taking so much satisfaction from it?
The day before he was to come home, he called again. From the moment he said "Hi, Tess," I knew what he was going to tell me.
"I have to stay a bit longer, darling," he said. "I'm sorry."
Words failed me, and he rushed on.
"I've gotten involved in some research here," he said. "You know, into the cause of infantile paralysis? And the various forms of treatment? It's so important. You understand, don't you?"
"You said you'd be home tomorrow." I heard the slightest break in my voice and hoped he hadn't noticed. I would not be a baby.
"I know, and I'm sorry, but this isn't the sort of thing that can be put off," he said. "The work has to happen while the polio virus is still active in the area. Plus most of the other personnel have had to go back to their jobs, but since I'm not practicing yet, I'm free to stay."
"What if our wedding were tomorrow?" I tested. "Would you still stay there?"
He hesitated as though he couldn't believe I'd actually asked that question, and I felt ashamed for doubting him.
"I'm sorry," I said. "I know you'd come home."
"Of course I would."
"Maybe I could come there? I have the weekend off, plus my Monday classes don't start till afternoon."
Again that hesitation. I squeezed the phone cord, waiting tensely for his answer.
"Honey," he said. "Do you know how long that would take you? First, it's nearly impossible to get a train reservation with the way they're moving the troops around. Even if you could get a reservation, you'd have to spend twenty hours on the train. And once you got here, I don't have any place for you to stay. I'm in a boardinghouse, remember? Plus I'll be working all hours of the day and into the night."
For the first time in our long relationship, I wondered if he might be seeing someone else. The thought felt like a knife in my chest. He couldn't be, though. Not Vincent. We'd been apart too long. I was losing my memory of who he truly was. I was letting myself get bitter.
"All right," I said, then before I could stop myself, I added, "I'd ask when you'll be coming home, but it doesn't really matter what you say, does it? You'll just change the date as it approaches."
"Tess," he chided. "That's not like you."
"I know." He was right. It wasn't like me, but I couldn't help but feel hurt that I seemed to be last of his priorities.
"Look, I need to get off, darling," he said. "Someone else wants to use this phone. Give me two more weeks here, all right? I promise, I'll come home then, no matter what's going on here. Just remember that you and I have our whole lives together. Ten years from now, you'll look back on these few weeks and laugh at how insecure you sound. Keep your chin up for me now, all right, sweetheart?"
"All right," I said after a moment. "I love you."
"I love you too," he said, "and don't you ever forget it."
Copyright © 2017 by Diane Chamberlain