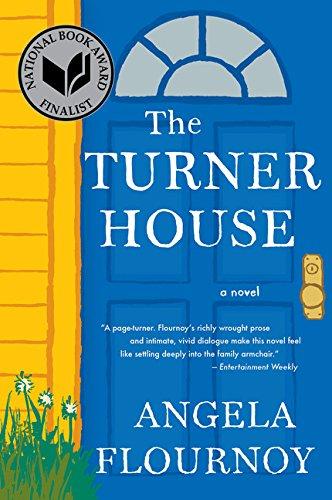 THE TURNER HOUSE
---
National Book Award Finalist
Nominated for the NAACP Image Awards, "Outstanding Literary Work – Debut Author"
Short-listed for the PEN/Robert W. Bingham Prize for Debut Fiction
One of the National Book Foundation's "5 Under 35"
Short-listed for the 2015 Center for Fiction First Novel Prize
Finalist for the 2016 New York Public Library Young Lions Award
Short-listed for the Ernest Gaines Award
Short-listed for The Morning News 2016 Tournament of Books
Long-listed for the NBCC John Leonard Prize for A Debut Novel
Long-listed for the 2016 Chautauqua Prize
An Amazon Top 100 Editors'
National Book Award Finalist
Nominated for the NAACP Image Awards, "Outstanding Literary Work – Debut Author"
Short-listed for the PEN/Robert W. Bingham Prize for Debut Fiction
One of the National Book Foundation's "5 Under 35"
Short-listed for the 2015 Center for Fiction First Novel Prize
Finalist for the 2016 New York Public Library Young Lions Award
Short-listed for the Ernest Gaines Award
Short-listed for The Morning News 2016 Tournament of Books
Long-listed for the NBCC John Leonard Prize for A Debut Novel
Long-listed for the 2016 Chautauqua Prize
An Amazon Top 100 Editors' Pick of the Year
A New York Times Notable Book of 2015
A New York Times Editors' Choice
New York Times Paperback Row
Short-listed for the Winter 2015 Lariat List
Short-listed for the Medici Book Club Prize
A Michigan Notable Book 2016
Black Caucus of the ALA—1st Novelist Award Winner
Finalist for the 2016 Indies Choice Awards
One of O, The Oprah Magazine's "10 Favorite Books of the Year"
One of Entertainment Weekly's "10 Best Books of 2015"
An NPR "Best Book of 2015"
One of Buzzfeed's "The 24 Best Fiction Books of 2015"
One of Bustle's "2015's 25 Best Books, Fiction Edition"
A Publishers Weekly "Best Book of 2015"
A Kirkus "Best Fiction Books of 2015"
An Essence's "Best Books of 2015"
A Time Out New York "Best Book of 2015"
A Detroit Free Press "Must-read novel of 2015"
A Literary Hub "Best Book of 2015"
One of Men's Journal's "The 35 Best Books of 2015"
One of the The Week's "Best Fiction Books of 2015"
A Denver Post "Best Fiction Book of 2015"
One of BookPage's "Best Books of 2015"
A Kobo.com "Must-Read Fiction Debut of 2015"
BAM Top Pick for Spring 2015
May 2015 Indie Next Title
One of Literati Bookstore's "Best Books of 2015"
For over fifty years the Turners have lived on Yarrow Street. Their house has seen thirteen children get grown and gone—and some return; it has seen the arrival of grandchildren, the fall of Detroit's East Side, and the loss of a father. But when their powerful mother falls ill, the Turners are called home to decide their house's fate and to reckon with how their past haunts—and shapes—their future. The Turner House is a striking examination of the price we pay for our dreams, and the ways in which our families bring us home.
Houghton Mifflin Harcourt
Paperback
March 2016
352 Pages
9780544705166
Praise
"An engrossing and remarkably mature first novel…Flournoy's prose is artful without being showy. She takes the time to flesh out the world…In her accretion of resonant details, Flournoy recounts the history of Detroit with more sensitivity than any textbook could…Flournoy gets at the universal through the patient observation of one family's particulars. In this assured and memorable novel, she provides the feeling of knowing a family from the inside out, as we would wish to know our own."—New York Times Book Review, Editors' Choice
"The Turner House speeds along like a page-turner. Flournoy's richly wrought prose and intimate, vivid dialogue make this novel feel like settling deeply into the family armchair."—Entertainment Weekly
"Flournoy has written an epic that feels deeply personal…Flournoy's finely tuned empathy infuses her characters with a radiant humanity."—O, The Oprah Magazine
"Angela Flournoy's knockout debut is one of those books that should, by rights, be described as the Great American Novel, as it hits all the points of American life: family, real estate, money, ghosts and loss. Set mostly in Detroit during the financial crisis of 2008, the book tells the story of the 13 adult children of Francis and Viola Turner, who must decide what to do with their family house. The characters are fascinating and funny, and anyone who has played a role in the ecosystem of his family life will recognize the joys and challenges that plague the Turners. But perhaps the strongest character is Detroit itself, as it morphs from bustling modern metropolis to a potent symbol of post-industrial decline."—NPR, "Our Guide to 2015's Great Reads"
Discussion Questions
Throughout the book, characters struggle with the concept of belonging—
to blood relations, in-laws, and even the city of Detroit. What does it mean to
"belong" in a group? How do characters come to terms with their own feelings
of belonging by the end of the novel?
The city of Detroit plays a large role in the way characters see themselves,
particularly for Francis Turner in the 1940s. How does the city itself contribute
to the story of the Turner family? Can you imagine a similar story taking place
elsewhere, or is the story inextricably tied to Detroit?
Cha-Cha sees himself as the patriarch of the family, but he also has trouble
getting his siblings to listen to him. In what ways does Cha-Cha's view of himself
as the leader prevent his siblings from trusting or respecting him?
In their final meeting (p. 241), Alice tells Cha-Cha that she thinks his haint has
made him feel extraordinary, and that she doesn't think he really wants to let it go.
Do you agree with her observation? What might the haint provide to Cha-Cha that
he otherwise lacks in his life?
Alice describes Cha-Cha as the prime minister of his family, and Viola as the
queen; she has the title, but is not concerned with day-to-day governance. What
is your impression of Viola when you first meet her in the novel, and how does
that impression change over time?
As the baby, Lelah thinks she has missed out on many of the best moments and
secrets in Turner family history. How might her role as the youngest have contributed
to her addiction to gambling? Do you think she has truly turned a corner by
the novel's end?
Lelah and David become close very quickly. Why do you think Lelah is drawn
to David, and why does David not break things off when he finds out about Lelah
staying on Yarrow Street?
Troy is the only sibling not present at the party that takes place the end of
the novel. Did you get the impression that he is on the path to change? Why
or why not?
Both Francis and Cha-Cha have a precarious relationship with belief, both in
religion and the supernatural. How does each character's beliefs shift over time,
and what effect do those changes have on their relationship to others?
Compare and contrast Lelah and Cha-Cha's reactions to the news of Viola's
worsened condition. What do their reactions tell us about their similarities and
differences? What do we learn about their roles in the family?
The move from Arkansas to Detroit is very important to Turner family history,
and it places them among the hundreds of thousands of African Americans who
moved North during the Great Migration. How is Francis and Viola's relationship
changed by the move? How do the challenges they face in Detroit contribute to
the way they raise their children?
At its core, do you see the Turners as a strongly bonded family? What does it
mean for a family to be bonded, especially when people move further away from
one another and start their own families?