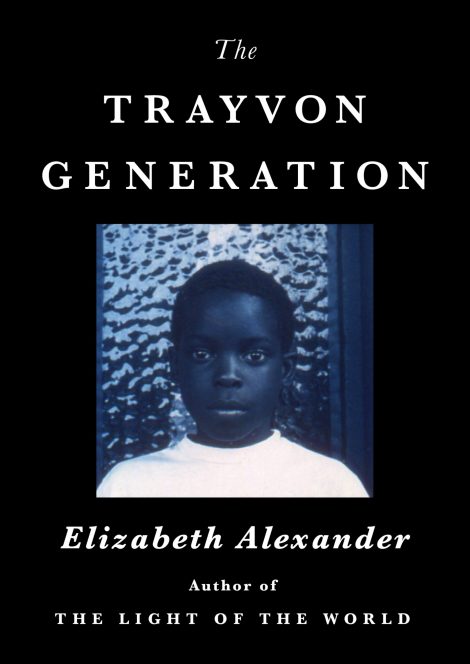 THE TRAYVON GENERATION
---
From a Pulitzer Prize finalist and New York Times bestselling author and poet comes a galvanizing meditation on the power of art and culture to illuminate America's unresolved problem with race.
In the midst of civil unrest in the summer of 2020 and following the murders of George Floyd, Breonna Taylor, and Ahmaud Arbery, Elizabeth Alexander—one of the great literary voices of our time—turned a mother's eye to her sons' and students' generation and wrote a celebrated and moving reflection on the challenges facing young Black America. Originally published in the New Yorker,
From a Pulitzer Prize finalist and New York Times bestselling author and poet comes a galvanizing meditation on the power of art and culture to illuminate America's unresolved problem with race.
In the midst of civil unrest in the summer of 2020 and following the murders of George Floyd, Breonna Taylor, and Ahmaud Arbery, Elizabeth Alexander—one of the great literary voices of our time—turned a mother's eye to her sons' and students' generation and wrote a celebrated and moving reflection on the challenges facing young Black America. Originally published in the New Yorker, the essay incisively and lovingly observed the experiences, attitudes, and cultural expressions of what she referred to as the Trayvon Generation, who even as children could not be shielded from the brutality that has affected the lives of so many Black people.
The Trayvon Generation expands the viral essay that spoke so resonantly to the persistence of race as an ongoing issue at the center of the American experience. Alexander looks both to our past and our future with profound insight, brilliant analysis, and mighty heart, interweaving her voice with groundbreaking works of art by some of our most extraordinary artists. At this crucial time in American history when we reckon with who we are as a nation and how we move forward, Alexander's lyrical prose gives us perspective informed by historical understanding, her lifelong devotion to education, and an intimate grasp of the visioning power of art.
This breathtaking  book is essential reading and an expression of both the tragedies and hopes for the young people of this era that is sure to be embraced by those who are leading the movement for change and anyone rising to meet the moment.
Grand Central Publishing
Hardcover
April 2022
160 Pages
9781538737897
Praise
Named one of TIME magazine's Most Anticipated Titles of 2022
"The Trayvon Generation is definitely essential reading for every generation."—Cosmopolitan
"An essential read for our times by the only person who could've written it so exquisitely."—Ms. Magazine
"Vigorous and inspiring…By capturing the rich spectrum of Black culture in America, Alexander offers hope and instruction for younger generations. The result is a thought-provoking must-read."—Publishers Weekly (starred review)
"A very moving short book that seeks to challenge readers' assumptions about American society; highly recommended for all libraries and for reading groups."—Library Journal (starred review)
"A powerful book which unveils the ways in which race is woven so deeply into the fabric of American culture, and sheds a light on how art can reveal the urgency of this issue."—Town & Country
Discussion Questions
1. This is a nonfiction book that asks you to read in a different way—there are many featured poems, and visual art is woven through and integral to the book. Which of the visual artworks did you find most compelling, and why? How did they affect your reading experience?
2. Dr. Alexander analyzes a number of monuments and memorials—many that honor white supremacists, including Stone Mountain and numerous Confederate monuments. Think about what statues, monuments, or memorials exist in your area. Or think about the names of streets, schools, or cities in your area. Who is honored? Who isn't honored? What kinds of lessons are these public symbols teaching you? Whose memories are you asked to remember?
3. The chapter "a tale of two textbooks" delves into how American history is taught, including the intense efforts to suppress Black history in textbooks and classroom lessons and the value of Black studies as a discipline. Think back to how you were taught about American history—how were colonialism, slavery, and the Civil Rights Movement covered? What wasn't covered? Were there times you were uncomfortable with what was being taught? Were there moments of "delayed comprehension," as Adrienne Su put it, where you later realized what you had been taught was false or not the whole story? What do you keep with you from that education? What have you unlearned in the years since?
4. What and how we remember—and are taught about—the past and history is a key focus in the book. What are the different forms of remembering discussed throughout the book? Consider more everyday forms, such as songs and rituals, as well. How do these different forms affect your experience of learning and memory?
5. How has the digital age (the advent of social media, smart phones, etc.) impacted how we—and those who have grown up in the digital age in particular—witness and comprehend race-based violence?
6. Dr. Alexander describes the pride and fear that are integral to her life as a mother. Find some examples in the text that show what motherhood means to Dr. Alexander. What elements of Black motherhood are specific to the Black experience? Which elements feel intrinsic and universal to motherhood itself?
7. In the chapter "we dress our ideas in clothes to make the abstract visible," Dr. Alexander writes about a visit to the Louisiana State Penitentiary (also known as Angola, for its location) and the crisis of mass incarceration in the United States. She writes, "If we forget them, we will not understand who, in total, we are." How do you understand "who we are" in this context? How do the artists and artwork discussed in this chapter also influence your understanding of "who we are"?
8. What is a "free Black man" in Dr. Alexander's use of the term? What does it mean to you, and are there any men who come to mind when you hear that phrase?
9. Dr. Alexander focuses on several poems throughout the book. Choose one and read it out loud. Are there a few lines or images that strike you? What about the poem resonates with the book?
10. Dr. Alexander poses the question, "Do I really believe that cultural expression can somehow shape a world where our children are safer?" (p. 64) at the end of the first section. How do the next two parts of the book answer this question? Did your answer to this question shift at all as you read?
11. In the last chapter, Dr. Alexander declares a few wishes for today's young people: "I wish for these young people freedom of movement, of thought, of imagination…I wish also for our young people rest from the unending labor that is race work, and from the spectral anxiety that is part of what it is to be Black." What do you wish for this generation, or yourself and your peers if you are a part of this generation? What about for the generation to follow? And what about for our elders?
Excerpt
"what will be the sacred words?"
The problem of the twenty-first century remains the color line. Yes, we are mired in overlapping societal struggles and challenges. But white supremacy and its many manifestations—some of them sly and cloaked, some of them clear as a Confederate flag flown by marauders in the US Capitol—has been a fundamental problem for every generation in this country since Black people first came to this land. W. E. B. Du Bois's "How does it feel to be a problem?" is still the question implicitly and explicitly directed at Black people. The race work of the generations of my great-grandparents, my grandparents, my parents, and myself is the work of our children's generation. I don't wring my hands that "we didn't fix it"; clearly it is unfixable by us alone. White supremacy is not the creation of Black people. I both lament and am enraged that this work is undone, and that our young people still have it to wrestle with.
Racial ideologies are insidious. They instruct in intricate, ambient teaching systems. The country is their classroom and everyone is in school, whether they choose to be or not.
Thus the color line is a fundamental, formative, constitutive American problem.
I was raised in troves of blackness: born in a Black metropolis, Harlem USA; reared in Chocolate City, Washington, D.C., which, in my childhood, was nearly three-quarters Black.1 From my family, I was given a sense of pride in our people and history, the need to understand myself as part of a larger whole and to be as helpful as I could to others, the familiar imperative to work "twice as hard," and the responsibility to speak up when injustice was done.
When I found my professional path, it was as an educator, a scholar of Black culture, and an organizer of words, mostly poems. I wrote and thought and taught about the importance of witnessing; about the crucial functions of storytelling and history; about how the specter of violence hangs as constantly as the moon over Black people. I found knowledge and guidance in words, and possibilities in music, dance, and art, where I could go outside of words and access feeling and deep knowing. In Black history and culture, I encountered the full range of human experience, conundrum, perseverance, beauty, foible, and particularity. Here everything could be understood and I evangelized in my teaching and writing about this wellspring.
I believed that representation mattered, and that if more of "us" occupied spaces where justice-minded decisions could be made, power shared, and examples set, "the race" could move forward and, with that, all of society would strengthen itself and mend the corrosion of ignorance and racism.
Here is the thorny truth: while many sectors of society are now more integrated, violence and fear are unabated, and the war against Black people feels as if it is gearing up for another epic round.
This poem by Clint Smith gets to the perennialness and sorrow of race in America:
Your National Anthem
Today, a black man who was once a black boy
like you got down on one of his knees & laid
his helmet on the grass as this country sang
its ode to the promise it never kept
& the woman in the grocery store line in front
of us is on the phone & she is telling someone
on the other line that this black man who was
once a black boy like you should be grateful
we live in a country where people aren't killed
for things like this you know she says, in some places
they would hang you for such a blatant act of disrespect
maybe he should go live there instead of here so he can
appreciate what he has & then she turns around
& sees you sitting in the grocery cart surrounded
by lettuce & yogurt & frozen chicken thighs
& you smile at her with your toothless gum smile
& she says that you are the cutest baby she has
ever seen & tells me how I must feel so lucky
to have such a beautiful baby boy & I thank her
for her kind words even though I should not
thank her because I know that you will not always
be a black boy but one day you may be a black man
& you may decide your country hasn't kept
its promise to you either & this woman or another
like her will forget that you were ever this boy & they
will make you into something else & tell you
to be grateful for what you've been given
The small word may is the devastation in this poem. In the scene at a supermarket, the precious Black boy—the speaker's son—is admired by a white woman who in the same breath decries the actions of a Black man asking better of his country, as we always have; she upends his belonging—that baby, in the words of his father, may grow up to "be a black man." Not will but may grow up.
Racial violence exists on a long continuum, and we refuse to understand that at our peril. Though I may worry in particular ways about my own sons as do other parents of Black children, this is a worry that we all must share. When human beings look at other human beings in their midst and instead of seeing other human beings see a threat, see something monstrous, or don't see at all, our very humanity is at stake.
Layered atop the never-ending anxiety of parenting, Black parents live with the truth that we cannot fully protect our children. As a people, we have lived with too much suffering, and we live among many others who do not go through life with the same degree of precarity and loss. When yet another young Black person is shot dead—in their neighborhood, while jogging, in their bed—we brace in anticipation of the tableaux to come: the neighborhood funeral, the raw grief of mothers, the unlikelihood of a trial, and, if a trial, the character assault on the person who was murdered—they were out too late, they were in the street and not on the sidewalk, they had smoked a little weed, they passed a counterfeit bill, they dangled an air freshener from the back window, they asked why they were being stopped, they had a shiny object that turned out to be house keys in their hands. We who live consciously in this reality stay distracted and anxious, those feelings heightened when there is a trial and our faith is tested once again, and our children feel no safer. Our anxiety may even stifle the joy and exuberance that should characterize their childhood.
Essay
A LETTER FROM ELIZABETH ALEXANDER
Dear Reader,
I began writing this book in June 2020, in the heat of a summer of protest and collective grief and action. I wrote it to reflect on my joys and my fears as a lifelong educator and mother of two young men who have come of age watching other young Black people being routinely endangered with anti-Black hatred. I have come to refer to our children's generation as the Trayvon Generation because their worldviews have been shaped profoundly by Trayvon's story. My role as a mother has been equally impacted.
The book goes much further than the original essay and is a historical meditation on the persistence of race as an unresolved issue at the center of American experience. The power of art, poetry, and culture to illuminate our historical and personal understanding is a central theme, and the book includes beautifully reproduced works of art by some of most brilliant artists.
I hope it will spark meditation, conversation, and action, and I hope you find insight and power in The Trayvon Generation.