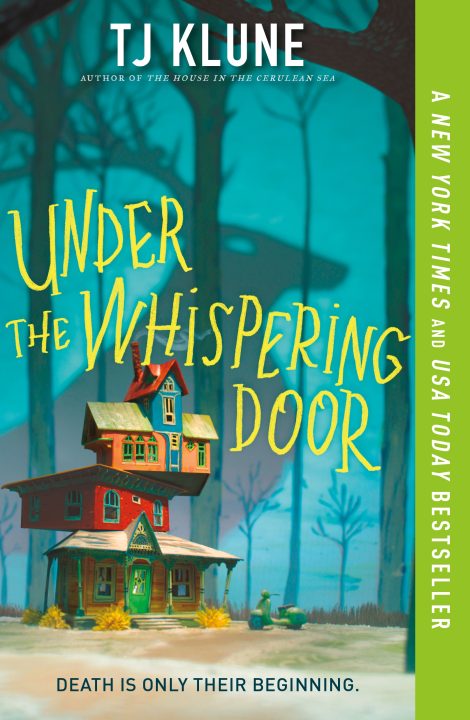 UNDER THE WHISPERING DOOR
---
Under the Whispering Door is the new instant New York Times bestseller from TJ Klune, author of The House in the Cerulean Sea. A Man Called Ove meets The Good Place in this delightful queer love story.
Welcome to Charon's Crossing.
The tea is hot, the scones are fresh, and the dead are just passing through.
When a reaper comes to collect Wallace from his own funeral, Wallace begins to suspect he might be dead.
And when Hugo, the owner of a peculiar tea shop,
Under the Whispering Door is the new instant New York Times bestseller from TJ Klune, author of The House in the Cerulean Sea. A Man Called Ove meets The Good Place in this delightful queer love story.
Welcome to Charon's Crossing.
The tea is hot, the scones are fresh, and the dead are just passing through.
When a reaper comes to collect Wallace from his own funeral, Wallace begins to suspect he might be dead.
And when Hugo, the owner of a peculiar tea shop, promises to help him cross over, Wallace decides he's definitely dead.
But even in death he's not ready to abandon the life he barely lived, so when Wallace is given one week to cross over, he sets about living a lifetime in seven days.
Hilarious, haunting, and kind, Under the Whispering Door is an uplifting story about a life spent at the office and a death spent building a home.
Tor Books
Paperback
January 2023
384 Pages
9781250217394
Praise
A New York Times Bestseller!
A USA Today Bestseller!
An Indie Bestseller!
An Indie Next and LibraryReads Pick!
One of BuzzFeed's "Best Books of 2022"!
A Locus Awards Top Ten Finalist for Fantasy Novel
A 2021 LibraryReads Favorite
"There is so much to enjoy in Under the Whispering Door, but what I cherish the most is its compassion for the little things—a touch, a glance, a precious piece of dialogue—healing me, telling me that for all the strangenesses I hold, I am valued, valid—and maybe even worthy of love." —Ryka Aoki, author of Light From Uncommon Stars
"A warm hug of a book about a Grinch of a man who dies and a ferryman who helps the dead in their journey onwards. Under the Whispering Door is a kind book, full of faith in the goodness of people, full of kind people showing how compassion is a strength. It broke my heart with its unflinching understanding that grief never goes away, never empties, only settles into the room of your soul like a strange souvenir. And then it healed me in the next breath." —Cassandra Khaw, author of Nothing But Blackened Teeth
"Tenderness, wit, and skillful worldbuilding elevate this delightful tale. Fans of queer fantasy won't want to miss this." —Publishers Weekly
"Is it possible to fall in love with someone's imagination? If so, consider me fully smitten. TJ Klune creates worlds where fear and threat can be conquered by kindness, and a tender, queer heart is more valuable than any weapon or power." —David Levithan
"The latest by Lambda Literary Award winner Klune is a winning story about grief, loss, and moving on. Readers will cry and be charmed by his wonderful characters." —Library Journal
"Klune's latest is a sweet tale of grief and second chances, and a ghost story about not giving up on even the most lost of souls." —Booklist
Discussion Questions
How did your impressions of Wallace shift as the novel progressed? Throughout his journey, what does he discover about first impressions?
What do Wallace and Hugo need from each other? How are they affected by their memories of childhood? What forms of healing do they bring to each other as adults?
Did you perceive the Manager to be wise or wicked? When he gave Wallace one more week (after referring to him as a flaw in a system that has previously worked so well), how did you expect Wallace to spend those days? What would you have wanted to accomplish in that time span, under the same circumstances?
How does Alan Flynn's arrival change the atmosphere at Charon's Crossing Tea and Treats? How did you react to the fears he raises regarding the aftershocks of an unnatural death and the possibility of becoming a Husk?
When Mei tells the story of her life, especially her mother's tenacity, what does she reveal about her own motivations and inspiration? What makes her well suited to her assignments?
Discuss the characters' relationship to clothing. What is it like for Wallace to adapt to a different approach to covering himself?
How do Nelson and Apollo transform the characters? What role do they play in helping us realize the presence of new pathways for finding our purpose?
What contradictions does Cameron's experience raise about fate and free will? What does it take to "trust that we have you," even when you're "unhooked"?
Discuss Wallace's relationship to Naomi. If you were in his realm, what would you want to say to someone left behind? (P.S. Since you're not actually in that realm, you might be able to go ahead and say those heartfelt things to your someone now.)
Where does Desdemona's approach to the afterlife fit in with the Manager's? What does Nancy and Lea's experience illustrate about the process of making peace with the death of a loved one?
Discuss the novel's title. What is the theme of the messages that are whispered? What did you learn about love and life by eavesdropping there?
TJ Klune has been widely praised for creating fantastical worlds populated by heartwarming characters. How did Under the Whispering Door enrich your experience of other books by Klune that you have read? How do his imaginary settings reveal truths about the real world?
Excerpt
CHAPTER
1
Patricia was crying.
Wallace Price hated it when people cried.
Little tears, big tears, full-on body-wracking sobs, it didn't matter. Tears were pointless, and she was only delaying the inevitable.
"How did you know?" she said, her cheeks wet as she reached for the Kleenex box on his desk. She didn't see him grimacing. It was probably for the best.
"How could I not?" he said. He folded his hands on his oak desk, his Arper Aston chair squeaking as he settled in for what he was sure was going to be a case of unfortunate histrionics, all while trying to keep from grimacing at the stench of bleach and Windex. One of the night staff must have spilled something in his office, the scent thick and cloying. He made a mental note to send out a memo to remind everyone that he had a sensitive nose, and that he shouldn't be expected to work in such conditions. It was positively barbaric.
The shades on the windows to his office were pulled shut against the afternoon sun, the air-conditioning blasting harshly, keeping him alert. Three years ago, someone had asked if they could move the dial up to seventy degrees. He'd laughed. Warmth led to laziness. When one was cold, one kept moving.
Outside his office, the firm moved like a well-oiled machine, busy and self-sufficient without the need for significant input, exactly as Wallace liked. He wouldn't have made it as far as he had if he'd had to micromanage every employee. Of course, he still kept a watchful eye, those in his employ knowing they needed to be working as if their lives depended on it. Their clients were the most important people on earth. When he said jump, he expected those within earshot to do just that without asking inconsequential questions like how high?
Which brought him back to Patricia. The machine had broken down, and though no one was infallible, Wallace needed to switch out the part for a new one. He'd worked too hard to let it fail now. Last year had been the most profitable in the firm's history. This year was shaping up to be even better. No matter what condition the world was in, someone always needed to be sued.
Patricia blew her nose. "I didn't think you cared."
He stared at her. "Why on earth would you think that?"
Patricia gave a watery smile. "You're not exactly the type."
He bristled. How dare she say such a thing, especially to her boss. He should've realized ten years ago when he'd interviewed her for the paralegal position that it'd come back to bite him in the ass. She'd been chipper, something Wallace had believed would lessen with time, seeing as how a law firm was no place for cheerfulness. How wrong he'd been. "Of course I—"
"It's just that things have been so hard lately," she said, as if he hadn't spoken at all. "I've tried to keep it bottled in, but I should have known you'd see right through it."
"Exactly," he said, trying to steer the conversation back on course. The quicker he got through this, the better off they'd both be. Patricia would realize that, eventually. "I saw right through it. Now, if you could—"
"And you do care," she said. "I know you do. I knew the moment you gave me a floral arrangement for my birthday last month. It was kind of you. Even though it didn't have a card or anything, I knew what you were trying to say. You appreciate me. And I so appreciate you, Mr. Price."
He didn't know what the hell she was talking about. He hadn't given her a single thing. It must have been his legal administrative assistant. He was going to have to have a word with her. There was no need for flowers. What was the point? They were pretty at first but then they died, leaves and petals curling and rotting, making a mess that could have been avoided had they not been sent in the first place. With this in mind, he picked up his ridiculously expensive Montblanc pen, jotting down a note (IDEA FOR MEMO: PLANTS ARE TERRIBLE AND NO ONE SHOULD HAVE THEM). Without looking up, he said, "I wasn't trying to—"
"Kyle was laid off two months ago," she said, and it took him longer than he cared to admit to place who she was talking about. Kyle was her husband. Wallace had met him at a firm function. Kyle had been intoxicated, obviously enjoying the champagne Moore, Price, Hernandez & Worthington had provided after yet another successful year. Face flushed, Kyle had regaled the party with a detailed story Wallace couldn't bring himself to care about, especially since Kyle apparently believed volume and embellishment were a necessity in storytelling.
"I'm sorry to hear that," he said stiffly, setting his phone on the desk. "But I think we should focus on the matter at—"
"He's having trouble finding work," Patricia said, crumpling up her tissue before reaching for another. She wiped her eyes, her makeup smearing. "And it couldn't come at a worse time. Our son is getting married this summer, and we're supposed to pay for half the wedding. I don't know how we'll manage, but we'll find a way. We always do. It's a bump in the road."
"Mazel tov," Wallace said. He didn't even know she had children. He wasn't one to delve into the personal lives of his employees. Children were a distraction, one he'd never warmed to. They caused their parents—his employees—to request time off for things like recitals and illness, leaving others to pick up the slack. And since Human Resources had advised him he couldn't ask his employees to avoid starting families ("You can't tell them to just get a dog, Mr. Price!") he'd had to deal with mothers and fathers needing the afternoon off to listen to their children vomit or screech songs about shapes and clouds or other nonsense.
Patricia honked again into her tissue, a long and terribly wet noise that made his skin crawl. "And then there's our daughter. I thought she was directionless and going to end up hoarding ferrets, but then the firm graciously provided her with a scholarship, and she finally found her way. Business school, of all things. Isn't that wonderful?"
He squinted at her. He would have to speak to the partners. He wasn't aware they offered scholarships. They donated to charities, yes, but the tax breaks more than made up for it. He didn't know what sort of return they'd see on giving money away for something as ridiculous as business school, even if it too could be written off. The daughter would probably want to do something as asinine as open a restaurant or start a nonprofit. "I think you and I have a different definition of wonderful."
She nodded, but he didn't think she was hearing him. "This job is so important to me, now more than ever. The people here are like family. We all support one another, and I don't know how I'd have made it this far without them. And to have you sense something was wrong and ask me to come in here so that I could vent means more to me than you will ever know. I don't care what anyone else says, Mr. Price. You're a good man."
What was that supposed to mean? "What is everyone saying about me?"
She blanched. "Oh, nothing bad. You know how it is. You started this firm. Your name is on the letterhead. It's … intimidating."
Wallace relaxed. He felt better. "Yes, well, I suppose that's—"
"I mean, yes, people talk about how you can be cold and calculating and if something doesn't get done the moment you want it to, you raise your voice to frightening levels, but they don't see you like I do. I know it's a front for the caring man underneath the expensive suits."
"A front," he repeated, though he was pleased she admired his sense of style. His suits were luxurious. Only the best, after all. It was why part of the package welcoming those new to the firm listed in detailed bullet points what was acceptable attire. While he didn't demand designer labels for all (especially since he could appreciate student debt), if anyone wore something obviously bought off a discount rack, they'd be given a stern talking to about having pride in their appearance.
"You're hard on the outside, but inside you're a marshmallow," she said.
He'd never been more offended in his life. "Mrs. Ryan—"
"Patricia, please. I've told you that before many times."
She had. "Mrs. Ryan," he said firmly. "While I appreciate your enthusiasm, I believe we have other matters to discuss."
"Right," she said hastily. "Of course. I know you don't like when people compliment you. I promise it won't happen again. We're not here to talk about you, after all."
He was relieved. "Exactly."
Her lip trembled. "We're here to talk about me and how difficult things have become lately. That's why you called me in after finding me crying in the supply closet."
He thought she'd been taking inventory and the dust had affected her allergies. "I think we need to refocus—"
"Kyle won't touch me," she whispered. "It's been years since I've felt his hands on me. I told myself that it's what happens when a couple has been together for so long, but I can't help but think there's more to it."
He flinched. "I don't know if this is appropriate, especially when you—"
"I know!" she cried. "How inappropriate can he be? I know I've been working seventy hours a week, but is it too much to ask for my husband to perform his matrimonial duties? It was in our vows."
What an awful wedding that must have been. They'd probably held the reception at a Holiday Inn. No. Worse. A Holiday Inn Express. He shuddered at the thought. He had no doubt karaoke had been involved. From what he remembered of Kyle (which was very little at all), he'd probably sung a medley of Journey and Whitesnake while chugging what he lovingly referred to as a brewski.
"But I don't mind the long hours," she continued. "It's part of the job. I knew that when you hired me."
Ah! An opening! "Speaking of hiring—"
"My daughter pierced her septum," Patricia said forlornly. "She looks like a bull. My little girl, wanting a matador to chase her down and stick things in her."
"Jesus Christ," Wallace muttered, scrubbing a hand over his face. He didn't have time for this. He had a meeting in half an hour that he needed to prepare for.
"I know!" Patricia exclaimed. "Kyle said it's part of growing up. That we need to let her spread her wings and make her own mistakes. I didn't know that meant having her put a gosh darn ring through her nose! And don't even get me started on my son."
"Okay," Wallace said. "I won't."
"He wants Applebee's to cater the wedding! Applebee's."
Wallace gaped in horror. He hadn't known awful wedding planning was genetic.
Patricia nodded furiously. "Like we could afford that. Money doesn't grow on trees! We've done our best to instill in our children a sense of financial understanding, but when you're young, you don't always have a firm grasp of it. And now that his bride-to-be is pregnant, he's looking to us for help." She sighed dramatically. "The only reason I can even get up in the morning is knowing I can come here and … escape from it all."
He felt a strange twist in his chest. He rubbed at his sternum. Most likely heartburn. He should have skipped the chili. "I'm glad we can be a refuge from your existence, but that's not why I asked you for this meeting."
She sniffled. "Oh?" She smiled again. It was stronger this time. "Then what is it, Mr. Price?"
He said, "You're fired."
She blinked.
He waited. Surely now she'd understand, and he could get back to work.
She looked around, a confused smile on her face. "Is this one of those reality shows?" She laughed, a ghost of her former exuberance he'd thought had long since been banished. "Are you filming me? Is someone going to jump out and shout surprise? What's that show called? You're Fired, But Not Really?"
"I highly doubt it," Wallace said. "I haven't given authorization to be filmed." He looked down at her purse in her lap. "Or recorded."
Her smile faded slightly. "Then I don't understand. What do you mean?"
"I don't know how to make it any clearer, Mrs. Ryan. As of today, you are no longer employed by Moore, Price, Hernandez & Worthington. When you leave here, security will allow you to gather up your belongings and then you'll be escorted from the building. Human Resources will be in touch shortly regarding any final paperwork in case you need to sign up for … oh, what was it called?" He flipped through the papers on the desk. "Ah, yes. Unemployment benefits. Because apparently, even if you're unemployed, you can still suckle from the teat of the government in the form of my tax dollars." He shook his head. "So, in a way, it's like I'm still paying you. Just not as much. Or while working here. Because you don't."
She wasn't smiling any longer. "I … what?"