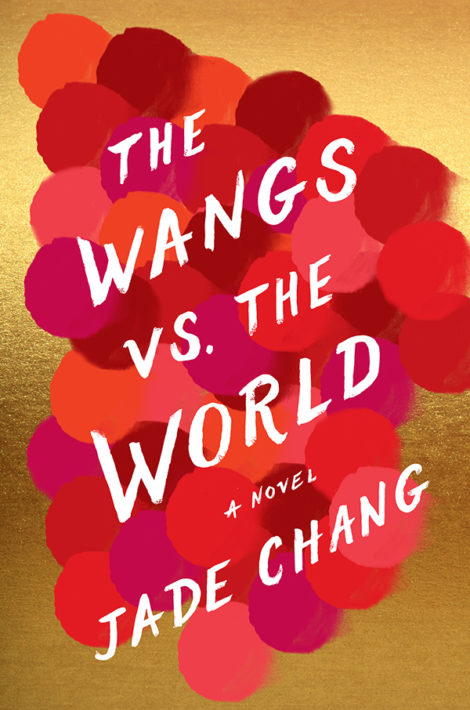 THE WANGS VS. THE WORLD
---
One of Entertainment Weekly's Most Anticipated Titles of 2016
Outrageously funny and full of charm, The Wangs vs. the World is a debut novel about a wealthy but fractured Chinese immigrant family that had it all, only to lose every last cent—and about the road trip they take across America that binds them back together. It's an entirely fresh look at what it means to belong in America—and how going from glorious riches to (still name-brand) rags brings one family together in a way money never could.
One of Entertainment Weekly's Most Anticipated Titles of 2016
Outrageously funny and full of charm, The Wangs vs. the World is a debut novel about a wealthy but fractured Chinese immigrant family that had it all, only to lose every last cent—and about the road trip they take across America that binds them back together. It's an entirely fresh look at what it means to belong in America—and how going from glorious riches to (still name-brand) rags brings one family together in a way money never could.
Houghton Mifflin Harcourt
Hardcover
October 2016
368 Pages
9780544734098
Praise
"Fresh, energetic, and completely hilarious, The Wangs vs. the World is my favorite debut of the year." —Jami Attenberg, author of Saint Mazie and The Middlesteins
"Funny, brash, honest, full of wit and heart and smarts. This is a novel I wish I could write, have been dying to read, and hope everyone else reads, too." —Charles Yu, author of Sorry Please Thank You and How to Live Safely in a Science Fictional Universe
"Jade Chang's debut novel is a heartbreaking, hilarious, and honest American epic: a road trip that's an ultimate escape from our parents' American dream, toward an unknown destination that's both more vulnerable and more hopeful." —J. Ryan Stradal, author of Kitchens of the Great Midwest
Discussion Questions
1. Why is Charles Wang mad at America and mad at history? What does the novel suggest or reveal about "the American Dream"? What does Charles have to say about the American Dream and whom it belongs to?
2. What does Charles hope to recover? Is his plan reasonable—or successful? What do his children and his wife think of his plan?
3. Why did Saina want to be an artist as a young girl? What does she believe the purpose of art should be? What was Saina taught about the choice between art and marriage or motherhood, and what does she come to think of this teaching as an adult?
4. When Andrew turns to comedy, what does he discover as one of the true joys of this kind of performance?
5. Explore the theme of luck in the novel. How much control do the characters seem to have over their own lives, and how much is a matter of luck or fate? How are wealth and good fortune ultimately defined by the story's conclusion?
6. How does each of the characters respond to the loss of the family fortune? Why does Barbra believe that her experience of this loss is different than everyone else's? Who does she believe is most imprisoned by their possessions, and to whom does she think wealth should belong? Do you agree with her? Why or why not?
7. Why does the car accident have such a profound impact on Grace? Do you think she would have had a similar revelation on her own? And how does it relate to Andrew's thoughts about connection and love?
8. At the end of his affair with Dorrie, what does Andrew think is the only thing that matters? Does the rest of the novel seem to support or overturn his point of view? Explain.
9. Explore the treatment of gender in the book. What does Charles believe are the fundamental differences between men and women? Is there any difference in the way that Charles treats his son versus his daughters? How are the female characters in the novel treated by others? Do the female characters seem to have the same opportunities available to them as the men? Discuss.
10. How are the Wangs ultimately affected by their travels together and their reunion?
Excerpt
Bel-Air, CA
Charles Wang was mad at America.
Actually, Charles Wang was mad at history.
If the death-bent Japanese had never invaded China, if a million — a billion — misguided students and serfs had never idolized a balding academic who parroted Russian madmen and couldn't pay for his promises, then Charles wouldn't be standing here, staring out the window of his beloved Bel-Air home, holding an aspirin in his hand, waiting for those calculating assholes from the bank — the bank that had once gotten down on its Italianate-marble knees and kissed his ass — to come over and repossess his life.
Without history, he wouldn't be here at all.
He'd be there, living out his unseen birthright on his family's ancestral acres, a pampered prince in silk robes, writing naughty, brilliant poems, teasing servant girls, collecting tithes from his peasants, and making them thankful by leaving their tattered households with just enough grain to squeeze out more hungry babies.
Instead, the world that should have been his fell apart, and the great belly of Asia tumbled and roiled with a noxious foreign indigestion that spewed him out, bouncing him, hard, on the tropical joke of Taiwan and then, when he popped right back up, belching him all the way across the vast Pacific Ocean and smearing him onto this, this faceless green country full of grasping newcomers, right alongside his unclaimed countrymen: the poor, illiterate, ball-scratching half men from Canton and Fujian, whose highest dreams were a cook's apron and a back-alley, backdoor fuck.
Oh, he shouldn't have been vulgar.
Charles Wang shouldn't even know about the things that happen on dirt-packed floors and under stained sheets. Centuries of illustrious ancestors, scholars and statesmen and gentlemen farmers all, had bred him for fragrant teas unfurling in fresh springwater, for calligraphy brushes of white wolf hair dipped in black deer-glue ink, for lighthearted games of chance played among true friends.
Not this. No, not this. Not for him bastardized Peking duck eaten next to a tableful of wannabe rappers and their short, chubby, colored-contact-wearing Filipino girlfriends at Mr. Chow. Not for him shoulder-to-shoulder art openings where he sweated through the collar of his paper-thin cashmere sweater and stared at some sawed-in-half animal floating in formaldehyde whose guts didn't even have the courtesy to leak; not for him white women who wore silver chopsticks in their hair and smiled at him for approval. Nothing, nothing in his long lineage had prepared him for the Western worship of the Dalai Lama and pop stars wearing jade prayer beads and everyone drinking goddamn boba chai.
He shouldn't be here at all. Never should have set a single unbound foot on the New World. There was no arguing it. History had started fucking Charles Wang, and America had finished the job.
America was the worst part of it because America, that fickle bitch, used to love Charles Wang.
She had given him this house, a beautiful Georgian estate once owned by a minor MGM starlet married to a studio lawyer who made his real money running guns for Mickey Cohen. At least that's what Charles told his guests whenever he toured them around the place, pointing out the hidden crawl space in the wine cellar and the bullet hole in the living room's diamond-pane window. "Italians don't have nothing on gangster Jews!" he'd say, stroking the mezuzah that he'd left up on the doorway. "No hell in the Old Testament!"
Then he'd lead his guests outside, down the symmetrical rows of topiaries, and along the neat swirls of Madame Louis Lévêque roses until he could arrange the group in front of a bowing lawn jockey whose grinning black face had been tactfully painted over in a shiny pink. He'd gesture towards it, one eyebrow arched, as he told them that the man who designed this, this house destined to become the Wang family estate, had been Paul Williams, the first black architect in the city. The guy had built Frank Sinatra's house, he'd built that ridiculous restaurant at LAX that looked like it came straight out of The Jetsons — stars and spaceships, and a castle for Charles Wang.
Martha Stewart had kvelled over this house. She'd called it a treasure and lain a pale, capable hand on the sleeve of Charles Wang's navy summer-silk blazer with the burnished brass buttons, a blazer made by his tailor who kept a suite at the Peninsula Hong Kong and whose name was also Wang, though, thank god, no relation. Martha Stewart had clutched his jacket sleeve and looked at him with such sincerity in her eyes as she'd gushed, "It's so important, Charles, so essential, that we keep the spirit of these houses whole."
It was America, really, that had given him his three children, infinitely lovable even though they'd never learned to speak an unaccented word of Mandarin and lived under their own roofs, denying him even the bare dignity of being the head of a full house. His first wife had played some part in it, but he was the one who had journeyed to America and claimed her, he was the one who had fallen to his knees at the revelation of each pregnancy, the one who had crouched by the hospital bed urging on the birth of each perfect child who walked out into the world like a warrior.
Yes, America had loved him once. She'd given him the balls to turn his father's grim little factory, a three-smokestack affair on the outskirts of Taipei that supplied urea to fertilizer manufacturers, into a cosmetics empire. Urea. His father dealt in piss! Not even real honest piss — artificial piss. Faux pee. A nitrogen-carrying ammonia substitute that could be made out of inert materials and given a public relations scrubbing and named carbamide, but that was really nothing more than the thing that made piss less terribly pissy.
The knowledge that his father, his tall, proud father with his slight scholar's squint and firmly buttoned quilted vests, had gone from quietly presiding over acres of fertile Chinese farmland to operating a piss plant on the island of Taiwan — well, it was an indignity so large that no one could ever mention it.
Charles's father had wanted him to stay at National Taiwan University and become a statesman in the New Taiwan, a young man in a Western suit who would carry out Sun Yat Sen's legacy, but Charles dropped out because he thought he could earn his family's old life back. An army of well-wishers — none of whom he'd ever see again — had packed him onto a plane with two good-luck scrolls, a crushed orchid lei, and a list of American fertilizer manufacturers who might be in need of cheap urea.
Charles had spent half the flight locked in the onboard toilet heaving up a farewell banquet of bird's-nest soup and fatty pork stewed in a writhing mass of sea cucumber. When he couldn't stomach looking at his own colorless face for another second, he picked up a miniature bar of wax-paper-wrapped soap and read the label, practicing his English. It was a pretty little package, lily scented and printed with purple flowers. "Moisturizing," promised the front, "Skin so soft, it has to be Glow." And in back, there was a crowded list of ingredients that surprised Charles. This was before anything in Taiwan had to be labeled, before there was any sort of unbribable municipal health department that monitored claims that a package of dried dates contained anything more than, say, "The freshest dates dried in the healthy golden sun."
Charles stood there, heaving, weaving forward and back on his polished custom-made shoes, staring cross-eyed at the bar of soap, trying to make out the tiny type. Sweet almond oil, sodium stearate, simmondsia chinensis, hydrolyzed wheat proteins, and then he saw it: UREA. Hydroxyethyl urea, right between shea butter and sodium cocoyl isethionate.
Urea!
Urea on a pretty little American package!