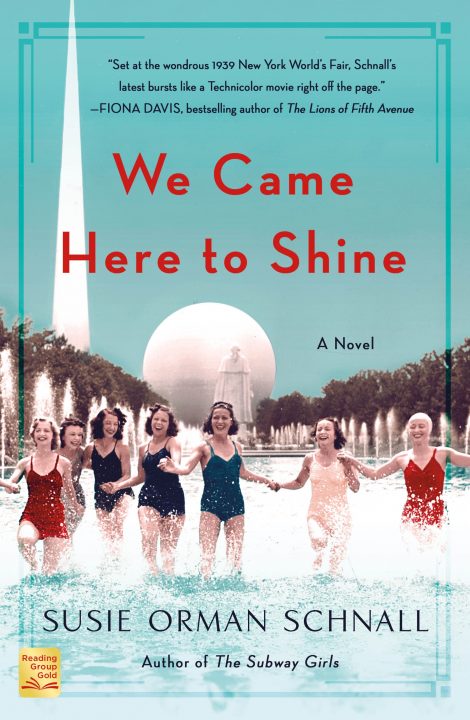 WE CAME HERE TO SHINE
A Novel
---
Set during the iconic 1939 New York World's Fair, Susie Orman Schnall's We Came Here to Shine features two ambitious young women—a down-on-her-luck actress and an aspiring journalist—form an unlikely friendship as they navigate a world of possibility and find out what they are truly made of during a glorious summer of spectacle and potential…
Gorgeous Vivi is about to begin filming her first starring role in a Hollywood picture when the studio head ships her off to New York as a favor to a friend. She's assigned the leading role in the heralded Aquacade synchronized swimming spectacular at the World's Fair,
Set during the iconic 1939 New York World's Fair, Susie Orman Schnall's We Came Here to Shine features two ambitious young women—a down-on-her-luck actress and an aspiring journalist—form an unlikely friendship as they navigate a world of possibility and find out what they are truly made of during a glorious summer of spectacle and potential…
Gorgeous Vivi is about to begin filming her first starring role in a Hollywood picture when the studio head ships her off to New York as a favor to a friend. She's assigned the leading role in the heralded Aquacade synchronized swimming spectacular at the World's Fair, a fate she believes will destroy her film career. If she performs well, she'll have another chance at stardom, but with everything working against her, will her summer lead to opportunity or failure?
Plucky Max dreams of becoming a serious journalist, but when her job at the New York Times doesn't pan out, she finds herself begrudgingly working for the daily paper of the World's Fair. As her ideas are continually overlooked by her male counterparts and her career prospects are put in jeopardy, Max must risk everything to change the course of her life.
When Max and Vivi's worlds collide, they forge an enduring friendship. One that teaches them to go after what matters most during the most meaningful summer of their lives.
St. Martin's Griffin
Paperback
June 2020
384 Pages
9781250169785
Praise
[One of] the 20 most anticipated books of summer 2020 —Travel + Leisure
[One of] 16 new historical fiction books to read this spring —Parade
[One of] the 20 most anticipated books of 2020 for working moms —Working Mother
"An ode to female friendship that pulses with momentum and left me breathless." —Fiona Davis, national bestselling author of The Chelsea Girls
"A remarkable novel about the challenges women face and the courage they must summon in order to lead the lives they deserve." —Lynda Cohen Loigman, author of The Two-Family House
"Schnall's engrossing period piece offers two characters worth rooting for." —Publishers Weekly
Discussion Questions
Note: Many of these questions contain spoilers. Please don't read them until you've finished the book.
1. The World's Fair plays the role of another character in the novel. Have you ever attended a World's Fair yourself or know someone who has? If you haven't attended one, based upon the description in the novel, do you think it's something you would have wanted to go to? Why or why not? And how, if at all, did the fair's depiction in the novel teach you about, or change your impression of this important event?
2. The New York World's Fair of 1939 took place as the Great Depression was winding down and as World War II was beginning. What do you know about the political and cultural landscapes of the time that inform the story lines of the characters and the timing of the World's Fair in general?
3. If you could time travel back to 1939, which exhibits or buildings would you visit? What souvenirs would you buy?
4. One of the opening quotes is by Eleanor Roosevelt: "You must do the thing you think you cannot do." What does that quote mean to you?
5. Are you more of a Max or a Vivi, or neither? Why? How did your impressions of each character evolve while reading the book?
6. What job would you have pursued at the fair during the summer of 1939? Would you have wanted to work for Today at the Fair, swim in the Aquacade, work at one of the exhibit buildings, or something else entirely?
7. Were you surprised to learn that Sofia was Vivi's daughter? What else surprised you while reading the novel?
8. Do you blame Vivi for leaving her newborn daughter in the care of her sister, Maria, even though Vivi knew Frank was a dangerous man? Or do you think Vivi did what she had to do because Maria pressured her to leave?
9. How do you think Max handled the situation she faced in not receiving comparable work assignments to her coworker Charlie? How would you have handled her plight?
10. While reading the novel, did you hope Vivi would end up with her Los Angeles boyfriend, Gabe, or the Aquacade diver Dean? Or did you think she wasn't well suited for either?
11. Did you think Max and James were a good match? How did you feel about their relationship when the novel ended?
12. If you were asked to create a time capsule of the present day, what items would you recommend be included to represent our society?
13. What can we learn from Max's and Vivi's experiences about the challenges women faced professionally and personally in the late 1930s?
14. Have you read any of Susie Orman Schnall's other novels? How would you compare this one to those?
15. If you were making a movie of this novel, whom would you cast?
16. Did you take away any message from the story?
17. Reread the last paragraph of the acknowledgments. Why do you think this sentiment is so important to the author? Is it something that you find inspiring or interesting, or that you identify with in any way? Why or why not?
Excerpt
CHAPTER ONE
Vivi
Monday, May 22
Vivi Holden would eventually realize that not getting what she wanted that day was the best thing that could have happened to her. But it was still early in Los Angeles. And the not-getting hadn't yet taken place.
Vivi stood just outside of the curving black iron gates of the WorldWide Films studio in Hollywood and paused, shifting from heel to toe and back again in her good black shoes. When she thought about it later, she realized that pause, that uncharacteristic feeling of uncertainty, had been conveying something. But, standing there, on the brink of her future, Vivi would do what she'd become accustomed to doing: ignore the wary voice, charge forward, and deal with the consequences later.
The traffic on Melrose Avenue honked and sped: actors on their way to early call times at the Paramount lot down the street; lawyers on their way to Wilshire Boulevard offices filled with windowed suites and cigarette smoke and secretarial pools; and everyone else on their way to school or to eat pancakes at the Pantry or to bed after a long night doing whatever it was Angelenos did under the glow of the moon while Vivi slept, her dreams allowing her to escape from the swirl of thoughts that gripped her brain throughout the day. Thoughts of what she'd left behind colliding with thoughts of what she so badly longed for.
Vivi stared at the traffic, the hypnotizing hum.
"Is that Vivi Holden? The new star of Every Last Sunset?"
Vivi turned to see her best friend and fellow actress, Amanda Summer, eyes wide in feigned surprise, a mock gasp in her voice. Amanda and Vivi had been signed to WorldWide around the same time, cutting their teeth together and becoming best friends.
"Very funny, Amanda."
"Aren't you going in, lovey?" Amanda asked, gesturing toward the gate.
"I am."
"Then what are you waiting for?"
"I'm not sure." Vivi laughed, scrunching up her nose, a bit confused by her hesitation. She realized she'd been picking at her nails again and forced herself to stop.
Vivi swallowed hard and took a deep breath. Then she put one foot in front of the other and walked confidently toward her future, toward the first day as the leading lady, Lola, in Every Last Sunset.
Vivi and Amanda made their way down the main thoroughfare to Soundstage Two, while Amanda prattled on about her boring date the night before. Vivi thought the studio lot looked as if it were preparing to star in a movie about a studio lot in the morning. Capped messengers riding bikes from one office block to another delivering trades, box office reports, contracts. Wardrobe mistresses wheeling metal racks bursting with costumes. Actors and actresses dressed as cowboys and Southern belles and executives and Romans, along with extras trailing behind, hoping to absorb the downdraft of theatrical success. All bathed in sunshine and scented by orange trees.
The machinations thrilled Vivi, as did her good fortune. Landing the female lead in Every Last Sunset signified that the studio, which really only meant Mr. Carlton Green, the capricious studio head, believed she was ready. And now she was finally on her way toward everything she wanted. Everything she needed to be financially independent and to make the most of her God-given gifts. That's what she'd been told, and that's what she'd come to believe.
Vivi sped up when she saw Soundstage Two just ahead on her left. A smile took form, lighting up her golden-brown eyes, her whole entire face.
"You ready?" Amanda asked, like a mother on the first day of kindergarten.
Vivi nodded and opened the door.
"Miss Holden, good morning."
"Good morning," Vivi said cheerfully to the young man in a navy-blue blazer embroidered with the WorldWide logo. He seemed to have been waiting for her.
"I'm Kenny, one of the production assistants. I'll take you to your dressing room."
"Coming?" Vivi looked over her shoulder at Amanda, who smiled and nodded.
Vivi's eyes lit up when she saw the dressing room. She'd never had her own before, having shared cramped spaces with multiple girls for the other pictures she'd been in. She took in the cozy chintz love seat, the screened-off dressing area, and the cheerful pink-and-yellow floral wallpaper. And glorious, in the middle of the vanity, was an enormous bouquet of red roses, the tall glass vase tied with a sheer red ribbon.
"I wonder who those are from," Amanda said, an unkind sarcasm in her voice.
Vivi rushed over and read the note: To my shining star. With love, Gabe.
"Was I right?" Amanda asked, rifling through the garment rack, tight with costumes.
"You were," Vivi said lightly, deciding not to allow Amanda's dislike of Gabe to infect this exciting day. She'd spent enough time listening to Amanda tell her all of the reasons why the relationship was unhealthy, none of which ever made much sense to Vivi. Gabe had always been wonderful, adoring, supportive. Her first true love. Amanda said there was something about him she didn't trust. But, no, Vivi wouldn't endure Amanda's negativity regarding Gabe today.
"I'll be back for you in fifteen minutes to take you to hair and makeup," Kenny said, closing the door behind him.
"You sure about this, Vivi? You sure Lola is the best character to set you up for your career?" Amanda asked, standing behind Vivi, meeting her eyes in the mirror.
"What's wrong with the character?"
"Just that she's quite seductive. A vixen, from what you've told me. I've always thought your first lead role would be more…"
"Wholesome?"
"Perhaps."
"I am sure about playing Lola, and even if I weren't, it's not my decision to make."
"Either way, it's about time you're properly recognized. Soon everyone will know your name."
Vivi had been assigned small test roles in a handful of films. The one with Wyatt Everett, where she played a cigarette girl in a nightclub scene and had to fend off Everett's character's advances while his date retired to the ladies' lounge. The one with Lucille Banner and Monty Greer, where she played Banner's younger sister who tried to steal Greer away while Banner's character languished in a coma at a faraway hospital. And others of the same ilk. The studio's casting heads told Vivi that girls with her looks got certain roles and would continue to get certain roles until the tastes of America's filmgoers changed. Vivi was prescient enough to know that wouldn't happen anytime soon and wise enough to realize, for her career's sake, that was perfectly fine.
Now Vivi felt her hands drawing together reflexively and forced them into her pockets. Her ravaged cuticles couldn't survive another attack by her fingernails. She thought about the role of Lola and what it would mean for her future career. "Jack and Mr. Green think this is the right role for me," Vivi said to Amanda, hoping she sounded confident.
"But what do you think, lovey?"
"I—"
Vivi stopped when she heard knocking at the door.
Copyright © 2020 by Susie Orman Schnall