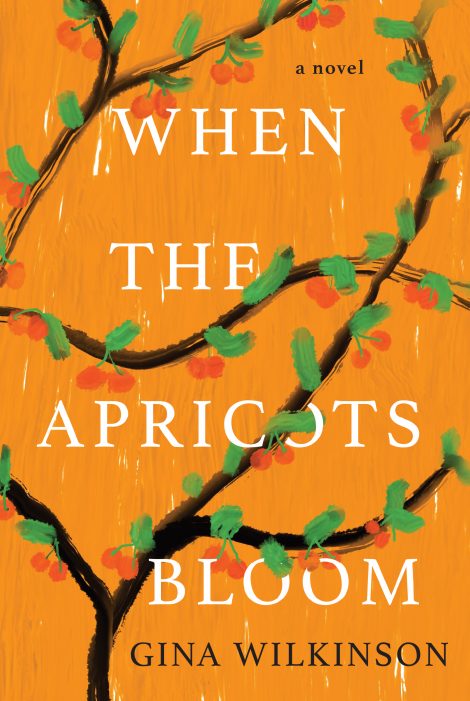 WHEN THE APRICOTS BLOOM
---
Inspired by her own experiences stationed in Baghdad during Saddam Hussein's rule, former foreign correspondent Gina Wilkinson's evocative debut is told through the eyes of three very different women in Iraq at the turn of the millennium. A secretary, an artist and a diplomat's wife, each must confront the complexities of trust, friendship, and motherhood under the rule of a dictator and his ruthless secret police…
At night, in Huda's fragrant garden, a breeze sweeps in from the desert encircling Baghdad, rustling the leaves of her apricot trees and carrying warning of visitors at her gate.
Inspired by her own experiences stationed in Baghdad during Saddam Hussein's rule, former foreign correspondent Gina Wilkinson's evocative debut is told through the eyes of three very different women in Iraq at the turn of the millennium. A secretary, an artist and a diplomat's wife, each must confront the complexities of trust, friendship, and motherhood under the rule of a dictator and his ruthless secret police…
At night, in Huda's fragrant garden, a breeze sweeps in from the desert encircling Baghdad, rustling the leaves of her apricot trees and carrying warning of visitors at her gate. Huda, a secretary at the Australian embassy, lives in fear of the mukhabarat—the secret police who watch and listen for any scrap of information that can be used against America and its allies. They have ordered her to befriend Ally Wilson, the deputy ambassador's wife. Huda has no wish to be an informant, but fears for her teenaged son, who may be forced to join a deadly militia if she refuses. Nor does she know that Ally has dangerous secrets of her own.
Also fighting to keep her child safe is Rania, Huda's former friend. As the women's lives intersect, their hidden pasts spill into the present. Facing possible betrayal at every turn, all three must trust in a fragile, newfound loyalty, even as they discover how much they are willing to sacrifice to protect their families.
Kensington Books
Paperback
December 2020
304 Pages
9781496729354
Praise
"A deeply involving and important novel by a master storyteller. Gina Wilkinson highlights the humanity at the center of a brutal conflict. She brings her lived experience to every page of this harrowing, dramatic, and ultimately hopeful book." —Susan Wiggs, # 1 New York Times bestselling author
Discussion Questions
1. When the Apricots Bloom was partly inspired by the author's own experiences living in Baghdad under Saddam Hussein, at a time when Western sanctions kept Iraq virtually cut off from the outside world. During that period, her closest Iraqi friend worked as a secret police informant and reported on her every move. Did her portrayal of life in Baghdad seem realistic to you? What did you learn about life for ordinary Iraqis that surprised you?
2. If you were in Huda's situation, how would you have responded to the orders from the secret police? Should Huda have felt guilty about any of her actions?
3. Compared to Huda, how does Rania handle pressure from the regime? Does her family's status protect her, or is that just an illusion? Rania is also an artist—a respected role in Iraqi society. How does this compare to prevailing attitudes toward artists in your own culture?
4. Ally is desperate to find a connection with her mother. Given the restrictions she's under, do you think her subterfuge is justified, or is her search for clues to her mother's past irresponsible? What would you have done differently?
5. Huda's husband, Abdul Amir, plays a key role in the book. To what extent does he influence Huda's decisions? Did your perception of him alter over time?
6. The novel alternates between Huda's, Rania's, and Ally's points of view. How are their worldviews and attitudes reflected in their narrative styles? Do you prefer one to the other? How would the novel have differed if it had been told from only one perspective?
7. In the acknowledgments, the author references the debate over #OwnVoices. To what extent do you agree or disagree with her statements? Do you think it was appropriate for her to write from the point of view of an Iraqi woman?