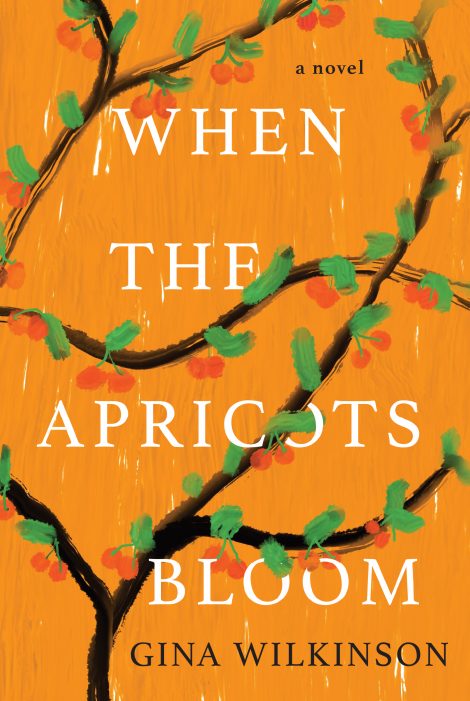 WHEN THE APRICOTS BLOOM
---
Inspired by her own experiences stationed in Baghdad during Saddam Hussein's rule, former foreign correspondent Gina Wilkinson's evocative debut is told through the eyes of three very different women in Iraq at the turn of the millennium. A secretary, an artist and a diplomat's wife, each must confront the complexities of trust, friendship, and motherhood under the rule of a dictator and his ruthless secret police…
At night, in Huda's fragrant garden, a breeze sweeps in from the desert encircling Baghdad, rustling the leaves of her apricot trees and carrying warning of visitors at her gate.
Inspired by her own experiences stationed in Baghdad during Saddam Hussein's rule, former foreign correspondent Gina Wilkinson's evocative debut is told through the eyes of three very different women in Iraq at the turn of the millennium. A secretary, an artist and a diplomat's wife, each must confront the complexities of trust, friendship, and motherhood under the rule of a dictator and his ruthless secret police…
At night, in Huda's fragrant garden, a breeze sweeps in from the desert encircling Baghdad, rustling the leaves of her apricot trees and carrying warning of visitors at her gate. Huda, a secretary at the Australian embassy, lives in fear of the mukhabarat—the secret police who watch and listen for any scrap of information that can be used against America and its allies. They have ordered her to befriend Ally Wilson, the deputy ambassador's wife. Huda has no wish to be an informant, but fears for her teenaged son, who may be forced to join a deadly militia if she refuses. Nor does she know that Ally has dangerous secrets of her own.
Also fighting to keep her child safe is Rania, Huda's former friend. As the women's lives intersect, their hidden pasts spill into the present. Facing possible betrayal at every turn, all three must trust in a fragile, newfound loyalty, even as they discover how much they are willing to sacrifice to protect their families.
Kensington Books
Paperback
February 2021
304 Pages
9781496729354
Praise
"A deeply involving and important novel by a master storyteller. Gina Wilkinson highlights the humanity at the center of a brutal conflict. She brings her lived experience to every page of this harrowing, dramatic, and ultimately hopeful book." —Susan Wiggs, # 1 New York Times bestselling author
"Gina Wilkinson's breathtaking novel explores the plight of ordinary people who must flee their country to survive, as three women living under the tyrannical regime of Saddam Hussein and his brutal secret police risk their lives to protect themselves and their children. Riveting and profound! I adored this book!" —Ellen Marie Wiseman, New York Times bestselling author of The Orphan Collector
"Huda, Rania, and Ally provide a glimpse into the world of Iraq during the reign of Saddam Hussein. Their lives are so different, and yet common bonds create a friendship that withstands the distrust and paranoia that pervades the dictator's rule. It is hard to imagine how hard life must have been, although Wilkinson does a marvelous job depicting the fear that all of these characters experienced. Her personal experience in Iraq during in the years prior to the Iraq war adds genuine depth to this story and the characters' lives. Reading this story gave me an appreciation for my life in a free country! It was riveting from beginning to end. I loved the characters and their strength and perseverance. A great read!" —Stephanie Crowe, Page & Palette (Fairhope, AL)
"Wilkinson's atmospheric and suspenseful novel explores the complicated relationships between two Iraqi women and a diplomat's wife during Saddam Hussein's tyrannical rule. It powerfully illustrates the peril women faced under his misogynistic, autocratic regime, and the risks, lies and betrayals they had to commit in order to protect their families. I read this novel with my heart in my throat." —Lisa Johnson, Penguin Bookshop (Sewickley, PA)
Discussion Questions
1. When the Apricots Bloom was partly inspired by the author's own experiences living in Baghdad under Saddam Hussein, at a time when Western sanctions kept Iraq virtually cut off from the outside world. During that period, her closest Iraqi friend worked as a secret police informant and reported on her every move. Did her portrayal of life in Baghdad seem realistic to you? What did you learn about life for ordinary Iraqis that surprised you?
2. If you were in Huda's situation, how would you have responded to the orders from the secret police? Should Huda have felt guilty about any of her actions?
3. Compared to Huda, how does Rania handle pressure from the regime? Does her family's status protect her, or is that just an illusion? Rania is also an artist—a respected role in Iraqi society. How does this compare to prevailing attitudes toward artists in your own culture?
4. Ally is desperate to find a connection with her mother. Given the restrictions she's under, do you think her subterfuge is justified, or is her search for clues to her mother's past irresponsible? What would you have done differently?
5. Huda's husband, Abdul Amir, plays a key role in the book. To what extent does he influence Huda's decisions? Did your perception of him alter over time?
6. The novel alternates between Huda's, Rania's, and Ally's points of view. How are their worldviews and attitudes reflected in their narrative styles? Do you prefer one to the other? How would the novel have differed if it had been told from only one perspective?
7. In the acknowledgments, the author references the debate over #OwnVoices. To what extent do you agree or disagree with her statements? Do you think it was appropriate for her to write from the point of view of an Iraqi woman?
Excerpt
CHAPTER 1
Baghdad, 2002
Huda paced her backyard, trying to brush off her spat with her husband. In the distance, above al-Dora refinery, columns of flames pierced the night. An easterly wind pushed the stench of the burning gas away from New Baghdad, so all Huda could smell were the orange and apricot trees by the fence. She knew the wind could turn at any time, but right then the gas flares were beautiful, like candles lined up on a giant's birthday cake.
The bell rang at the front gate. Huda paused mid-step and wondered, Had Abdul Amir forgotten his keys when he stormed off to the coffee shop? Or had her husband cooled down and decided to eat dinner with her after all? Huda hurried inside through the kitchen door. A nougat box lay spread-eagled on the counter, cellophane wrappers strewn like evidence of a hasty crime. Huda frowned and swept them into the bin. So much for her diet.
The bell sounded again. Something in its flat, insistent tone made her falter. She scurried down the hallway, heels slapping against the tile. In the foyer, she paused by a console table decorated with family portraits. The largest of the pewter frames faced the wall. Huda flipped it around. The president stared back at her, eyes dark as tar. Medals marched across his chest.
She quickly moved the president's portrait to a prominent position between a photo of her and Abdul Amir on their wedding day, and a snap of their son, Khalid, wearing a suit and tie at his thirteenth birthday party. Next, she set to work unlocking the front door: unlatching chains, turning keys, sliding dead bolts. She ran her hands over her hair and heaved open the door. Two secret police officers strode down the driveway.
Huda quivered. Lock the bolts; hide under the bed, she thought. But she knew that wouldn't work. These men were like dogs: show fear and they bite. Behind them, the padlock from the gate lay in chunks on the concrete. The broken metal caught the glare of the floodlights over the carport. The larger of the two men shoved a pair of bolt cutters into the pocket of his leather jacket. Huda imagined his pockets contained all sorts of instruments: for breaking, slicing, and prizing apart.
"As-salaam alaikum." Her voice wobbled. "What brings you here tonight, my countrymen?"
"Sister, my apologies for a visit at the dinner hour," called Abu Issa, the older and slighter of the two men. He too was wearing a boxy leather jacket. Men like him were never without them, night or day, even when the sun scorched the blue from the sky and the bitumen on the roads melted into sticky pools.
Without waiting for an invitation, Abu Issa and his bolt-cutting partner barreled through the front door. Their bulk filled the foyer and pushed the oxygen out. Huda retreated down the hallway, careful not to turn her back. The men followed. Sand crunched beneath their boots—no amount of sweeping could keep the desert out. The fine grains went where they wanted, just like the officers of the mukhabarat.