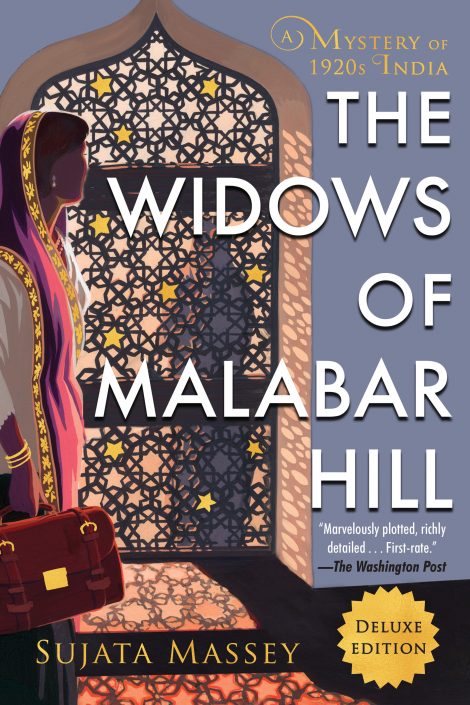 THE WIDOWS OF MALABAR HILL
---
Perveen Mistry, the daughter of a respected Zoroastrian family, has just joined her father's law firm, becoming one of the first female lawyers in India. Armed with a legal education from Oxford, Perveen has been appointed to execute the will of Mr. Omar Farid, a wealthy Muslim mill owner who has left three widows behind.
But Perveen notices something strange: all three wives have signed over their full inheritance to a charity. The Farid widows live in full purdah—in strict seclusion, never leaving the women's quarters or speaking to any men. Are they being taken advantage of by an unscrupulous guardian?
Perveen Mistry, the daughter of a respected Zoroastrian family, has just joined her father's law firm, becoming one of the first female lawyers in India. Armed with a legal education from Oxford, Perveen has been appointed to execute the will of Mr. Omar Farid, a wealthy Muslim mill owner who has left three widows behind.
But Perveen notices something strange: all three wives have signed over their full inheritance to a charity. The Farid widows live in full purdah—in strict seclusion, never leaving the women's quarters or speaking to any men. Are they being taken advantage of by an unscrupulous guardian? When tensions escalate to murder, it's Perveen's responsibility to figure out what really happened on Malabar Hill, and to ensure that no innocent women or children are in further danger.
Inspired in part by the woman who made history as India's first female attorney, The Widows of Malabar Hill is a richly wrought story of multicultural 1920s Bombay as well as the debut of a sharp new sleuth.
Soho Crime
Paperback
November 2018
416 Pages
9781616959760
Praise
ABA IndieNext Selection
An Amazon Editor's Pick for Best of January
An Apple iTunes Most Anticipated Book of 2018
The Bookseller (UK) Editor's Pick for Mystery
A Bustle Most Anticipated Book of 2018
A LitHub Most Anticipated Crime, Mystery, and Thriller Title of 2018
"A splendid first installment in what promises to be a memorable series." —The Wall Street Journal
"Perveen's dogged pursuit of truth and justice for her clients is reminiscent of the debuts of Anne Perry's Charlotte Ellison Pitt and Jacqueline Winspear's Maisie Dobbs. But the multicultural, multi-faith milieu in which Perveen lives, works and attempts to find love both illuminates a bygone era and offers a thoughtful perspective relevant to today's focus on women's rights and equality." —Los Angeles Times 
"Marvelously plotted, richly detailed." —The Washington Post
"The pages do indeed fly." —The Globe and Mail
"The Widows of Malabar Hill contains multitudes, tackling women's history and rights, while treating readers to a riveting story." —The National Post
"A spectacular mystery." —Bustle
"Perveen Mistry is an extraordinary heroine . . . [She is] sure to join the leads of great mystery fiction." —Susan Elia MacNeal, New York Times bestselling author of the Maggie Hope mysteries
"[Perveen MIstry] is destined to find a home with fans of like-minded female investigators such as Mary Russell and Maisie Dobbs." —Los Angeles Review of Books
"An enticing and enlightening whodunit that addresses social issues and India's multiple cultures." —Richmond Times-Dispatch
"The start of a series mystery readers should not miss." —Amulya Malladi, bestselling author of A House for Happy Mothers and The Copenhagen Affair
"Absolutely terrific, and you are just going to love Perveen Mistry, India's first female lawyer."—Charles Todd, bestselling author of the Ian Rutledge series and the Bess Crawford series
Discussion Questions
1. Perveen Mistry is in a historically groundbreaking role: she is representing the rights of female clients, some of whom have never before had any access to legal protection because of religious law, limited education, or patriarchal restrictions that greatly disadvantage them. Perveen is the perfect female lawyer to represent women's rights, since she herself has had terrible legal problems and has seen how frustrating it is to have no power under the law. How much more difficult is Perveen's job than a contemporary female lawyer's? Did any of her encounters particularly frustrate or anger you as a reader? Did she face problems that you couldn't imagine a lawyer today facing? On the other hand, have things not changed as much as we think?
2. What do you make of Perveen's last meeting with Cyrus? How would you have felt in her position?
3. The difference between "modern" and "orthodox" religiosity is an important one in this book. Perveen's parents, the Mistrys, are depicted as modern Parsis who educate their daughter and hope she will have a career. The Sodawallas, meanwhile, are orthodox Parsis who still obey ancient purity laws that are now thought to be unhealthy and who expect their new daughter-in-law to leave her education behind and be a traditional housewife. The gap in the two families' beliefs becomes violent and heartbreaking. How has this conversation about religious orthodoxy changed since the 1920s? How does it still relate to our 21st-century societies?
4. Why do you think Behnoush Sodawalla is so insistent that Perveen isolate herself? What do you think are the real reasons behind her strict Parsi traditionalism?
5. Meanwhile, in the Farid house in Bombay, the Muslim widows live in purdah, another form of religious orthodoxy. How do the Muslim and Parsi restrictions on women differ? How do they overlap? From each of the Farid widows' points of view, what would you say are the advantages and disadvantages of living in purdah? Were you surprised by their decision to leave purdah at the end of the book?
6. What role does class play in the novel? How different would Perveen's choices have been if she had not been from such a wealthy family? Do you think she would have been more or less likely to marry Cyrus, or more or less likely to leave him? What other choices of hers would have been impossible if she had come from a poor or middle-class family?
7. Meanwhile, Perveen is very accepting of her best friend's homosexuality, but Alice's parents are clearly not. How do you think Alice's situation might have been different if she had not been as wealthy? How much advantage does she have as an expatriate? How do you think the flowering women's rights movement will affect her? Do you think she'll end up finding more freedom and happiness in India, as she hopes, or do you think she will eventually find gender roles and sexuality there to be just as stifling?
Interviews
AN INTERVIEW WITH SUJATA MASSEY
Q: Where did the character of Perveen Mistry come from?
Massey: When I was working on an earlier India historical novel (The Sleeping Dictionary), I collected everything I could find about the people and places of late British colonial India. I've learned you never know what you might need someday. I printed out an article I saw on the Internet about India's first woman lawyer, Cornelia Sorabji. When I decided to write a legal mystery series set in 1920s India, I found the saved article and disappeared down a rabbit hole. Not only did I have Cornelia's caseload to serve as inspiration, I realized that the regulations governing Parsi marriage and divorce could affect a female lawyer character's life. In the old days, it was typical for Parsi women who separated from their husbands to go back to live with their parents, as Perveen does. Her close ties to England—her education at Oxford and her friendship with Englishwoman Alice Hobson-Jones—also would have been natural. Many wealthy Parsis enjoyed British clothing and furniture and music. If they could afford it, they sent their children to England for education. This set up a challenge when the Indian nationalist movement heated up. Perveen's commitment to social justice leads her to yearn for independence, yet she knows her family's fortune was built on their relationship as building contractors for the British.
Q: You obviously did an incredible amount of research in order to create this immersive and richly textured historical setting. What kinds of sources were you pulling from?
Massey: Mostly books. I was especially helped by two of Cornelia Sorabji's memoirs titled India Calling and India Recalled. These books chronicled the lifestyle of a young woman lawyer working both with Indian clients and the British Civil Service. I also got a picture of life within a progressive, academically ambitious and socially concerned Parsi Christian family through Opening Doors: The Untold Story of Cornelia Sorabji, by Cornelia's nephew, Richard Sorabji. I found many more old books published in India at the Ames Library of South Asia within the University of Minnesota. All the Parsi cultural details came through the kind assistance of Parsis and Iranis living both in India and abroad. A couple of blogs, Parsikhaber.net and bawibride.com, had many helpful articles, and I received special tours of Parsi areas with the blog authors when I went to Mumbai in 2015. I interviewed more Parsi people, enjoying their special biscuits, curries and tea just like Perveen's mother makes.
It's always best to spend time in a location one's writing about. In Mumbai, I spent a lot of time strolling in the Fort section, where Mistry House is located. While the heritage buildings are well-preserved, they now contain trendy shops and restaurants—although I'm pleased that a number of old Irani cafes are thriving, as well as the law offices and High Court. I was able to walk through almost all the locations in the book except for Ballard Pier, which is not open to the public for security reasons.
The most challenging research aspect was law, since I've never studied it. I learned all I could from Mitra Sharafi, a professor of law at the University of Wisconsin in Madison who had done specialized research on the history of law in South Asia, especially the role of Parsis in India's legal history, as well as Muslim women's treatment in the Indian court system. Dr. Sharafi's book, Law and Identity in Colonial South Asia, helped greatly. I was also thrilled to find an old book that Perveen and her father consulted. The Principles of Mohammedan Law by D.F. Mulla is scanned and is a free read online.
Q: What was the most surprising revelation that came out of that research?
Massey: My idea of what it meant to be a lawyer dramatically changed. I used to think of it as an intellectual, somewhat dispassionate profession, and now I see it as a job that is very creative. By putting myself in Perveen and Jamshedji's position, I saw how they constantly stretched their imaginations to find ways to defend clients while staying within legal boundaries. While legal training can be tedious, practicing law to help ordinary people and improve difficult situations must be exhilarating.
Q: Perveen's parents are depicted as loving, supportive, and endlessly committed to their daughter's education and career prospects as well as her happiness. In the reality of 1920s Bombay, would the Mistrys have been unusual in these characteristics? Or were they more common than a modern reader would expect?
Massey: Many Parsi parents were progressive when it came to women's education. They built hospitals and schools and pushed their daughters toward careers in education, law and medicine. This was augmented by philanthropy toward all Indians. The name Mistry itself means "builder," and construction is the root of the family's wealth. Jamshedji and Camellia Mistry are typical of a well-off, ambitious family, with a hand in charity as well as the law and building. Another positive aspect to Parsi families is they were very likely to welcome home daughters wishing to leave their husbands, rather than to reject them.
The existence of such supportive Parsi families actually dissuaded judges from awarding separated Parsi women alimony!
Q: Similarly, Perveen is very accepting of her best friend Alice's homosexuality. Would Perveen have been exceptional for this acceptance in her own time? What did you learn from your research about lesbian rights and issues in the 1920s British Empire?
Massey: It's a complicated situation. Let me start by talking about Indian mores. Physical affection between relatives and friends is more demonstrative in India than the West. Men hold hands with each other when walking in public, and non-sexual bed sharing can be commonplace. This makes Alice's comment about sleeping with another girl seem underwhelming to Perveen! Also, while homosexuality in India is currently illegal, in the past it was tacitly accepted. For instance, when the famous author E.M. Forster worked as a correspondence secretary to a Maharaja in a princely kingdom, he was provided a male servant to serve as his sexual companion.
In Britain, there was significantly greater anxiety about homosexuality. During the novel's time period, men were jailed for homosexual acts. Women were not subject to such draconian laws, perhaps because the government didn't believe it was possible for women to want to have sex together. Alice and Perveen are also open-minded because of their backgrounds as protestors for social change while studying together at Oxford.
Q: Perveen Mistry is seen speaking or studying many languages during the course of the book—English, Hindi, Gujarati, Urdu, Bengali. How clever she seems to an American reader! Is Bombay society as multilingual as Perveen's circles are?
Massey: Actually, Perveen would also have studied Latin and French or German for the Oxford entrance exams! Such language learning works if it begins at a young age, as it does for most people in India. A typical person speaks the language of the area (such as Hindi or Tamil or Telegu) and the language of her family's original region. And most schools teach English. When I was young I spoke German pretty well, and it wasn't terribly hard to learn some Japanese in my twenties. However, when I began studying Hindi in my forties, it was very hard for me to retain the vocabulary. And with disuse, I've forgotten my Japanese. I agree that language study is difficult—but if you are young, it's child's play.
Q: Architecture is closely described throughout the story: Mistry House, the Sodawalla's bungalow, the homes of Malabar Hill and Farid's Islamic style bungalow. Why so much detail on buildings?
Massey: Perveen comes from a Parsi family that had first built ships, then buildings, over hundreds of years. Therefore, noticing architectural details from woodwork to mosaic tiles is almost a genetic trait. And the types of homes in India are so varied that I wanted to give the reader the chance to enjoy the splendor along with me. In Bombay, there are a number of distinctive architectural styles. When the British worked with Parsis to create Bombay between the 1700s and early 1900s, they created a form of architecture using local stone that was a different flavor from the Anglo-Indian buildings going up in Calcutta, New Delhi, and Madras. Bombay Gothic combines European Gothic conventions such as towers and gargoyles with grand elements of Hindu and Muslim palaces. These grand stone buildings, such as the High Court of India, are breathtaking in their beauty and also their cool comfort. Malabar Hill was originally a settlement of large Victorian bungalows meant to keep the British cool and free from the diseases of the crowded central Bombay. But in the early 20th century, these old, mostly wooden homes were torn down in favor of elegant stucco houses with Georgian architecture. Parsis also had enclave neighborhoods throughout the city; Dadar Parsi Colony, which was built in the 1920s, is probably the grandest and was built not just with fine homes but planted with hundreds of species of trees.
In Malabar Hill, I saw the exterior of the lovely bungalow that was once home to Muhammad Ali Jinnah, who was a Bombay lawyer before he became the founder of Pakistan. This was the inspiration for the Farid Mansion, where I tried to combine classic elements of Islamic architecture and the idea of a home that had plenty of hiding places.