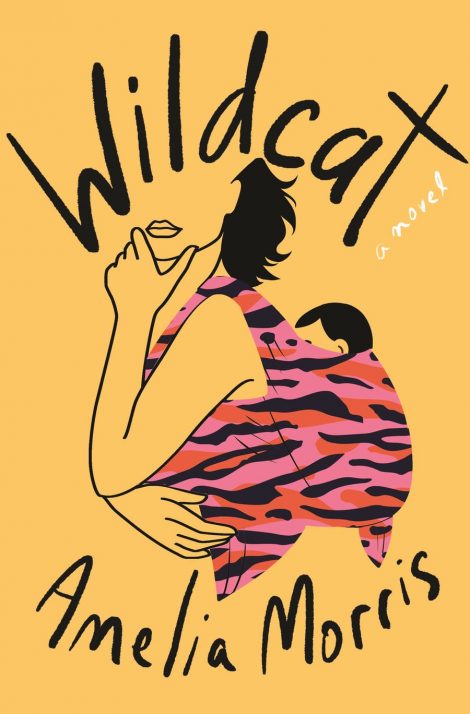 WILDCAT
---
Wildcat is an uproariously funny, surprisingly touching story of one woman's journey through motherhood and female friendship, in a society that plays fast and loose with information.
New mother, aspiring writer, and former shopgirl Leanne has lost her way. As she struggles with both her grief and the haze of motherhood, it also becomes clear that her best friend, the default queen of East Side Los Angeles, Regina Mark, might not actually be a friend at all.
As Leanne begins to investigate and undermine Regina, she also strikes up an unexpected friendship with the lauded writer Maxine Hunter.
Wildcat is an uproariously funny, surprisingly touching story of one woman's journey through motherhood and female friendship, in a society that plays fast and loose with information.
New mother, aspiring writer, and former shopgirl Leanne has lost her way. As she struggles with both her grief and the haze of motherhood, it also becomes clear that her best friend, the default queen of East Side Los Angeles, Regina Mark, might not actually be a friend at all.
As Leanne begins to investigate and undermine Regina, she also strikes up an unexpected friendship with the lauded writer Maxine Hunter. Feeling frustrated and invisible next to Regina's wealth and social standing, Leanne seeks security wherever she can find it, whether that's by researching whether she should vaccinate her son, in listening to the messages she thinks her father is sending from beyond the grave, or in holding her own against a petulant student in her creative writing class. Most of all, however, she looks for it within Maxine, who offers Leanne something new.
With a keen eye for the trappings of privilege, class, and the performative nature of contemporary domestic life, Amelia Morris's tender and wicked debut shows us a woman who bucks against the narrative she's been fed, only to find power in herself and the truth that emerges.
Flatiron Books
Hardcover
February 2022
304 Pages
9781250809216
Praise
A MOST ANTICIPATED BOOK of FEBRUARY by LA Times, Bustle, The Millions, Alta Journal and more!
"The thing I was prepared to like least about Amelia Morris's funny and engrossing debut novel—new motherhood and all the requisite growing pains—ultimately became the thing I admired about it most… Wildcat was a book I couldn't set down for long." —The New York Times

"Like Dana Spiotta's Waywardbut funnier, the novel is also a hard look at the role of social media in women's lives… A smart, juicy, of-the-moment read." —Kirkus, starred review
"A witty, wise examination of friendship, class and family, and a hilarious, pitch perfect send-up of L.A'.s bougie-bohemian class" —People, Book of the Week Pick
"Amelia Morris writes into reality—the beautiful and the ugly, the way we inevitably measure ourselves against one another. Vibrant and fast-moving, Wildcat is on its surface a compelling read, but it also has bite. The novel is dark and eviscerating on class and entitlement while Morris is funny and sharp on the page. Her movement into fiction is a true reward to readers."—Megan Mayhew Bergman, author of Birds of a Lesser Paradise
"Wildcat is a sharp, funny, richly wrought take on trying to be both mother and whatever else one sets out to be. Immensely readable and deeply felt, Morris takes readers through the particularly wild and prickly world of a certain type of female friendship in all its complicated, shameful, and sometimes deeply satisfying forms."—Lynn Steger Strong, author of Want
"These zany episodes yield great drama." —Publishers Weekly
Discussion Questions
1. Wildcat highlights two starkly different friendship styles – Leanne and Regina's and Leanne and Maxine's. What purpose did the juxtaposition of the two friendships serve in the plot? How did each friendship change how you saw Leanne? What about female friendships as a whole?
2. If you could give Leanne advice – about motherhood, her career, her relationships – at the end of the audiobook, what would it be? 
3. Discuss this quote from the epigraph: "We‌ ‌could‌ ‌begin‌ ‌by‌ ‌understanding‌ ‌ourselves‌ ‌as‌ ‌dangerous.‌ —Eula‌ ‌Biss‌"
4. Social media, and its dangers, is introduced early on when listeners first hear about Val's video. As the plot progresses, it plays a larger role in Leanne's friendships, anxieties, and decisions as a mother, friend and spouse. Does social media affect how we see ourselves? Does it affect how we see others? Should it? 
5. Who, or what, did Earl's character represent?
6. Before writing something new of her own, we see Leanne refer back to her childhood story, Roald Dahl's The Twits. What does that signify to you? When we create something, is it ever really new?
Excerpt
PART 1
1
SIX MONTHS EARLIER
It was six a.m., possibly earlier. Leanne was breast-feeding Hank on her side of the bed, which wasn't just her side of the bed anymore. It was cozy nook and strenuous office. It was where she kept the important pillows. The life-giving pillows. It was where she secreted fluids: milk, blood, and sweat. It was the place she'd spent so much time in the past four months that she joked to friends that she'd created a divot in the mattress.
And so it was the same this morning. She was fastened, rooted to the spot even though a bizarre sound pulled her eyes up from her phone. "Fuck," she whispered. Their dog was heaving at the foot of the bed. She nudged James with her elbow. "She's gonna throw up! June—she's gonna throw up!"
James sat up abruptly, still half-asleep and just a second too late to relocate their little dog to the hardwood floor in the hallway just outside their room. She'd already vomited all over the duvet cover.
But fifteen minutes later, Hank was done nursing; James had sopped up the vomit, removed the duvet cover, cleaned up June's furry beard, and crawled back into bed. Leanne placed the baby into the crook of his arm and watched as James singsonged, "Good morning!" and Hank slowly turned his head, found his dad's face, and smiled—a huge, shoulder-shrugging smile.
"Who wakes up like that?" Leanne said. She nuzzled her face into her son's neck and gave him a quick succession of kisses.
"Not June," James said.
"She probably knows we're leaving this morning."
They were going to Palm Springs, a two-hour drive away, for the night for her friend Regina and her husband Val's anniversary party. "She's so sensitive," Leanne said with faux sympathy. And then: "Are you dropping her off at WagVille or am I?" She pulled on a pair of shorts and a t-shirt.
"I thought we'd do it on our way out."
Leanne nodded. "After Hank's nap."
"Of course." The way he said it implied a firm awareness of Leanne's ritualistic way of handling the baby's nap, which took place about an hour and a half after he first woke up: she tucked him in on the couch, sat down right beside him, pulled up The Best of Debussy via YouTube, and started in on the day's work session as he dozed. It was something she'd done in the weeks after he was born, when she didn't know she could put him down in the crib and walk away from him, and something that she apparently couldn't keep up for much longer. He wasn't a newborn anymore. She knew she was supposed to celebrate this milestone, but now everyone—mostly her mother and Ofelia, their nanny who came twice a week—talked about getting the baby on a schedule and napping in his crib, and what was celebratory about that? She liked being near him when he slept, liked listening to his breathing change. A slumbering baby at her side was like being pregnant again: she could do what she pleased for the most part and be a mother.
"I gotta rest up myself," James said. "So I can maintain consciousness while talking to Val about amateur stair running or that one guy with the Woody Allen glasses who—"
"Woody Allen glasses?"
"Yeah, and the curly hair."
"Chip?"
"I think so."
"I don't think those are Woody Allen glasses."
"Well, whatever. I don't like talking to him."
"He likes you, though," Leanne said, smiling, scooping Hank into her arms.
* * *
But why your fourth anniversary? Leanne had wanted to ask when Regina first told her about the planned party months ago over speakerphone, but she'd held back. Their friendship hadn't typically included questions like that—questions that emphasized the discrepancies between their lifestyles. Like the fact that Regina owned a high-end homeware shop located in West Hollywood, whereas Leanne, at least up until her eighth month of pregnancy, had worked part-time at a similar but different high-end homeware shop (also located in West Hollywood).
Both stores catered to an elite set of clientele, many of whom were celebrities. Each time a famous person came in, it surprised Leanne how exciting it was. Why was it exciting? They were strangers. But that was—she guessed—the whole trick of it. They didn't feel like strangers. She was the stranger. One time Jimmy Kimmel came in with his fiancée. They were going to register at the store. Normally, Leanne hated registries. It was a lot of work that amounted to zero sales, at least on that initial visit. But with Jimmy and his fiancée, Leanne had been happy to do it. And as she walked them through the various dinnerware lines, she could feel herself performing.
"Is it all dishwasher safe?" the fiancée asked.
"Absolutely. Dishwasher, microwave, and even oven safe up to four hundred degrees."
"Up to four hundred degrees?" Jimmy said.
"Yes," Leanne said.
"So it's not really oven safe."
"It wants to be. It's aspirational."
Jimmy had smiled and laughed the smallest laugh that made Leanne feel like a champion for approximately one hour. She also felt dumb for falling so easily and uninterestingly into the role of admiring fan.
This, in a way, also came to describe her friendship with Regina.
The other reason she hadn't asked why the fourth anniversary? was more logistical. Regina had called her via Bluetooth on her drive to spin class, and there was something so depersonalizing about talking to someone via speakerphone, the way they always sounded like they were being flushed down a toilet.
Even so, Leanne liked hearing Regina's voice, liked hearing her talk at her about her life, a life that had also recently gone through a major transformation; Regina too had had a baby, a little girl named, embarrassingly (for Leanne at least) Ursa Major. Ursa on its own was fine, and it was what she and Val seemed to call her the most often, but the two together? To be named after the night sky? It wasn't something Leanne would want to have to live up to.
That's why she'd chosen Hank. Plain as day. Plus, you could add the letter T and get Thank.
* * *
They'd first met years and years ago at James's work Christmas party, back when Leanne and James weren't even engaged. They were twenty-three, maybe twenty-four. They'd hit it off at the party, but nothing really came of it until much later when they discovered a shared enthusiasm for group exercise classes—an enthusiasm born of another shared pastime: a lifetime of attempting and/or maintaining thinness. (Ideally, with some level of tone.)
But slowly, geologically, the workouts led to getting drinks led to going to the movies led to becoming women who called each other up whenever something they felt like sharing popped into their heads, who had even spent Christmas Eve together at Regina's parents' house in Beverly Hills. It was lovely, yet Leanne could admit she was after something better—that rarer kind of friendship, the kind that came so much more easily when she was younger, back when that self-protective outer layer of human ego fell away more readily, leaving two exposed animals seeking warmth in each other. Like what she had with Mary Anne, her college roommate. They'd danced naked in her room to the Talking Heads together; they'd slept in each other's beds; they'd told each other harrowing details about tampons they'd inserted toward the end of their periods and then forgotten about. But you can't rush these things, she'd told herself. They would get there. Eventually.
So instead, when Regina told her about the party in Palm Springs, Leanne responded with a decisive "Great!"
It was great for her. She'd come to love attending Regina's parties, standing shoulder to shoulder with the rich.
But James would sooner have stayed at home. Leanne had convinced him that it was going to be fun, that it would be their first road trip as a family of three. They could get date shakes! "Fine," James had said. "But we're not getting them an anniversary gift. It's gonna cost enough for a hotel and babysitter."
"It's not all fun and games," Leanne had said. "It'll be good for the book." Leanne's first book, Diary of a Home Cook: A Year in Recipes, was coming out in August, five months from now, and she knew for a fact that one of the women who would be at the party wrote for T magazine.
At this, James had sighed. "Sometimes I worry about you." He was kidding. He was not kidding.