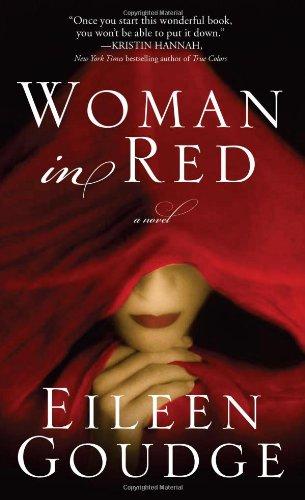 WOMAN IN RED
---
Alice Kessler spent nine years in prison for the attempted murder of the drunk driver who killed her son. Now she's returned home to Gray's Island to reconnect with the son she left behind. Her boy, Jeremy, now a sullen teenager, is wrongly accused of rape, and mother and son are thrown together in a desperate attempt to prove his innocence. She's aided by Colin McGinty, a recovering alcoholic and 9/11 widower, also recently returned to the island in the aftermath of his grand-father's death. Colin's grandfather, a famous artist, is best known for his haunting portrait, "Woman in Red,"
Alice Kessler spent nine years in prison for the attempted murder of the drunk driver who killed her son. Now she's returned home to Gray's Island to reconnect with the son she left behind. Her boy, Jeremy, now a sullen teenager, is wrongly accused of rape, and mother and son are thrown together in a desperate attempt to prove his innocence. She's aided by Colin McGinty, a recovering alcoholic and 9/11 widower, also recently returned to the island in the aftermath of his grand-father's death. Colin's grandfather, a famous artist, is best known for his haunting portrait, "Woman in Red," which happens to be of Alice's grandmother. In a tale that weaves the past with the present, we come to know the story behind the portrait, of the forbidden wartime romance between William McGinty and Eleanor Styles, and the deadly secret that bound them more tightly than even their love for each other. A secret that, more than half a century later, is about to be unburied, as Alice and Colin are drawn into a fragile romance of their own and the ghost of an enemy from long ago surfaces in the form of his grandson, the very man responsible for sending Alice to prison.
Vanguard Press
Paperback
May 2008
355 Pages
9781593155001
Praise
See how Eileen Goudge answers the Conversation Starters!
"Eileen Goudge, always wonderful, has written her best book yet. Woman in Red is both sweeping and intimate, a broad canvas of time and place, and a tender family portrait. I held my breath from the first page, and couldn't put the book down until I reached the last. Be prepared: this novel will tear your heart out. It's nothing short of brilliant."
—New York Times bestselling author Luanne Rice
"Fast paced, intricately plotted, and multi-layered, Woman in Red is a compelling novel about loss, loyalty, love, and the high price of redemption. Eileen Goudge has created a fascinating character in Alice, a woman striving to undo the harm she's done in the past and to reconnect with the family she left behind. Once you start this wonderful book, you won't be able to put it down." —New York Times bestselling author Kristin Hannah
"Eileen Goudge has crafted a beautiful tale of loss, redemption and hope. Woman in Red is a masterpiece." —New York Times best-selling author Barbara Delinsky
"Goudge…reminds us of the delights to be had in the explorations of the improbable."
—New York Times Book Review
Discussion Questions
Both Alice and Eleanor are "scarlet women," or at least think of themselves as such. How have each of them "sinned"? How does this affect their views of themselves, and their relationships with their communities?
The same themes — murder, betrayal, persecution, and the death of loved ones — run through both the present day story of Alice and her family, and the World War II-era story of Eleanor and William. In some ways, history repeats itself, but the themes are not always realized the same way between the equivalent characters in each era. How are the stories parallel? When they're not, how are the themes altered by the difference?
Alice tries to protect her son, both from the effects of her sentence and from the false charges against him. Eleanor tries to protect her daughter from the knowledge of her real father, as well as from the consequences of her own actions, doubt, and worry. She also tries to protect Yoshi from discovery. How does each woman succeed in protecting her children? How does she fail?
Throughout the novel, various characters suggest that Alice is crazy. Since much of the story is told from Alice's point of view, if the accusations were true, her viewpoint would be an unreliable one. How does the author let the reader know that Alice's viewpoint is trustworthy? Is her viewpoint always reliable? When the narrative shifts to other characters' viewpoints, how is their trustworthiness (or lack thereof) communicated?
The love affair between William and Eleanor is echoed in Alice and Colin's relationship. How do they repeat the story? How do they change it?
How do absent family members haunt the characters?
In what ways is Owen like Lowell? In what ways is he different? How do his similarities and differences to his father affect the way his relationship with Alice plays out?
In what ways do Alice and Calpernia complement each other's strengths and support each other?
How are Jeremy's and Carrie Ann's actions affected by their families? Are they able to escape the influence of their parents? What happens when they try?
How do Colin's relationships with animals and with nature accentuate his feelings about himself?
How does the island setting shape the community and the story? Would the story have turned out differently if it were set in a metropolitan area?
William's famous painting of Eleanor seems almost to be a character in and of itself. What relationships do the characters in the novels have with the painting, and how does the painting affect their relationships with others?