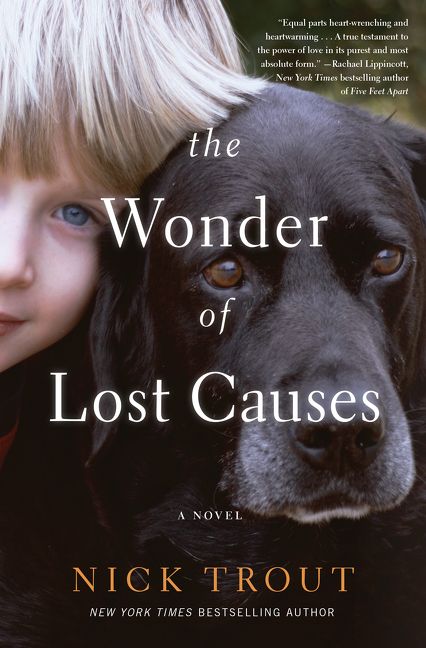 THE WONDER OF LOST CAUSES
A Novel
---
In this unforgettable novel, perfect for fans of An Unexpected Grace and A Dog's Way Home, a single mom and her chronically ill child receive a valuable lesson from an unlikely source—a very special dog who unexpectedly enters their lives and shows them that one person's lost cause can be another's greatest gift…
Dr. Kate Blunt will do anything for her son, Jasper. Well, almost anything. Since Jasper has the incurable lung disease cystic fibrosis, Kate's always told him he couldn't get a dog. It's a tough call, but she's a single mom taking care of a kid who fights for every breath he takes.
In this unforgettable novel, perfect for fans of An Unexpected Grace and A Dog's Way Home, a single mom and her chronically ill child receive a valuable lesson from an unlikely source—a very special dog who unexpectedly enters their lives and shows them that one person's lost cause can be another's greatest gift…
Dr. Kate Blunt will do anything for her son, Jasper. Well, almost anything. Since Jasper has the incurable lung disease cystic fibrosis, Kate's always told him he couldn't get a dog. It's a tough call, but she's a single mom taking care of a kid who fights for every breath he takes. The daily medical routine that keeps Jasper alive is complicated enough. Worse still, Kate's personal resolve runs contrary to her work as the veterinarian in charge of a Cape Cod animal shelter, where she is on a mission to find forever homes for dogs in desperate need.
The scarred, mistreated wreck of a dog that turns up doesn't stand a chance. Named Whistler, he's too old, too ugly. But the dog forms an instantaneous bond with Jasper. Whistler never makes a sound, yet he speaks to Jasper in a myriad of mysterious ways. The clock's ticking, the dog's future hangs in the balance, and Jasper would do anything to find him a home; but Whistler has chosen them—for a reason.
William Morrow
Hardcover
April 2019
464 Pages
9780062884305
Praise
"From page one, this terrific novel grabs you and never lets go.  When you finish, you don't want to let it go.  From hardship, Nick Trout creates beauty, and his warmth and wisdom shine through.  The Wonder of Lost Causes is the kind of story that will stay with you for a long, long time." — Kristin von Kreisler
"Suspenseful, heart-wrenching, and life-affirming, this riveting book is at once great fiction and vividly, urgently true.  In alternating voices–that of a desperately ill little boy and his anxious single mother–The Wonder of Lost Causes reveals the authentic miracles that are possible with a dog's love. Science has only begun to reveal the powers of animals; the heart can see deeper yet. These pages open us to those wonders, and teach us that no cause is truly lost." — Sy Montgomery, New York Times bestselling author of How to Be a Good Creature
"Nick Trout's The Wonder of Lost Causes is not only a dog story, but a tale of the bonds that form between peoples of all walks of life, often shared and made stronger by a four-legged furry intruder into their lives. Here is a story worth telling and written with a true authenticity. The dog Whistler will not only tug at your heartstrings, but he'll grab hold like a terrier on a chew toy—and by the end, you'll walk away changed for having met him. If you cried at the end of Marley and Me, if you appreciated A Dog's Purpose, you'll love the wonders found within the pages of this heartwarming story." — James Rollins, New York Times bestseller of Crucible
"The Wonder of Lost Causes is equal parts heart wrenching and heartwarming as Trout pulls you onto an emotional rollercoaster that is sure to leave your heart filled to the brim. A true testament to the power of love in its purest and most absolute form." — Rachael Lippincott, New York Times bestselling author of Five Feet Apart
"The Wonder of Lost Causes is a highly engaging story of the power of love—fierce mother love and the inexplicable love of dogs for those who need them most. If Nick Trout is as good a veterinarian as he is a writer, he is a miracle worker. Nick Trout performs one of the hardest tricks an author can do—he makes himself invisible behind the authentic voice of a woman determined to keep her fragile son alive and the utterly compelling voice of that child and his unshakable belief in and love of the dog who has come into their lives. This is magic." — Susan Wilson, New York Times bestselling author of One Good Dog
"The heartwarming story of a boy and a dog searching for each other against all odds. Nick Trout's latest page-turner is a testament to the deep bonds we form with our dogs, and how that bond can change our lives." — Maria Goodavage, New York Times bestselling author of Top Dog
Excerpt
Jasper
My name is Jasper Blunt, and I'm always hungry.
Not for food. I'm always hungry for air, as in breathing, as in the stuff your lungs are supposed to process without having to think. Only sometimes, like right now, it feels as though I'm about to starve.
Last time I was in the hospital, like three months back, Mom bought me the Guinness World Records book from the gift shop in the lobby. Did you know the record for most people jammed inside a MINI Cooper is twenty-eight? Imagine you're squished in the back seat when the last person climbs in. That's the kind of tightness that can take over my chest.
This time is nowhere near that bad, but something's definitely wrong. My heart has shifted to a place between my ears, there's a boa constrictor where my stomach used to be, and the double hit on my puffer did absolutely nothing. I close my eyelids, pretend to be calm, focus on slow deep breaths, and hope I'm not dying.
Normally Mrs. Katz, the school bus driver, would ask me how I'm doing. But yesterday, when I spotted her new ID badge clipped beside her seat, I made the mistake of telling her I liked it.
"Thanks," she had said, surprised but pleased, showing me her best gray-toothed smile. "Hated the old one. But why is it photos always make you look fat?"
I thought about this and replied, "Fat makes you look fat, Mrs. Katz."
Now she acts like she hates me, even though I'm the only kid who ever sits up front. It's October and it's still hot, like someone forgot about fall and won't let summer end. Fortunately, the windows are open and if I angle my head just right, my lungs can grab some of the salty air coming off the ocean. Eyes scrunched shut, with only five more minutes to go, I pretend I'm a free diver preparing to go deep, ignoring the scary belly knot twisting tighter and tighter the closer I get to my stop.