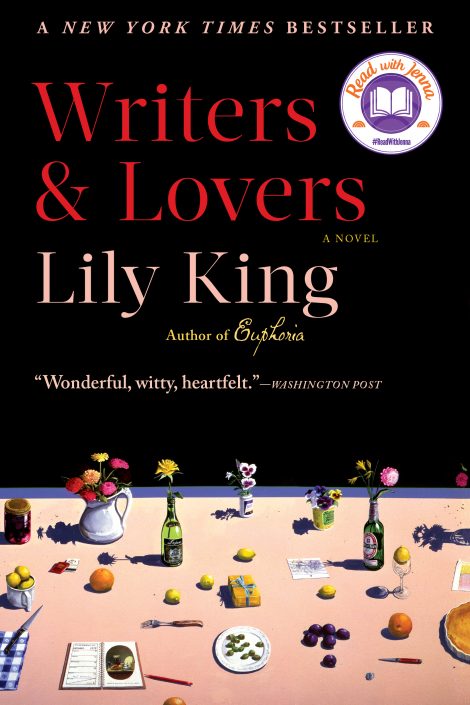 WRITERS AND LOVERS
---
Following the breakout success of her critically acclaimed and award-winning novel Euphoria, Lily King returns with an unforgettable portrait of an artist as a young woman.
Blindsided by her mother's sudden death, and wrecked by a recent love affair, Casey Peabody has arrived in Massachusetts in the summer of 1997 without a plan. Her mail consists of wedding invitations and final notices from debt collectors. A former child golf prodigy, she now waits tables in Harvard Square and rents a tiny, moldy room at the side of a garage where she works on the novel she's been writing for six years.
Following the breakout success of her critically acclaimed and award-winning novel Euphoria, Lily King returns with an unforgettable portrait of an artist as a young woman.
Blindsided by her mother's sudden death, and wrecked by a recent love affair, Casey Peabody has arrived in Massachusetts in the summer of 1997 without a plan. Her mail consists of wedding invitations and final notices from debt collectors. A former child golf prodigy, she now waits tables in Harvard Square and rents a tiny, moldy room at the side of a garage where she works on the novel she's been writing for six years. At thirty-one, Casey is still clutching onto something nearly all her old friends have let go of: the determination to live a creative life. When she falls for two very different men at the same time, her world fractures even more. Casey's fight to fulfill her creative ambitions and balance the conflicting demands of art and life is challenged in ways that push her to the brink.
Writers & Lovers follows Casey—a smart and achingly vulnerable protagonist—in the last days of a long youth, a time when every element of her life comes to a crisis. Written with King's trademark humor, heart, and intelligence, Writers & Lovers is a transfixing novel that explores the terrifying and exhilarating leap between the end of one phase of life and the beginning of another.
Grove Paperback
Paperback
February 2021
352 Pages
9780802148544
Praise
One of Washington Post's 10 Best Books of 2020
A New York Times Best Seller
A Kirkus Best Fiction Book of 2020
A #ReadWithJenna Book Club Pick as Featured on Today
Belletrist Book Club April Selection by Emma Roberts 
A New York Times Book Review Group Text Selection
Named a Guardian Book of the Day
Named a 2020 Book You Should Pre-Order Now by Marie Claire
Named a "Book We Can't Wait to Read in 2020" by the Amazon Book Review
Named One of The 50 Most Anticipated Books of 2020 by Entertainment Weekly
Named One of "32 Best New Books of 2020" by Vulture
Named one of LitHub's Most Anticipated Books of 2020
Named one of The Best New Books in "Pick of the Week" by People
Named one of 41 Best Books to Read in 2020 by Vogue

"A comic and compassionate novel… It shares with [Euphoria] a fascination with the difficulty of defining the worth of one's life when the familiar markers of adult achievement are slow to materialize. With wit and what reads like deep insider wisdom, Ms. King captures the chronic low-level panic of taking a leap into the artsy unknown and finding yourself adrift, without land or rescue in sight."—Maureen Corrigan, Wall Street Journal
"I loved this book not just from the first chapter or the first page but from the first paragraph… The voice is just so honest and riveting and insightful about creativity and life."—Curtis Sittenfeld, London Evening Standard
"Delightful… An unmistakable broadside against fiction's love affair with macho strivers, even — or especially — when layers of lyricism and tenderness coat their machismo. The emotional force of Writers & Lovers is considerable."—New York Times Book Review
"Romance isn't the point for Casey. Love is the gravy; words are the filet. Finding a way to build a life around work she loves, finding a way to support herself as a writer — this is the line connecting all three corners of the love triangle at the heart of this novel."—New York Times Book Review, Group Text Book Club
"Writers & Lovers made me happy. Even as the narrator grieves the loss of her mother and struggles to make art and keep a roof over her head, the novel is suffused with hopefulness and kindness. Lily King writes with a great generosity of spirit."—Ann Patchett
"Writers & Lovers is exactly the book we need now. Witty and heartfelt… I could not stop reading."—Judy Blume
"Fantastic."—Emma Roberts
"This smooth, deliberate chronicle of creation keeps the men in their place and Casey firmly rooted at the center of her own story. Instead of casting her as a woman torn between archetypes of male creativity, Writers & Lovers portrays her as a woman in thrall to her own generative processes, a devotee to the art of (her own) attention."—Los Angeles Times
"Among the elements that make Writers & Lovers so winning are the perfectly calibrated little details, convincing conversations, and droll wit… Writers & Lovers is a book about passion, desire, grief, determination, and finding one's way. It's also about craving love, family, and success… generously infused with heart and soul and wit and wisdom."—NPR
"Writers & Lovers is a funny novel about grief, and, worse, it's dangerously romantic, bold enough and fearless enough to imagine the possibility of unbounded happiness."—Washington Post
"King captures the agita of an early-life crisis and the eccentricities of a writer's life, spiking the narrative with wit, sumptuous imagery and hilarious skewerings of literary elitism."—People
"King has created a woman on the cusp of personal fulfillment and strong enough to stand on her own, someone akin to Sally Rooney's Frances in Conversations with Friends… But King also situates Casey inside a variation of the which-lover-will-she-choose framework of, say, Nancy Meyers's film Something's Gotta Give… The novel is a meditation on trying itself: to stay alive, to love, to care. That point feels so fresh, so powerfully diametrically opposed to the readily available cynicism we've been feasting on… King wants us to keep trying, through whatever means necessary, to beat the odds."—Boston Globe
"A poignant and heartfelt novel about the effects of grief and the paths people take to get through life. I couldn't put the book down…"—Seattle Times
"A down-to-earth saga of an extremely bright and likable single woman wrestling with sexual desires, emotional dreads… An engaging portrait of a woman confronting modern hardships."—Associated Press
"King has portrayed effectively and compassionately with well-crafted prose, evocative descriptions, and spot-on dialogue."—New York Journal of Books
"Funny and romantic and hard to put down, full of well-observed details of restaurant culture and writer's workshops. It's hard to imagine a reader who wouldn't root for Casey."—Library Journal (starred review)
"A knowing look at the pursuit of a life in the arts, with a protagonist you'll root for."—Marie Claire
"King is one of those rare writers who can entwine sadness, hilarity and burning fury in the briefest of moments."—BookPage
"An extraordinary novel… King beautifully documents every aspect of Casey's character. Casey's insights into the world of writing are fascinating and often humorous… The prose [is] linguistically sophisticated, but clean and uncluttered."—Midwest Book Review
"This novel will become a defining classic for struggling young writers."—Vulture
"A breath of fresh air, with characters that leap off the page."—Amazon Book Review
"King's gift is to suspend the reader, to make the wait for resolution fascinating."—Minneapolis Star Tribune
"Masterful… You can't put it down, and you'll feel larger and more connected once you finish it. Plus, it's funny as hell."—Dead Darlings
"King leaves no barrier between readers and smart, genuine, cynical, and funny Casey. A closely observed tale of finding oneself, and one's voice, while working through grief."—Booklist (starred)
"[A] charmingly written coming of age story."—Kirkus Reviews (starred)
"Intimate and vulnerable… Lily King's novel follows a deeply relatable protagonist navigating a whole menu of crises surrounded by a cast of genuine, vivid characters… The book occupies a small space, but packs it to the brim with humanity."—Entertainment Weekly
"Elegant, droll… This meditation on the passing of youth is touching and ruefully funny."—Publishers Weekly
"Writers & Lovers is a puzzling and beautiful novel about writing and love… Reading the book feels like waiting for clouds to break — a kind of gorgeous agony."—Guardian
"King's writing is spirited, clever and funny, and her novel is better than most others you'll read this year."—London Evening Standard
"An easy and light-hearted read… Its examination of the female psyche shines a light on the complexities and emotions that underpin our decisions at pivotal times in life's sometimes arduous journey: it's a tale of doubt, self-discovery and reinvention."—The Lady Magazine
"Lily King is one of our great literary treasures and Writers & Lovers is suffused with her brilliance.  It is captivating, potent, incisive, and wise, a moving story of grief, and recovering from grief, and of a young woman finding her courage for life."—Madeline Miller, author of Circe
"Writers & Lovers is a portrait of the artist as a young woman. Lily King writes masterfully about desire and loss, creativity and inspiration, and how each overlaps and influences the other. I found myself reading slowly, underlining phrases, wanting to linger in the world of this novel. Her insights about love—how it is elusive and ineffable—and about grief—how it is something that you live inside—took my breath away."—Christina Baker Kline, author of A Piece of the World
"My favourite of Lily King's books so far. Exuberant and affirming, it's funny and immensely clever, emotionally rare and strong. I feel bereft now I've finished."—Tessa Hadley, author of Late In The Day
"Writers & Lovers stole my heart from its first pages. I am in love with this book. In. Love. This deep dive of a novel will stay with me forever."—Elin Hilderbrand, author of Summer of '69
"Gorgeous!"—Elizabeth Strout, author of Olive Kitteridge
"If you loved The Friend but wish it had had more sex and waitressing, get ready for Lily King's Writers & Lovers. Delicious."—Emma Straub
"Seemingly light and breezy, the novel has an impressively steely core… Writers & Lovers has one of the most completely satisfying endings around, both surprising and solidly in character."—Columbus Dispatch
"Remarkably funny… Full of moments of keen observation, of wry remarks about the challenges of writing and the awkwardness of early love." —BookReporter
"Writers & Lovers is totally immersive, an invitation into the interior world of a grieving, struggling young writer. I consumed it in just a few sittings, putting it down only when I had no choice, and picking it back up as soon as I could, hungry for Casey's divulgences and full of hope for her future. I am grateful to Lily King for writing a character whose naked vulnerability made me feel like a trusted friend: one who could—or had to—just listen and be present for her. In doing so, I have gained empathy. That, to me, is the sign of the best fiction."—Becky Dayton, The Vermont  Book Shop (Middlebury, VT)
"It's often hard to read about someone being stuck in the worst kinds of emotions for three hundred pages, but Lily King made it easy in this one!"—Ellie Ray, Content Book Store (Northfield, MN)
"Told with such wit and vulnerability, I think this is a brilliant novel that will appeal to so many different readers."—Jamie Southern, Bookmarks (Winston-Salem, NC)
Discussion Questions
1. Set in Boston in 1997, Writers & Lovers is a transitional moment in a young woman's life who suffers from anxiety and has trust and abandonment issues. Talk about Casey's character, her personality, her ambitions, and her thoughts on marriage: "It was nothing I ever aspired to" (p. 72). Is she relatable? How or how not? Then discuss how your perspective of the protagonist changed over the course of the novel.
2. Geese are prominently featured in the novel and are known to be very loyal birds that mate for life and protect their young. Talk about how the geese are used as symbols in the story. Why do you think Casey chooses the geese to honor her mother's memory? Did you also think her tribute was "weird"?
3. How do the city of Boston and the restaurant, Iris, function as characters? In what ways are the worker's lives influenced by their place of employment? Casey comes to consider members of the staff such as Harry, Mary Hand, and Victor Silva as part of her extended family. Observe how they, in turn, affect Casey and their importance to the story.
4. Casey's mother and father have given her plenty of reasons to mistrust them. Compare Casey's relationship with her mother with that of her father. To which parent is she closest and why? If she hadn't discovered her father's voyeurism (p. 278) do you think she would have forgiven her mother and moved in with her? Explain your answers.
5. On several occasions during the novel Casey suffers extreme anxiety attacks. Persistent thoughts of her mother's death, her father's betrayal, crushing debt, and recent medical scares, leave Casey feeling like her "whole body is a bell" (p. 287). Speak about the ways her anxiety hinders her life and how she copes.
6. Throughout the novel, Muriel is often the calming voice of reason and the most stable relationship in Casey's life. Talk about their friendship and how the author avoids the trope of toxic female friendships.
7. We're introduced to Luke early in the story, but the repercussions of that failed relationship linger. Consider Luke's role and how his actions affected Casey's relationships with Oscar and, especially, Silas?
8. Take a closer look at how King uses Casey's novel, Love and the Revolution to explore the grieving process. Think of a time in your life when writing helped you to overcome a difficult period and share what you learned from that experience.
9. When Casey decides to commit to just dating Oscar, she says, "I'm done with the seesaw, the hot and cold, the guys who don't know or can't tell you what they want" (p. 199). How does your opinion of Oscar change after they start dating? Compare Casey's relationship with Oscar to that of her relationship with Silas; what draws the couples together and what tears them apart? Do you agree with her choice of partner at the end of the novel? How would your decision have differed from that of Casey's?
10. A major theme of the book is Casey's past and current lovers and how those relationships impacted her. On page 239, Paco, her ex from Barcelona, says to her, "You hate men" (p. 239). Do you agree with him? Examine if King successfully addressed this one way or the other. Give examples to support your views.
11. On page 223, Casey says, "My father had this kind of drama in him, sudden surges of despair about life and wasted chances and breaks he never got. I figured that an actually successful man like Oscar would have outgrown all that crap." What should we make of this comparison to her father and what does it say about Oscar's character? Do you think she was being fair? Why or why not?
12. Casey remembers, "It's Star of Ashtabula who reminds me of my mother" (p. 241). Why do you think Silas and his story come to mean so much to her?
13. We discover later in the novel that Casey isn't her real name her father started calling her that after his favorite poem, "Casey at the Bat." On page 213, she tells Oscar, "That's me. Named for a guy who struck out when it mattered most." What does this say about her self-esteem and how she views herself? Why do you think Casey shared this part of herself with Oscar when she kept so many other things a secret?
14. Take the discussion a step further and consider why, after years of estrangement from her father, she still chooses to identify by that name? Reflect on the significance of the author revealing Casey's real name, Camila, in the very next chapter when she is contacted by an agent hoping to represent her. What might King be trying to say about identity?
15. The theme of having a room of one's own, the privacy to write to her fullest potential is always on Casey's mind. In what ways does she compensate for not having an ideal place to write? How did learning about Casey's writing process impact your reading and connection to the character? What do you think inspires Casey to write?
Suggestions for Further Reading:
A Room of One's Own by Virginia Woolf
Days of Distraction by Alexandra Chang
Track Changes by Sayed Kashua
Girls Burn Brighter by Shobha Rao
My Name Is Lucy Barton by Elizabeth Strout
Dept of Speculation by Jenny Offilll
Woodcutters by Thomas Bernhard
Normal People by Sally Rooney
Leaving Atocha Station by Ben Lerner
Clever Girl by Tessa Hadley
Commonwealth by Ann Patchett
How Should a Person Be? by Sheila Heti
Autumn by Ali Smith
Discussion Guide by Keturah Jenkins