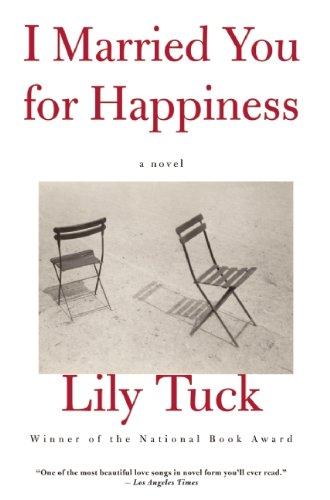 I MARRIED YOU FOR HAPPINESS
---
Throughout Lily Tuck's wide-ranging and award-winning career, she has been praised by critics for her crisp, lean language and her sensuous explorations of exotic locales and complex psychologies. From Siam to Paraguay and beyond, Tuck inspires her readers to travel into unfamiliar realms. Her newest novel is no exception. In I Married You for Happiness,
Throughout Lily Tuck's wide-ranging and award-winning career, she has been praised by critics for her crisp, lean language and her sensuous explorations of exotic locales and complex psychologies. From Siam to Paraguay and beyond, Tuck inspires her readers to travel into unfamiliar realms. Her newest novel is no exception. In I Married You for Happiness, marriage, mathematics, and memory coalesce to create her most accessible, riveting, and deeply moving book yet.
"His hand is growing cold, still she holds it," is how this story of a marriage begins. The tale unfolds over a single night, while Nina sits at the bedside of her husband, Philip, whose sudden and unexpected death is the reason for her lonely vigil. Too shocked yet to grieve, she lets herself remember the defining moments of their long marriage, beginning with their first meeting in Paris. She is an artist, he a highly accomplished mathematician—it was a collision of two different worlds that merged to form an intricate and passionate love. As the reader is drawn through select memories—real and imagined—of events that occurred in places as distant and disparate as France, Wisconsin, Hong Kong, Mexico, and California, Tuck reveals the most private intimacies, dark secrets, and overwhelming joys that shaped the lives of Nina and Philip.
Slender, powerful, and utterly engaging, I Married You for Happiness is not only a moving elegy to a man and a marriage, but also a meditation on the theory of probability and how chance can affect both a life and one's consideration of the possibility of an afterlife.
Paperback
Price: $14.00
ISBN: 9780802145918
Praise
"One of the most beautiful love songs in novel form you'll ever read . . . Tuck is a genius with moments . . . Her ability to capture beauty will remind readers of Margaret Yourcenar and Marguerite Duras."—Susan Salter Reynolds, Los Angeles Book Review
"A breathlessly mannered, affecting new work . . . Small, vital snapshots make up two lives closely shared, and beautifully portrayed in this triumph of a novel."—Publishers Weekly (starred review)
"[A] moving narrative . . . Poetic and absorbing . . . The final passages, as dawn breaks in thie new widow's life, as re a rare and elegant affirmation of the transcendence of love."—The Daily Beast
"Beautiful . . . Tuck produces spare prose that doesn't sacrifice tension or emotion in its economy. . . . An artfully crafted still life of one couple's marraige."—Boston Globe
Discussion Questions
In the opening pages, we meet a widow who is stunned to lose the husband she was devoted to and depended on. What happens in the narrative to modify this first impression? Also, discuss how Nina grieves: "With her free hand, she touches her face to make sure" (p. 4); "Again she thinks about those dark-skinned, Mediterranean women, women in veils, women with long messy hair, and she wishes she could beat her breast and wail" (p. 6).
Does Nina seem like a person bent on truth? Does she reproach herself for being deceptive? When? For what? Is she ever dishonest with herself?
How do Philip the mathematician and Nina the artist respond to each other's fields? With respect? Curiosity? Talk about particular times when their worlds intersect. For instance, there is the Pi-reciting dinner, and remember Nina's portrait-painting of her husband when Philip said, "I read somewhere that art is about navigating the space between what you know and what you see. . . . I look for clarity, Nina tells him" (p. 184).
"We never keep to the present. We recall the past. . . . The fact is that the present usually hurts" (Pascal). Time is at the center of this novel. "She has no desire to think about the future. For her, the future does not exist; it is an absurd concept" (p. 32). At one point, Philip says there is no absolute time. "According to Einstein, each individual has his own personal measure of time, which depends on where he is and how he is moving" (p. 152). Talk about these ideas of time and how they underpin the book. Does Tuck's persistent use of the present tense direct our sense of Nina and her view of time? Philip, talking about disorder and entropy of time, says "The arrow of time distinguishes the past from the future" (p. 124). Nina's contribution is a graffiti: "Time . . . is what prevents everything from happening at once" (p. 124). How is the reader swept up in these notions in a plot that covers decades?
As a young child, "long before she had heard of solipsism, she devised the idea that only she existed in the world" (p. 97). Yet she has always created alternate realities. Was it her straw hat in the water, or her twin Linda's? Was it Linda who threw the water down on the boy in Uruguay? Does all her moving about, living in different languages, create multiple lives too? And how about her dreams? What is Philip's somewhat predictable explanation of dreams? (See pp. 165-166). In Philip's cat-in-the-box theory, "both realities . . . can exist simultaneously;" that is, life and death (p. 121). Do Nina's memories serve up alternate realities at the time she needs them most? What does alcohol do to shift reality?
"His hand is growing cold; still she holds it" (p. 1). The opening line, the fact of Philip's death, is a setting we return to often, with Nina never going too far or too long in her memories. What does she achieve in her free-form re-creation of their life together?
Talk about Nina's paintings and the importance of art to her. What is the history and destiny of various canvases? The butterflies, the straw hat, Philip's portrait, the migraine series, the charcoals of Philip she is tempted to go out to the shed to find? Why does Louise snipe at her mother about dabbling, and how does she redeem herself?
"Where did all the anger come from?" (p. 180). What kind of person is Louise? What does she represent to Philip? To Nina? Is it surprising she seems ancillary in the book?
"You cannot change the present but you can reinvent the past" (p. 57). In her long night of drinking wine and reminiscing, does Nina seem interested in reinventing? Or is she seeking the clarity she wants in art?
Philip is aristocratic, brilliant, Europeanized—and he is from Wisconsin. "Philip has a healthy appetite. He will eat anything—rooster testicles, shark fin soup, garbanzo bean stew, crêpes coquilles St.-Jacques, the daube de boeuf à la Provençale that she will cook for him one day. . . . An appetite for—life" (p. 186). "How can this have happened? How can this be? Philip is so robust, so healthy" (p. 41). "He is so sanguine, so merry, so handsome. . . . He is so polite" (p. 17). Do all of his gifts and energy make his death even more shocking and unbelievable?
Mathematics is at the center not only of Philip's world but also Nina's, as she tries to grasp the enormity, the absurdity of death in the room. How does the math work as a literary—or philosophical—device to impose a semblance of order on sudden, illogical loss of life and love? Is Nina making progress, do you think? When she tries to describe Philip's work, the best she can do is "Derandomization. There you go, Philip says. You're getting warm" (p. 53).
What are some of the complexities in their marriage? "Philip's assurance always astonishes her. It is not arrogance but a confidence, based in part on old-fashioned principles and in part on intelligence, that he is right and, usually, he is. For Nina, this is both a comfort and an irritant" (p. 38). How does she deal with this complication?
Dr. Mayer "tells her that jealousy sustains desire or that, at least, it arouses it, which also suggests how fragile desire is. . . . Not only do we need to find a partner . . . but we also need to find a rival" (p. 56). How are jealousy and desire woven through the story? Who are the women Nina worries about? Are her concerns justified? Do you think she provokes herself deliberately? Is Philip ever jealous, or should he be?
"Always, in her mind, she and Philip are in bed. Or they are eating" (p. 30).What are some memorable scenes of their love in bed or at table? Certainly there are delicious meals and fine wines. "They laugh a lot. Is laughter the secret to a good marriage, she wonders?" (p. 50). Try to recall some specifics, along with Nina, of their joy, including frequent verbal sparring and attraction to abstractions.
Tuck is adept in quick characterizations. For instance, about Marta, the housekeeper admonished for tidying Philip's study: "Her look conveys both disapproval and martyrdom" (p. 53). Are there other vignettes that caught your attention?
Whose story is it? What might Philip's narrative have been had their roles been reversed? Does he seem like a person who would have re-created his dead wife with the spirit and detail that Nina does?
"A chance event is not influenced by the events that have gone before it. Each toss is an independent event" (p. 26). How does Nina recall and try to use probability theory to understand Philip's life and his death?
How much of the end has been prefigured in the book? In the final scene, has Nina found her own way to change the present? Is it fantasy or delusion? Art? "She is not religious. She does not believe in an afterlife, in the transmigration of souls, in reincarnation, in any of it" (p. 13). And yet there is l'heure bleue of pages 188 – 189. Caravaggio's angel is art to sustain her. "She must be dreaming. It does not matter." Do you see a resolution? How does the end link some of her main concerns, from who will weed the garden to how she can hold onto Philip?