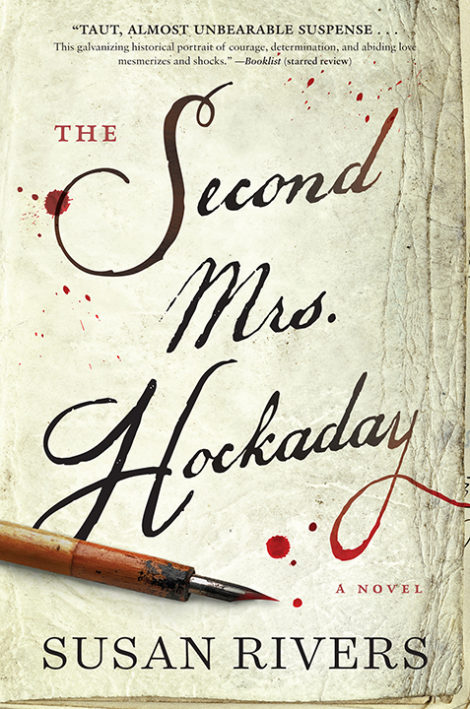 THE SECOND MRS. HOCKADAY
---
"Taut, almost unbearable suspense . . . This galvanizing historical portrait of courage, determination, and abiding love mesmerizes and shocks." —Booklist (starred review)
"All I had known for certain when I came around the hen house that first evening in July and saw my husband trudging into the yard after lifetimes spent away from us, a borrowed bag in his hand and the shadow of grief on his face, was that he had to be protected at all costs from knowing what had happened in his absence. I did not believe he could survive it."
When Major Gryffth Hockaday is called to the front lines of the Civil War,
"Taut, almost unbearable suspense . . . This galvanizing historical portrait of courage, determination, and abiding love mesmerizes and shocks." —Booklist (starred review)
"All I had known for certain when I came around the hen house that first evening in July and saw my husband trudging into the yard after lifetimes spent away from us, a borrowed bag in his hand and the shadow of grief on his face, was that he had to be protected at all costs from knowing what had happened in his absence. I did not believe he could survive it."
When Major Gryffth Hockaday is called to the front lines of the Civil War, his new bride is left to care for her husband's three-hundred-acre farm and infant son. Placidia, a mere teenager herself living far from her family and completely unprepared to run a farm or raise a child, must endure the darkest days of the war on her own. By the time Major Hockaday returns two years later, Placidia is bound for jail, accused of having borne a child in his absence and murdering it. What really transpired in the two years he was away?
Inspired by a true incident, this saga conjures the era with uncanny immediacy. Amid the desperation of wartime, Placidia sees the social order of her Southern homeland unravel as her views on race and family are transformed. A love story, a story of racial divide, and a story of the South as it fell in the war, The Second Mrs. Hockaday reveals how that generation–and the next–began to see their world anew.
Algonquin Books
Hardcover
January 2017
272 Pages
9781616205812
Praise
A January Indie Next Pick
A January LibraryReads Selection
"A compulsively readable work that takes on the legacy of slavery in the United States, the struggles specific to women, and the possibilities for empathy and forgiveness." —Kirkus Reviews
"Told through gripping, suspenseful letters, court documents, and diary entries, Rivers's story spans three decades to show the rippling effects of buried secrets." —Publishers Weekly
"Fans of Geraldine Brooks's Year of Wonders and Sarah Blake's The Postmistress will enjoy this solid historical novel, which is also a good choice for book clubs, as Dia's motivations for her actions will yield great discussions." —Library Journal
Discussion Questions
1. Why is the story told in documents—letters, inquest reports, and diary entries—rather than a continuous narrative from one point of view? What do you think the writer intended to achieve by using this approach to the story? How does it affect a reader's relationship to the story?
2. Placidia agrees to marry Major Gryffth Hockaday after knowing him for less than a day—a short engagement, even by wartime standards. What do you think motivates her to accept his proposal and exchange the security of her home for an unknown adventure with this man? What does she mean when she says to her cousin Mildred, and, later, to her children, that "life is all about the leaps" (pages 12 and 214)?
3. Discuss the role played in the novel by the ghost of the first Hockaday. Why do you think she haunts Holland Creek? What does her relationship with Placidia tell you about the second Mrs. Hockaday?
4. Before the Civil War, it was customary among white slave-owners to refer to their slaves as "servants" and to give them names derived from Roman literature and history, as well as from the Bible. Why do you think white Southerners were motivated to do this?
5. Placidia seems to have a close relationship with her father, Quincey Valois Fincher, but her perception of him changes when she discovers that he fathered a child with a slave girl while Placidia's mother was alive and allowed that child to be sold away. In light of recent genetic evidence showing that many of our country's founding fathers, including Thomas Jefferson and George Washington, maintained "shadow" families of mixed-race descendants on their plantations, discuss the significance of this part of America's history. How do you think high-society Americans in the eighteenth and nineteenth centuries rationalized the sexual exploitation of enslaved African American women?
6. Without identifying the person who buried her infant's body, Placidia tells the officials conducting the inquest that she asked that person to wrap the newborn in a piece of her knitting and bury him in the first Mrs. Hockaday's sewing box, because she "could not bear for him to go into the next life unaccompanied by any mementoes of loving attachment in this one" (page 79). What does this tell you about Placidia's feelings toward the baby? Discuss what kind of emotional state you believe she was in at the time of the child's death.
7. Many people in Holland Crossroads believe that Placidia murdered her infant son before burying him on the farm, but no one involved in the case can determine how the baby died or who might have been responsible. Placidia denies harming the baby. What version of events do you believe? How did the child die, and why?
8. Discuss Gryffth Hockaday's state of mind as you interpret it from his letters to Placidia. How do his views on the war appear to change as he survives more and more brutal warfare? How does he view his own responsibility as a field officer to his regiment of infantry soldiers? How does he view his responsibility to Placidia, left alone on the farm?
9. One recurring motif in the novel is the story of Adam and Eve being expelled from Paradise. What elements does Placidia's story share with Eve's? What "fruit" does she eat from the Tree of Knowledge, and how does it change her?
10. At one point in her diary Placidia comments on her stepsister Agnes Oglesby's dislike of her, saying, "I perceived that nothing Agnes valued was held in high regard by me. That was the injury I caused her as well as the leverage I brandished" (page 181). How does this statement characterize the relationship between the two women?
11. Placidia's grown son, Achilles Hockaday, is repeatedly instructed by his father to burn the copy of David Copperfield that contains Placidia's wartime diary. However, like Pandora in the Greek myth, Achilles is unable to comply. Discuss Achilles's decision to read his mother's diary. Would you have done the same?
12. Roberta "Roe" Jones, Mildred's daughter, is heartbroken when Achilles Hockaday breaks off his involvement with her and leaves Memphis for Philadelphia. What does Roe mean when she writes that she should have seen this coming, because it was her own hamartia—a fatal flaw in her character—that invited this disaster? How do you feel about Achilles's treatment of Roe, and why do you think he was courting her in the first place?
13. Allusions are made in the novel to Virgil's Aeneid, which tells the story of Aeneas, a Trojan who survived the sacking of his city by the Greeks. He traveled the ancient world doing battle with his enemies and ventured into the underworld to visit the dead before finally settling in Italy and founding the Roman Empire. The African American Achilles relates strongly to Aeneas, as does his namesake, Achilles Hockaday. Discuss why the two men see themselves in this role. And what is the significance of this passage quoted by Achilles Hockaday: "All night long, all day, the doors of dark Hades stand open, / But to retrace the path, to come up to the sweet air of Heaven, / That is labor indeed" (page 217)?
14. Placidia's final entry in her diary is also the conclusion of the novel. Do her final words and images leave you hopeful? Sad? Enlightened? Conflicted? What do you think she means by the statement "Paradise . . . costs too much" (page 254)?
Essay
Voices
An essay by Susan Rivers on the inspiration behind The Second Mrs. Hockaday
In the summer of 2014, I was in the library near my home in rural South Carolina. I was doing research for a book I'd been trying to write on and off (mostly off). It can be a hellish experience for a writer when no amount of work on a project pays off in terms of the story taking flight, and that was the case with my draft about a middle-aged woman living on a farm during the Civil War. I seemed unable to locate the nexus of the story, what Turkish novelist Orhan Pamuk so aptly refers to as "the secret center."
On that July day, however, locked in the tiny, stifling History Room, I stumbled across the summary of an 1865 inquest. As soon as I read it, I knew this was a story begging to be told in novel form. A Confederate soldier who had been away from his teenaged wife for four years arrived home at war's end to confront rumors that his bride had become pregnant while he was away. It was alleged that she had given birth to a son who had been killed and buried on their farm. The baby's remains were unearthed, and the angry husband pushed to have his wife indicted for murder. The young woman refused to speak about the baby or to name the father. She maintained this silence for the rest of her life, even though she and her husband eventually reconciled.
I was electrified by the plight of this young woman and by the extraordinary courage she must have possessed to face this ordeal alone in a war-torn world. I gathered up my things and ran home from the library with the voice of a fictional soldier's wife, the second Mrs. Hockaday, already telling me her story and an entirely new novel taking shape around her voice. The rest of that summer is a blur in my memory. That's because writing this manuscript was the most intensely concentrated, inspiring, and creatively engaging process I have experienced in all my writing years. Writing the first draft of this novel, which I did in a period of twelve to fourteen weeks, was an experience very similar to falling in love: I was unable to eat, sleep, or think productively about anything but the beloved. Pamuk also says that "the task of writing a novel is to imagine a world," and the longer I spent time with Placidia Hockaday—as Holland Creek collapsed around her, the farm besieged by bummers, kidnappers, runaway servants, and slumming Charlestonians, and as her values shifted and she came to see the Confederacy's lost cause for what it was—the more I felt I was closing in on the secret concealed at the heart of her dilemma. It lay in Placidia's experience of the war as a woman, as someone her son Achilles describes long after her death as a lonely girl "whose spirit ruled her life, for good and ill."
I don't remember consciously deciding how the novel would be written. It began writing itself as it wished to be, in the form of linked found pieces: the inquest record, letters to and from the main characters, and the diary that Placidia kept as she struggled on her own at Holland Creek, entries written on the backs of illustrations in her copy of David Copperfield. I suspect I was strongly drawn to the epistolary form by the dormant playwright in me. A decade of my life was spent writing and working in regional theater, and I think I wanted to steal some of the theater's intimacy for this novel by allowing the characters' voices to speak directly into the reader's ear without narrative filters. Even a first-person viewpoint was too limiting in this context, because the story extends beyond Placidia's death to include members of the next generation who are strongly affected by her revelations and by the legacy of the blue-eyed man who is her "darker kinsman."
At the center of the novel is the love story of Placidia and Gryffth Hockaday. They enter into their marriage with a recklessness born out of wartime urgency, only to be parted almost immediately. Gryffth's duties as a field officer in the 13th South Carolina regiment keep him far away in Virginia, while back at Holland Creek, Placidia struggles to cope not only with the endless tasks required in running a farm but with the disintegration of an entire society. Like the heroes in the ancient epics, she is rewarded for her journey of sacrifice and struggle with knowledge. But that knowledge comes at a terrible price.
Gryffth pays dearly for his own survival on the bloody fields of Gettysburg and Spotsylvania, with Placidia telling her cousin Mildred that he "won't allow his suffering to have meaning." When he returns, the two of them must find a way to regain trust and rebuild their lives in spite of their damaged hearts. They must also redefine their dependency on and kinship with the enslaved people at Holland Creek, African-Americans who are carving out new roles for themselves in the chaotic aftermath of the Civil War. Placidia and Gryffth must reconcile themselves not merely to a changed marriage, but to a changed world.
Writing is hard, lonely work for the most part. But when it is fueled by inspiration, and when the stories begin falling headlong onto the page like treasures spilling from a buried chest, it is the most purely ecstatic experience most writers are ever likely to experience. That might be why it's so difficult to put a novel to rest once it's finally complete, accepting that the characters you've become so intimately familiar with will have to carry on without you. Crouching beside Placidia in her room at dawn, scrubbing blood off the walls before the servants arrive at her farmhouse, I felt the beauty, the anguish, and the paradoxically fragile power of her existence in my fictional world. For that short time before the sun rose over the ridge, I shared the secret center with her. And it was heaven.