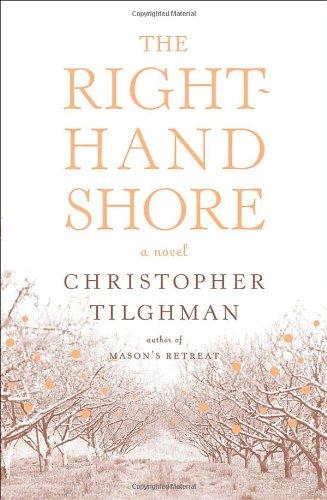 THE RIGHT-HAND SHORE
---
Fifteen years after the publication of his acclaimed novel Mason's Retreat, Christopher Tilghman returns to the Mason family and the Chesapeake Bay in The Right-Hand Shore.
It is 1920, and Edward Mason is making a call upon Miss Mary Bayly, the current owner of the legendary Mason family estate,
Fifteen years after the publication of his acclaimed novel Mason's Retreat, Christopher Tilghman returns to the Mason family and the Chesapeake Bay in The Right-Hand Shore.
It is 1920, and Edward Mason is making a call upon Miss Mary Bayly, the current owner of the legendary Mason family estate, the Retreat. Miss Mary is dying. She plans to give the Retreat to the closest direct descendant of the original immigrant owner that she can find. Edward believes he can charm the old lady, secure the estate and be back in Baltimore by lunchtime.
Instead, over the course of a long day, he hears the stories that will forever bind him and his family to the land. He hears of Miss Mary's grandfather brutally selling all his slaves in 1857 in order to avoid the reprisals he believes will come with Emancipation. He hears of the doomed efforts by Wyatt Bayly, Miss Mary's father, to turn the Retreat into a vast peach orchard, and of Miss Mary and her brother growing up in a fractured and warring household. He learns of Abel Terrell, son of free blacks who becomes head orchardist, and whose family becomes intimately connected to the Baylys and to the Mason legacy.
The drama in this richly textured novel proceeds through vivid set pieces: on rural nineteenth-century industry; on a boyhood on the Eastern Shore of Maryland; on the unbreakable divisions of race and class; and, finally, on two families attempting to save a son and a daughter from the dangers of their own innocent love. The result is a radiant work of deep insight and peerless imagination about the central dilemma of American history.
Hardcover
Price: $27.00
ISBN: 9780374203481
Praise
"Constructed, Wuthering Heights style, . . . The Right-Hand Shore represents an outing of some of America's most troubled ghosts . . . Tilghman unfolds his harsh lesson with precision, delicacy and startling humor . . . The Right-Hand Shore is the dark, magisterial creation of a writer with an uncanny feel for the intersections of place and character in American history. His readers will want to hear more stories from the Eastern Shore estate. Let's just hope he doesn't keep us waiting for another 16 years."—Fernanda Eberstadt, New York Times Book Review
"[Tilghman] writes so beautifully . . . His long paragraphs and the susurrus of Maryland landscape—'water grasses with tufts of white blossoms, wild privet, and scraggly water elm'—weave an intoxicating spell. The novel's characters are utterly engrossing. All possess that American familial yen for somehow correcting the mistakes of their own upbringing—of doing better. Yet they are caught in a system designed for stasis. This contradiction creates terrible predicaments that seem designed to bear the maximum amount of pressure on the awful compromises Tilghman's characters must make."—John Freeman, The Boston Globe
"A rare achievement. Christopher Tilghman's vision of the American past—and particularly of individuals caught in the tidal sweep of history—is dazzling in its precision and clarity."—Charles Frazier, winner of the National Book Award for Cold Mountain
"This is bold storytelling—a man spends a day listening to tales of the past that become an eloquent set of voices sailing through his imagination and into an intimate history of a place called Mason's Retreat. It's a wonderful novel, unfolded in elegant and precise language."—Bobbie Ann Mason, author of Shiloh
Discussion Questions
What were your first impressions of Mary? How did your perception of her shift as you watched
her life unfold?
When Ophelia's father decides to unburden himself of the risks of slaveholding, he divides his
slaves into two groups. He manumits the ones he keeps, but he doesn't tell them; they continue
serving him, not knowing they are free. He sells off the others at a discounted price to "the weaselfaced
man from Virginia." How do the Duke's actions shape future generations of servants who
work at the Retreat?
How does Ophelia's life with Wyatt compare to Mary's life as a single woman? How do both
women contend with the preference for sons as heirs?
What does Randall and Thomas's friendship teach their families about race, and about the limits
of devotion? How do Una and Abel try to prepare their children for the world beyond the Retreat?
What do Mary's years in France represent to her? What does Ophelia want her to grasp about the
importance of ancestry and the ties between Europe and America?
hile many of the Masons are expected to go through artificial courtship rituals resulting in marriage,
Thomas and Beal find genuine love in secrecy. Yet Randall doesn't believe it's possible for
them to have a mutually loving relationship; he thinks his sister will be exploited, just as Tabitha
was exploited by Wyatt. How are Thomas and Beal able to prove Randall wrong, creating a true
partnership in a society that doesn't view them as equals?
What role does Catholicism play in the lives of the Masons, socially and spiritually?
How does Maryland's history as a Civil War border state echo throughout the characters' lives?
How are the Masons affected by living in a state that did not join the Confederacy?
Discuss the novel's title. What are the symbolic and literal differences between the Retreat and the
realm of Baltimore to its west?
We learn early in the novel (or by reading Mason's Retreat) that the Retreat will fall into decline
after Mary's death, with no one having "the slightest interest in saving it." Discuss the Retreat
as if it were a character. Do you see it as a place of solace, or a place of destruction? Is it a good
friend to those who inhabit it?
What is the significance of Mary's decision to convert the Retreat into a dairy farm?
Are the Frenches liberated or confined by the fact that they are not the Retreat's owners? In their
minds, what is their place in the Masons' world?
The author describes Mary's adolescent attraction to Beal, and her later decision to break off her
engagement to Oswald. What freedom does she find in solitude? What "family" does she create
for herself later in life?
How did you interpret the closing conversation between Edward and Mary? Who, ultimately, is
to blame for the murder? What was the effect of the preceding scene, in which Mary accidentally
injures Robert Junior?
Discuss other works by Christopher Tilghman that you have read. How do the events revealed in
The Right-Hand Shore shape Edward's experience in Mason's Retreat? What does Tilghman's
other fiction help us understand about the nature of families?