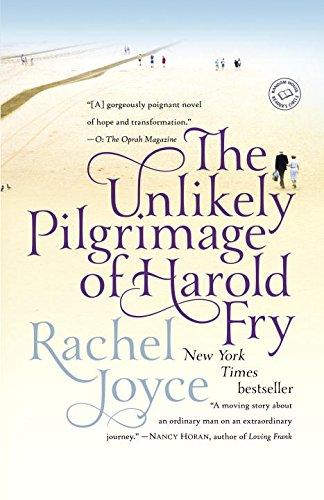 THE UNLIKELY PILGRIMAGE OF HAROLD FRY
---
NATIONAL BESTSELLER • LONGLISTED FOR THE MAN BOOKER PRIZE • NAMED ONE OF THE BEST BOOKS OF THE YEAR BY THE WASHINGTON POST
Meet Harold Fry, recently retired. He lives in a small English village with his wife, Maureen, who seems irritated by almost everything he does. Little differentiates one day from the next.
NATIONAL BESTSELLER • LONGLISTED FOR THE MAN BOOKER PRIZE • NAMED ONE OF THE BEST BOOKS OF THE YEAR BY THE WASHINGTON POST
Meet Harold Fry, recently retired. He lives in a small English village with his wife, Maureen, who seems irritated by almost everything he does. Little differentiates one day from the next. Then one morning a letter arrives, addressed to Harold in a shaky scrawl, from a woman he hasn't heard from in twenty years. Queenie Hennessy is in hospice and is writing to say goodbye. But before Harold mails off a quick reply, a chance encounter convinces him that he absolutely must deliver his message to Queenie in person. In his yachting shoes and light coat, Harold Fry embarks on an urgent quest. Determined to walk six hundred miles to the hospice, Harold believes that as long as he walks, Queenie will live. A novel of charm, humor, and profound insight into the thoughts and feelings we all bury deep within our hearts, The Unlikely Pilgrimage of Harold Fry introduces Rachel Joyce as a wise—and utterly irresistible—storyteller.
Paperback
Price: $15.00
ISBN: 9780812983456
Praise
"[A] gorgeously poignant novel of hope and transformation."—O: The Oprah Magazine
"You have to love Harold Fry, a man who set out one morning to mail a letter and then just kept going. . . . Like Christian in John Bunyan's The Pilgrim's Progress, Harold becomes Everyman in the eyes of those who encounter him. . . . Harold's journey, which parallels Christian's nicely but not overly neatly, takes him to the edge of death and back again. It will stick with you, this story of faith, fidelity and redemption."—Minneapolis Star Tribune
"For all of us perfectly responsible, stoop-shouldered suburbanites wearing a path in the living-room carpet, Harold's ridiculous journey is a cause for celebration. This is Walter Mitty skydiving. This is J. Alfred Prufrock not just eating that peach, but throwing the pit out the window, rolling up his trousers and whistling to those hot mermaids. Released from the cage of his own passivity, Harold feels transformed, though he keeps his tie on. . . . In this bravely unpretentious and unsentimental tale, she's cleared space where miracles are still possible." —Washington Post
"[R]emarkable. . . . I can't think of a better recommendation for summer reading. And take your time, just as Harold does."—USA Today
Discussion Questions
Why does the story that the garage girl tells Harold affect him so deeply? Do you think Harold would have mused on faith and gone on this tremendous journey had the garage girl told Harold that her aunt died of cancer anyway?
How does Maureen's relationship with Rex allow her the perspective to understand Harold's decision to walk?
The publicity that Harold receives on his journey often feels like a curse. What are some benefits that come out of the media coverage?
What does Harold's choice to live off the land and other people's kindness mean to him?
In what ways is the incident at the beach with his son representative of Harold's fears about himself? In what ways do those fears reflect the reality?
"He had not said goodbye to his son. Maureen had; but Harold had not. There would always be this difference." Do you think anything would have been different for Harold had he had the moment of closure with David's body at the funeral home? How did this difference manifest over the years?
How might things have been different for Harold and Maureen if she had told him about Queenie's visit to the house in which she explained why she took the blame? Maureen thinks her withholding of this information caused years of irreversible damage. How might Harold have been affected if he'd known any sooner that Queenie didn't blame him at all?
What state did you think Queenie would be in when Harold reached the end of his journey? Were you surprised by their interaction once he got there? How do you think that scene might have been changed if Harold had arrived any sooner?
Think about all the people Harold met along the way—the garage girl, the barkeep, the woman with the apples and water, Martina, Wilf. Had Harold not met even one of them, might his journey have diverged, stalled, or even ended before he reached Queenie?
Where would Harold be today if he hadn't made his pilgrimage? What would the state of his relationship with Maureen be? How would news of Queenie's death have affected him? What would his life look like?
Does Harold's journey feel secularly or religiously spiritual to you? Does it change over time? How does his idea of faith fit with your own beliefs?
What would it take to get you to make an extraordinary journey? Is there anyone or anything that could compel you to walk six hundred miles? What would such a journey mean to you?
The Unlikely Pilgrimage of Harold Fry has become an international bestseller. Readers from Taiwan, Germany, England, Australia, the United States, Italy, South Africa, and many other countries have embraced the novel. What do you think accounts for Harold reaching the hearts of so many people from all over the world?
Read "A Walk Down Memory Lane; The Routes of Our Pain" by Reading Group Choices' Neely Kennedy for discussible topics and themes!