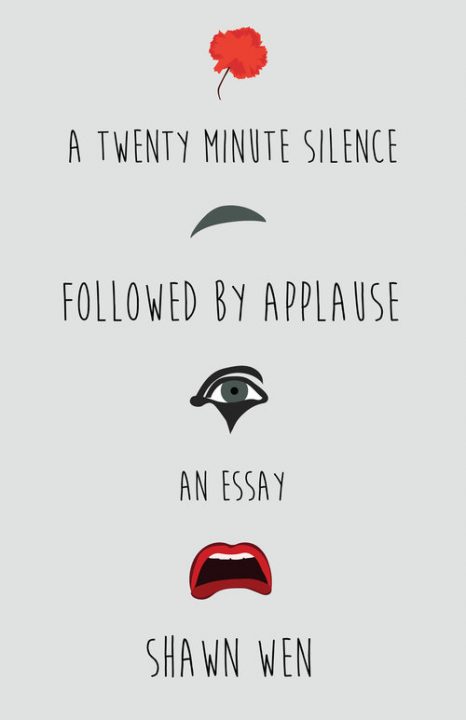 A TWENTY MINUTE SILENCE FOLLOWED BY APPLAUSE
---
Indie Next Pick for July 2017
The Millions'"Most Anticipated Books of 2017"
O, The Oprah Magazine's "10 Titles To Pick Up Now"
Men's Journal "The Seven Best Books of July"
As a fledgling radio producer, Shawn Wen became fascinated by the one subject who seemed impossible to put on air: French mime Marcel Marceau, the internationally acclaimed "artist of silence" who conjured scenes, stories, and sweeping emotion through the gestures of his body alone. Influenced by Charlie Chaplin's Little Tramp, credited with inspiring Michael Jackson's Moonwalk,
Indie Next Pick for July 2017
The Millions'"Most Anticipated Books of 2017"
O, The Oprah Magazine's "10 Titles To Pick Up Now"
Men's Journal "The Seven Best Books of July"
As a fledgling radio producer, Shawn Wen became fascinated by the one subject who seemed impossible to put on air: French mime Marcel Marceau, the internationally acclaimed "artist of silence" who conjured scenes, stories, and sweeping emotion through the gestures of his body alone. Influenced by Charlie Chaplin's Little Tramp, credited with inspiring Michael Jackson's Moonwalk, Marceau attempted in his performances to "reveal the fundamental essences of humanity." A Jewish Holocaust survivor and member of the French resistance, Marceau was a bombastic iconoclast who performed into his eighties and died deeply in debt two years after leaving the stage. In precise, jewel-like scenes and vignettes, A Twenty Minute Silence Followed by Applause pays homage to the singular genius of a mostly-forgotten art form.
Sarabande Books
Paperback
July 2017
136 Pages
9781941411483
Praise
"A unique, poetic critical appreciation of Marcel Marceau…. A fascinating book…. Readers will marvel not only at Marceau, but at the book itself, which displays such command of the material and such perfect pitch."—Kirkus Reviews, starred review
"Effectively pays homage to both the history of mime and its solitary master, Marcel Marceau. . . . Wen crafts diamond-cut paragraphs that place the reader in Marceau's enthralled audiences. . . . These invaluable descriptions by a writer versed in the tradition of making the nonvisible vibrant should be read slowly and with the same seemingly effortless focus Marceau gave to his art."—Booklist, starred review
"Marceau was a case study for Wen's personal queries of selfhood—what it means to be an adult, what it means to be a good person, or an artist, or both. It was also an exercise in form and its limits and capabilities. . . . Her lyric essays observe the life of Marceau from slanted angles: traces of performance scenes, brief excerpts of his views drawn from interviews, lists of Marceau's gleaming collections of worldly possessions whose accumulation reflects an emptiness. The terse, often poetic vignettes leave a quality of hauntedness appropriate to someone like Marceau."—San Francisco Chronicle
Discussion Questions
1. The line between quotations and the narrator/author's voice is fluid. What does this say about the nature of authorship? What effect does it have on the reader? How does the form interact with the content? Why might the author have chosen this technique, especially in a book about Marceau?
2. Interspersed throughout the book are descriptions of Marceau's collections, the objects he owns. Why do you think the author included these descriptions? What effect does the catalogue of physical items have on a narrative about miming, which relies on an empty stage?
3. The Holocaust is an omnipresent force in the background in the book, but rarely comes to the surface. The link between the atrocity and Marceau's work is implied, but never made explicit. Why do you think it's never made explicit in the essay? In what ways does the subtlety of the essay reflect Marceau's work? In what way is Marceau's work informed by the holocaust?
4. Theodor Adorno claimed that "to write poetry after Auschwitz is barbaric". What does he mean by this? How is the silence of the art of mime informed by this sentiment? Can silence be a more appropriate form of expression than language in the face of atrocity?
5. Deburau, Marceau's influence, made his Pierrot a silent character under the order of Napoleon, who banned speech from all but state-run theaters.  In what ways is art a reflection of power, and in what ways can it work to subvert power? Is Marceau's Bip subversive? In what ways is he, and in what ways is he not?
6. The essay is extremely lyrical and heavily fragmented.  It's written as a series of 18 "scenes" of Marceau's portrayal of Bip, interspersed with quotes, lists, and the author's thoughts. What effect does the interruption of narrative have on the reader's understanding of Marceau's life? What is the lyrical form and deconstructed narrative able to achieve that a traditional autobiography wouldn't be able to?
Interviews
Rare is the book about which one can say, in earnest, "I've never read anything like this before," yet with A Twenty Minute Silence Followed by Applause, Shawn Wen has written such a book. From its idiosyncratic area of interest to its chameleonic formal modalities, Applause resists easy categorization at every turn, and this is one of its many strengths. What begins as an inviting and imaginative gesture toward a biography of the mime Marcel Marceau branches out into a broader consideration, at turns lyrical and philosophical, of the conflict that exists between silence and language.
"A lot of what drew me to this project was playing with contradictions," Wen says. Having begun her research nearly 10 years ago, it's no surprise to hear that while that central interest remained, the project itself metamorphosed many times and was in fact first conceived as a piece for radio, the field in which Wen has worked since graduating from college. "I was obsessed by the formal possibilities of sound, by recording the human voice," Wen says, "and I thought, 'How funny would it be to make a radio piece about something that supposedly has no sound?' " She experienced a realignment in her approach, however, after researching Marceau's archives at the New York Public Library for the Performing Arts. "I realized he was so didactic, so self-mythologizing, and such a good talker," she says. "It occurred to me that there would be no way that I could make a radio piece that really captured all the depths and the contradictions and the force of his speech, and so this turned into a text-based work rather than a sound-based one."
Wen designates A Twenty Minute Silence Followed by Applause as a lyric essay and expresses how liberating the lawlessness of the form was for her and how well-suited it was to accommodate her subject matter. "So much of the book is about the mime creating a universe and inventing the laws of that universe, and that's also your job as a writer," she says. "If you feel like you have this story to tell and an enormous amount of material, you have to invent ways of telling it and write the formal rules for yourself."
And inventive she is, erecting numerous structures within the narrative to house everything from ekphrastic translations of Marceau's performances to meditations on the body as text and narrative to assemblages of those possessions of Marceau's which, upon his death, were seized by the French government and auctioned off to satisfy debts he'd accrued toward the end of his life. This innovative methodology appears guided as much by instinct as by a commitment to radical play.
"When we watch the mime, desire turns to envy," Wen writes. "Our limbs are incapable of such articulation. Our muscles cannot call upon so deep a vocabulary." In choosing to showcase rather than obscure the unique challenges of writing this book—namely, the difficulty of rendering into language observations of an art form purposefully divorced from it—she could also be describing that relationship which opens up between herself and her audience: readers who are bound to feel a sense of envy and awe at everything Wen has accomplished in this truly magnificent debut.
Interviewed by Vincent Scarpa on July 12, 2017 for Kirkus Reviews