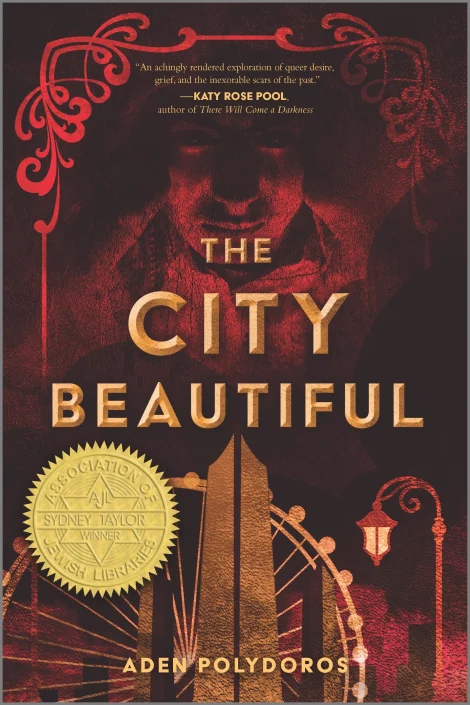 THE CITY BEAUTIFUL
---
Death lurks around every corner in this unforgettable Jewish historical fantasy about a city, a boy, and the shadows of the past that bind them both together.
Chicago, 1893. For Alter Rosen, this is the land of opportunity, and he dreams of the day he'll have enough money to bring his mother and sisters to America, freeing them from the oppression they face in his native Romania.
But when Alter's best friend, Yakov, becomes the latest victim in a long line of murdered Jewish boys, his dream begins to slip away. While the rest of the city is busy celebrating the World's Fair,
Death lurks around every corner in this unforgettable Jewish historical fantasy about a city, a boy, and the shadows of the past that bind them both together.
Chicago, 1893. For Alter Rosen, this is the land of opportunity, and he dreams of the day he'll have enough money to bring his mother and sisters to America, freeing them from the oppression they face in his native Romania.
But when Alter's best friend, Yakov, becomes the latest victim in a long line of murdered Jewish boys, his dream begins to slip away. While the rest of the city is busy celebrating the World's Fair, Alter is now living a nightmare: possessed by Yakov's dybbuk, he is plunged into a world of corruption and deceit, and thrown back into the arms of a dangerous boy from his past. A boy who means more to Alter than anyone knows.
Now, with only days to spare until the dybbuk takes over Alter's body completely, the two boys must race to track down the killer—before the killer claims them next.
Inkyard Press
Paperback
August 2022
464 Pages
9781335452740
Praise
Winner of the 2022 Sydney Taylor Book Award for Young Adult
2022 World Fantasy Award for Best Novel finalist
2021 National Jewish Book Award finalist
A Lambda Literary Award finalist
2021 Bram Stoker Award Preliminary Ballot for Young Adult Novels
A New York Public Library Best Book for Teens 2021
"An achingly rendered exploration of queer desire, grief, and the inexorable scars of the past." —Katy Rose Pool, author of There Will Come A Darkness
"Chillingly sinister, warmly familiar, and breathtakingly transportive, The City Beautiful is the haunting, queer Jewish historical thriller of my darkest dreams."—Dahlia Adler, creator of LGBTQreads and editor of That Way Madness Lies
"Like a darkly compelling dream; I dare readers to try to put down this queer triumph of a book where myth, mystery, and death lurk around every corner of the Windy City."—Sarah Glenn Marsh, author of the Reign of the Fallen series
"With stark, poignant prose and an endearing main character, The City Beautiful is an entrancing and chilling tale that deftly analyzes complex themes of identity and assimilation. One-part historical fantasy, one-part gothic thriller, this genre-blending story has something for everyone."—Kalyn Josephson, author of the Storm Crow duology
"Readers will become immersed in Alter's world, rooting for his survival, hoping for his reunion with his family, and wishing for him to find the love that he deserves." —Kirkus Reviews
"The City Beautiful is a triumph, showcasing queer love, illuminating historical events, and  guiding readers to an enthralling ending that will leave them satiated yet desirous to return to the world in which they have become immersed." —Booklist, starred review
"Details rich with specificity and research, and its joys tinged with sorrow…makes it all the more moving." —NPR.org
Excerpt
1
Anguished sobs echoed down the winding stairwell, bouncing off the walls like the cries of strange birds. Here on Maxwell Street, weeping was as common as bawling babies, quarreling, and laughter. Along with housing a kingdom of rats and roaches, the walls between tenements were paper-thin, so I was constantly involved in the personal lives of my neighbors, whether I wanted to be or not.
As the sobbing continued unabated, I wheeled my bicycle into the third-floor corridor. My next-door neighbor Mrs. Brenner stood in the hall with a red-haired woman I didn't recognize. Mrs. Brenner was a shadchante, a professional marriage broker. She took her job so seriously, she would try to wed off anything with a pulse. Apparently, this time it hadn't gone over very well.
"Moishe's a good boy," the stranger said in a quaking voice. Tears streaked her cheeks, her face red and blotchy. "He minds his own business. He goes to night school. He isn't a troublemaker like that Aaron Holtz; he wouldn't just run off without saying anything."
The woman wiped her eyes and looked at me.
"Oy, he looks like Moishe!" she exclaimed, pressing her palms to her face. "For a moment, I thought—"
A sob tore through her body. I reached for my handkerchief, but by the time I pulled it from my pocket, she was already hurrying down the hall.
"I'm sorry," I told Mrs. Brenner as the woman disappeared into the stairwell. "I hope I didn't intrude."
She blotted her forehead with a lace-fringed hanky. "It's fine, Alter. She was just leaving."
Even with the gaslights dimmed and the hallway windows cranked open, a swampish heat encased us like mud. I couldn't wait to get out on the fire escape and enjoy the sliced melon left in the icebox.
"That was Mrs. Walden," Mrs. Brenner said as I stuffed my handkerchief back into my pocket. "It seems her son never came home from work three days ago."
I tried envisioning Moishe Walden. I thought he might be the slender ginger-haired boy who always had a bisl of mandelbrot or rugelach to share during learning. Shy and soft-spoken, he had never struck me as the kind of person to run off. He was a year or two younger than me and at least four centimeters shorter. Although I had green eyes instead of hazel ones, and my hair was chestnut brown and wavy, I supposed to his mother there must've been some resemblance.
"Did she go to the police?" I asked, resting my bicycle against the wall. I didn't have much confidence in law and order, but it seemed like something a mother might do.
"You know how it is." Sighing, Mrs. Brenner tucked back a curl that had escaped from her tichel. With her yellow dress and dark silk headscarf, she matched the black-eyed Susans sprouting in her apartment's window box. "Just another immigrant boy wowed by the big city. The third one these last two months apparently." Her voice dripped with sarcasm. "They told her that if he doesn't turn up in a few weeks, they'll look into it. Feh! You wonder what they're paid for."
"The third one?" I frowned. "I heard about Aaron Holtz, but who was the other?"
"Another of my clients. Josef Loew."
I sensed a pattern here. "Was Moishe also your client?"
"Yes, and we even had a date picked out. Tonight, Fourth of July. His mother's been looking everywhere for him, the poor dear. She was hoping he might show up, but as you can see…" With another laborious sigh, she gestured around her. "He's nowhere to be found."
I wasn't too worried. Boys ran away all the time, and even fathers left without a word to escape having to care for their families back in the old country. Besides, as far as I was concerned, being one of Mrs. Brenner's clients was more than enough to make a person skip town.
Ever since I had turned seventeen, she had brought it upon herself to take my case free of charge. With my mother and little sisters across the Atlantic and my father somewhere beneath it, Mrs. Brenner had declared her intervention a mitzvah, a commandment of God. More like a conspiracy of the Evil One.
The results had so far been disastrous. Just last week, she had tried setting me up with Raizel Ackermann on the first floor, in a dinner that had exploded into a heated argument over anarchism. Raizel believed that society as a whole was corrupt, and that true freedom and liberty would only be achieved once the power structure was dismantled completely and capitalism abolished. I thought it was a pipe dream, and told her as much. The debate had ended with me getting a cup of lukewarm tea dumped in my lap while Raizel's parents watched on in utter horror.
Mrs. Brenner gave me a keen look. "You know, she's still in there."
"Who?" Hopefully not Raizel, otherwise Mrs. Brenner might end up with another of her eligible bachelors vanishing into the night.
"Elkie Strauss. She's from a good family, not like that Ackermann girl downstairs. Elkie is as peaceful as a dove and as lovely as a lily of the valley." Mrs. Brenner leaned forward, her eyes gleaming in determination. "You won't find another like her in all of Chicago, my dear."
Right, a dove and a lily of the valley. If Mrs. Brenner thought plagiarizing the Song of Songs would convince me to ruin my Fourth of July, she was sadly mistaken. I volunteered at our shul's burial society, and every month, I found myself reciting the Song of Songs over a fresh corpse. Not exactly what I'd call romantic.
"It's really not a good time," I said, backing away before she could drag me into her apartment by force.
"Oh, Alter," Mrs. Brenner cried, aghast. "I thought you were a kind boy. You wouldn't be so cruel as to leave a girl and her parents waiting alone, would you? You'll break her mother's heart!"
I hesitated. Well, when she worded it like that…
"Besides, I made my special kishka. I know how much you love it."
Her special—oh God. I cringed at the thought. Her beef-liver kishka was as heavy as cement and came out looking the same way it went in, which was never a good sign. No wonder Moishe hadn't shown up. Before I could come up with a convincing excuse to avoid death by indigestion, a hand fell on my lower back.
"I'm afraid Alter already has a commitment tonight," a teasing voice said from behind us.
The hand slipped away, and my roommate Yakov stepped around me to face Mrs. Brenner head-on. He was eight centimeters taller than me, but he could move so silently sometimes, like he wasn't walking on the same cheap, groaning floorboards as the rest of us.
At the sight of him, Mrs. Brenner's eyes narrowed, and her mouth pursed tightly. She had been cold to him since the day he arrived. She would ignore him outright when they passed in the halls, and kept a wide berth, as though if she strayed into his path, their proximity alone might scald her. I wondered, what had he said to make her so curt? What had he done?
"Ah. I see." Mrs. Brenner wrinkled her nose, probably offended by the scent of coal smoke Yakov had carried with him from the trainyard. She looked like she wanted to argue, decided against it, and stepped inside her apartment.
"A commitment, eh?" I said, once the door had shut behind her. I couldn't stop thinking about the patch of warmth Yakov's hand had left on my back, the heat and weight of his touch.
"Something a bit more enjoyable than a matchmaking meeting." He turned, favoring me with a smile that made me weak in the knees. "We can't have her marry you off too soon. She thinks you're a real catch, you know that?"
"More like a real paycheck, and she isn't even right about that. No money, dead father. Nobody's going to want to marry a charity case."
He cocked his head. "You don't sound too disappointed."
The way he said it made my face itch. Every so often, Yakov would look at me or say something in a certain way, and I'd have the suspicion that he could see my desire. I wished I could tell him the truth. Instead I forced a smile. "One family's more than enough to worry about."
Every extra penny from my job at the newspaper went to my mother and sisters back in Romania. We had over a hundred dollars saved away. Enough to pay for ship tickets, a wagon to Iaşi, and the train ride from there to Bucharest and the port city of Constanţa. They wouldn't have to walk to the sea like my father and I had done. I had made sure of that. All I needed to do was raise another forty dollars and I'd be able to get them here.
"Did you see the woman sitting on the stairs?" Yakov asked as he unlocked our garret room door. The key was stubborn, and he wiggled it back and forth. "The one who was crying?"
"Did she have red hair?"
"Like a carrot."
"That's Mrs. Walden from shul. Her son, Moishe, went missing."
He stopped turning the key. "What?"
"He probably just ran away to keep Mrs. Brenner from wedding him off." I waited for Yakov to laugh, but he never did.
His gas-flame-blue eyes chilled over, and his jawline firmed. "I see."
"Don't look so worried," I said. "Boys run away."
I would know. The boy who I once considered to be my closest friend had only ended up in Chicago because he'd stowed away on a train from Grand Central Depot. He hadn't even bothered checking the destination.
"Then again, Moishe's not the only one who's disappeared lately," I added, when Yakov didn't answer. "Aaron Holtz went missing, too, and so did Josef Loew."
"Right. I'm sure it's nothing to worry about." Yakov said the words slowly, carefully, like handling shattered glass. "People leave here all the time."