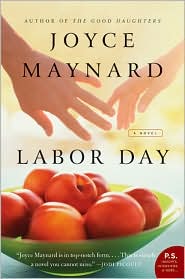 LABOR DAY
---
With the end of summer closing in and a steamy Labor Day weekend looming in the town of Holton Mills, New Hampshire, thirteen-year-old Henry—lonely, friendless, not too good at sports—spends most of his time watching television, reading, and daydreaming about the soft skin and budding bodies of his female classmates. For company Henry has his long-divorced mother, Adele—a onetime dancer whose summer project was to teach him how to foxtrot; his hamster, Joe; and awkward Saturday-night outings to Friendly's with his estranged father and new stepfamily. As much as he tries, Henry knows that even with his jokes and his "Husband for a Day"
With the end of summer closing in and a steamy Labor Day weekend looming in the town of Holton Mills, New Hampshire, thirteen-year-old Henry—lonely, friendless, not too good at sports—spends most of his time watching television, reading, and daydreaming about the soft skin and budding bodies of his female classmates. For company Henry has his long-divorced mother, Adele—a onetime dancer whose summer project was to teach him how to foxtrot; his hamster, Joe; and awkward Saturday-night outings to Friendly's with his estranged father and new stepfamily. As much as he tries, Henry knows that even with his jokes and his "Husband for a Day" coupon, he still can't make his emotionally fragile mother happy. Adele has a secret that makes it hard for her to leave their house, and seems to possess an irreparably broken heart.
But all that changes on the Thursday before Labor Day, when a mysterious bleeding man named Frank approaches Henry and asks for a hand. Over the next five days, Henry will learn some of life's most valuable lessons: how to throw a baseball, the secret to perfect piecrust, the breathless pain of jealousy, the power of betrayal, and the importance of putting others—especially those we love—above ourselves. And the knowledge that real love is worth waiting for.
In a manner evoking Ian McEwan's Atonement and Nick Hornby's About a Boy, acclaimed author Joyce Maynard weaves a beautiful, poignant tale of love, sex, adolescence, and devastating treachery as seen through the eyes of a young teenage boy—and the man he later becomes—looking back at an unexpected encounter that begins one single long, hot, life-altering weekend.
Harper Perennial
Paperback
August 2010
272 Pages
9780061843419
Praise
"Joyce Maynard is in top-notch form with Labor Day. From the perfect pitch of a teenaged boy narrator to the eloquent message of how loneliness can bind people together, this is simply a novel you cannot miss."—Jodi Picoult, New York Times bestselling author of My Sister's Keeper and Handle With Care
"Joyce Maynard's Labor Day [is] a story so compelling, many readers will finish it in one sitting. And then read it again….Labor Day is a page-turner, from the beginning lines…to the final chapters….Maynard is in top form in this tale of love, betrayal and forgiveness."—Associated Press
"Joyce Maynard is one of those blessed authors who can compress al lifetime's worth of ideas and emotions into a spare piece of work. The closest comparison I can make is Ian McEwan, whose Atonement has some of the same elements as Maynard's latest novel: the pangs of adolescence, the roller-coaster swells and dips of love and loss, a devastating betrayal from an intimate source. . . . Maynard has forged an indelible, precise portrait of early adolescence. It's a perfect late-summer book, a page-turner that also makes you think."—Dallas Morning News
"Maynard deftly pulls the reader into the fragile lives of these three vulnerable characters and their preordained march toward the novel's denouement. A marvelous read––perfect for one long sitting––this novel leaves the reader wishing it didn't ever have to end."—BookPage
Discussion Questions
As reported by Henry, his mother Adele displays a number of behaviors that could be interpreted as crazy. How do you explain her son's steadiness and competence? Do you consider Adele to be a bad mother?
When you were first introduced to the character of Frank (p. 5), what was your feeling about him? As you learned more about Frank over the course of the story, did your impression of him change? If so, what details and actions can you identify that caused you to alter your opinion of him?
Were you surprised that Adele was willing to bring Frank to her home? Why do you think she did?
Henry's father and his wife, Marjorie, live a much more steady and "normal" life than the one Henry shares with Adele. Why do you think Henry remains so loyal to his mother, concealing aspects of her behavior that would no doubt alarm his father?
Were you surprised to discover than Frank is a good baker? What does his baking ability tell you about him? Why do you think the author chose to offer such a detailed description of Frank's pie-making technique?
The novel is set at a time during which a number of transitions are taking place in the lives of the main characters. What transition if Henry going through? Adele? Frank? How is that feeling of transition echoed in the time period in which the story is framed (the end of summer and the beginning of the school year)?
Henry often refers to a "normal family," a "regular family," a "family." What does the concept of family mean to Henry? What does the term "normal family" mean to you?
What was your first impression of the character of Eleanor? Did this impression change as you got to know her better? Why do you think Eleanor behaves as she does?
How does Eleanor go about instilling fear and doubts about Frank in Henry? Why do you think she does this? What is she hoping to accomplish?
In Chapter 18 Henry comments that seeing his mother happy with Frank "took me off the hook." At the same time, he appears to be threatened by the possibility that the intimacy she has discovered with Frank will cause her to abandon him. How does Henry go about reconciling these two conflicting responses to the love affair he witnesses, and how much of what takes place occurs as a result of this conflict?
How do you think the events of that Labor Day weekend changed Henry? How might his life have gone if Frank had not shown up?
Why do you think Adele relinquishes custody of Henry? Why does he decide to return to her?
Were you surprised by what Henry says and does when he encounters Eleanor again, a year later, walking her dog? What do you think has caused Eleanor to become the person she is? Why is her dog named Jim?
What does Henry's father mean when he observes that Adele "was in love with love"?
Frank's experience with Adele and Henry cost him eighteen years of his life, and yet he expresses gratitude for having met them. How can this be? Do you believe the kind of love that existed between Adele and Frank can truly exist?