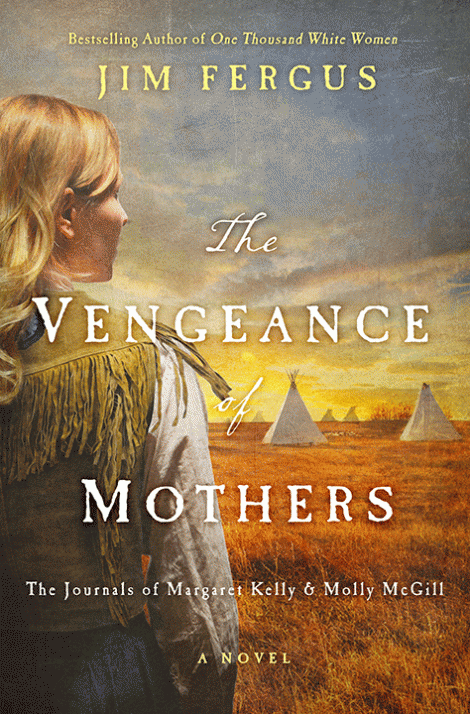 THE VENGEANCE OF MOTHERS
The Journals of Margaret Kelly & Molly McGill
---
The stunning sequel to the award-winning novel One Thousand White Women
9 March 1876
My name is Meggie Kelly and I take up this pencil with my twin sister, Susie. We have nothing left, less than nothing. The village of our People has been destroyed, all our possessions burned, our friends butchered by the soldiers, our baby daughters gone….Do not underestimate the power of a mother's vengeance…
So begins the Journal of Margaret Kelly, a woman who participated in the U.S. government's "Brides for Indians" program in 1873,
The stunning sequel to the award-winning novel One Thousand White Women
9 March 1876
My name is Meggie Kelly and I take up this pencil with my twin sister, Susie. We have nothing left, less than nothing. The village of our People has been destroyed, all our possessions burned, our friends butchered by the soldiers, our baby daughters gone….Do not underestimate the power of a mother's vengeance…
So begins the Journal of Margaret Kelly, a woman who participated in the U.S. government's "Brides for Indians" program in 1873, a program to attain "peace" between the United States and the Cheyenne Nation by giving 1,000 white women as brides in exchange for three hundred horses. These "brides" were mostly fallen women; no one expected the program to work, and the women themselves thought of it simply as a chance at freedom. But many of them fell in love with their Cheyenne spouses and had children with them…and became Cheyenne themselves.
The Vengeance of Mothers explores what happens to the bonds between wives and husbands, children and mothers, when society sees them as "untouchables." What does it mean to be white, to be Cheyenne, and how far will these women go to avenge the ones they loved and lost? With vivid detail and keen emotional depth, Jim Fergus brings to light a time and place in American history and fills it with unforgettable characters who live and breathe with a passion we can feel even today.
St. Martin's Press
Hardcover
September 2017
352 Pages
9781250093424
Praise
"It's a gripping tale, a history lesson infused with both sadness at the violence perpetuated against the Cheyenne and awe at the endurance of this remarkable group of women."—Booklist
Discussion Questions
1. What did you know about Native American and Cheyenne history in the 19th Century—either from your own studies, or as portrayed in popular film/television—before reading this novel?
2. The author has told us that the novel is based on a "kernel of historical record" and that he imagined what could have happened. Are these characters believable and relatable, given the extraordinary circumstances in which they find themselves?
3. Discuss the nature of fact versus fiction in the world of this novel. You may wish to compare it with other novels and/or dramatic portrayals you've experienced.
4. What can we learn about our world—and ourselves—from the story told in The Vengeance of Mothers?
5. Like the story of May Dodds, this book is told through journal entries written by white women living among the Cheyenne and "discovered" by one of May's descendants. How did this structure affect your reading experience? Did the firsthand accounts make the women's experiences seem more relatable? Would you believe that these journals had been rediscovered and published?
6. What do you think about Gertie's allegiances? She has had some terrible experiences with the United States Army, and yet she continues to work for them, but the women still see her as trustworthy. Do you agree?
7. How do you interpret the closing scene of the novel?