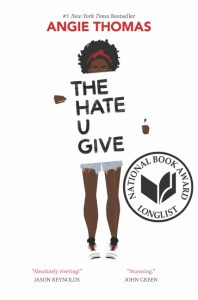 Since its release last year, Angie Thomas' debut young adult novel The Hate U Give has become a #1 New York Times Bestseller, gathered starred reviews, earned a National Book Award nomination, and is currently in film production. And its success comes for good reason. The book grapples with important, timely issues surrounding racial injustice and police violence, and what it means to be a teenager in the contemporary world.
The novel tells the story of 16 year-old Starr Carter, an African-American teen who witnesses the fatal shooting of her unarmed friend Khalil by the police. The death sparks protests and debate among Starr's family, friends, and community, challenging her to find her voice and tell the true story.
The novel is already being read by most Madison-area schools, but recently class discussion went one step further when Angie Thomas paid a visit to Madison for two days of workshops, presentations, and a reading. It was a rare opportunity for students to meet the author behind one of today's most relevant books.
Reading Group Choices and 702WI coordinated the tour in partnership with local schools and Goodman Community Center (GCC). Thomas began with a presentation and Q&A at the GCC's Lussier LOFT. Students from the Girls Inc Programs at East High School, Lussier Community Center, and GCC, as well as members of GCC's other after-school programs, listened to Thomas' message about the difficulty and importance of finding the courage to speak up.
"It took me my whole life to realize that I had any power at all," Thomas told them. "You matter, and you have value. You got power — well, how do you use it?"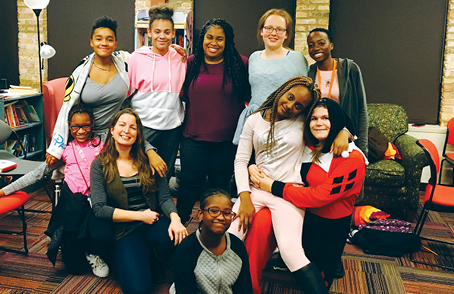 Thomas shared her own journey from being a teen rapper to becoming a writer. The killing of Oscar Grant, an unarmed African-American, by police in Oakland in 2009 along with the rise of the Black Lives Matter movement shifted her into activism.
Students responded to her message of speaking out against injustice. They also commented on the connection between her book and her life—and the similarities to their own lives. "I thought it was a book she just wrote," one student said, "but she experienced some of the things in it. I felt like I really was her."
In the evening, Thomas spoke to a crowd from more than 20 area schools and community centers that came together at Goodman Community Center. More than 100 students received a copy of the book, made possible by Reading Group Choices.
Thomas spent the following day talking to sophomore English classes at Madison West High School, followed by a visit to La Follette High School, where students from Whitehorse, Sennet, and Sun Prairie Middle Schools also attended.
At this last event, Thomas was introduced by senior Sharita Holden, who performed an original poem that shared themes with the novel.
"It's the idea that you're more than what you might be perceived by society," Holden explained. More than 100 students received a copy of the book, made possible by a grant from La Follette's Student Support Foundations and Reading Group Choices.
The visit allowed students to witness the connection between literature and real life. As one attendee mentioned afterward: "It was cool how she came to us." Thomas also left her audience with a clear message. "Speak up and speak out when things, or the things people say, make you uncomfortable," she said. "I have one big request. I want you to change our world."
Thomas' next novel, On the Come Up, is scheduled for release in 2019.