Raise the curtain on adding plays to your book group's discussions.
Plays might not be an obvious choice for book groups. After all, they're meant for the stage, surrounded by an audience, right? But reading and discussing a play with your group can open up new ways of thinking about stories and add variety to your regular diet of novels, memoirs, and other prose. (And maybe reveal a secret actress or actor among your members!)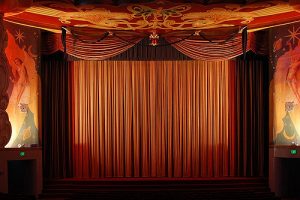 Reading Group Choices is pleased to offer these tips for reading a play with your group.
We've also rounded up a selection of titles to choose from, including plays adapted from books and others made into films. Expand your borders and have fun!
When Reading a Play…
Plays offer the chance to approach a discussion differently.
Spend part of the session reading out loud to get a sense of the sound and rhythm, and hear the voices at work. Choose a scene and have members volunteer to read certain characters. Leave time for discussion afterward, because your perception of the play and the characters may change after "hearing" them speak.
Are there lines that can have different interpretations depending on how they are delivered? How does the playwright "create" each character's voice in terms of language and tone?
Devote a part of your discussion to the process of reading a play. What was easier or more difficult compared to reading a novel or memoir? Oftentimes plays provide minimal description, and ask audiences to assume a setting instead of describing it in detail. Were you able to create strong visuals in your head when given less physical description?
Check with local theaters to see which plays are coming to your town, and plan to read one. Schedule an additional or alternative session to attend the play with your group, or view a movie version, with a discussion afterward!
---
Ready to Get Started?
Try this list of recommended plays for your next lively discussion:
Winner of the 2008 Pulitzer Prize for Drama and the 2008 Tony Award for Best New Play. A 2013 movie version makes it a convenient choice to read, discuss, and watch with your group!
One of the most bracing and critically acclaimed plays in recent history, August: Osage County is a portrait of the dysfunctional American family at its finest and absolute worst. When the patriarch of the Weston clan disappears one hot summer night, the family reunites at the Oklahoma homestead, where long-held secrets are unflinchingly and uproariously revealed. The mammoth play combines epic tragedy with black comedy, dramatizing three generations of unfulfilled dreams and leaving not one of its thirteen characters unscathed.
---
This long-beloved title, perfect for bibliophiles, was originally published as a book and later adapted into a play and film version. Because the original book is short, you can pair it with the play for a richer discussion.
The story is a dramatization of business letters between a young struggling writer in New York and an antiquarian bookstore in London. In a sense, these are also love letters. They are about the love of good literature. The play takes place over a twenty year period, beginning in 1949 when Helene Hanff (played on Broadway by Ellen Burstyn) first writes Marks & Co. and ends in 1969 with the death of Frank Doel, the delightfully dusty supplier of so many old volumes to Helen who has shown her gratitude through the years by sending "care packages" to the staff of Marks & Co.
---
Winner of the 2005 Pulitzer Prize for Drama, and adapted into a movie version in 2009.
Chosen as the best play of the year by over 10 newspapers and magazines, Doubt is set in a Bronx Catholic school in 1964, where a strong-minded woman wrestles with conscience and uncertainty as she is faced with concerns about one of her male colleagues. This play by John Patrick Shanley—the Bronx-born-and-bred playwright and Academy Award-winning author of Moonstruck—dramatizes issues straight from today's headlines within a world re-created with knowing detail and a judicious eye.
---
Multiple film versions exist of this classic work, named the "play that changed American theater forever" by The New York Times. When it was first produced in 1959, A Raisin in the Sun was awarded the New York Drama Critics Circle Award for that season and hailed as a watershed in American drama.
Set on Chicago's South Side, the plot revolves around the divergent dreams and conflicts within three generations of the Younger family: son Walter Lee, his wife Ruth, his sister Beneatha, his son Travis, and matriarch Lena. When her deceased husband's insurance money comes through, Mama Lena dreams of moving to a new home and a better neighborhood in Chicago. Walter Lee, a chauffeur, has other plans: buying a liquor store and being his own man. Beneatha dreams of medical school. The tensions and prejudice they face form this seminal American drama. The Younger family's heroic struggle to retain dignity in a harsh and changing world is a searing and timeless document of hope and inspiration.
---
This new play by the author of Citizen comes out in March 2019. Be the first to read it with your group!
Claudia Rankine's first published play, poses the essential question: Can American society progress if whiteness remains invisible? Composed of two scenes, the play opens with a dinner party thrown by Virginia and Charles, an influential Manhattan couple, for the up-and-coming artist Charlotte. Their conversation about art and representations of race spirals toward the devastation of Virginia and Charles's intentions. One year later, the second scene brings Charlotte and Charles into the artist's studio, and their confrontation raises both the stakes and the questions of what—and who—is actually on display. Rankine's The White Card is a moving and revelatory distillation of racial divisions as experienced in the white spaces of the living room, the art gallery, the theater, and the imagination itself.
---
Arcadia by Tom Stoppard
In a large country house in Derbyshire in April 1809 sits Lady Thomasina Coverly, aged thirteen, and her tutor, Septimus Hodge. Through the window may be seen some of the "five hundred acres inclusive of lake" where Capability Brown's idealized landscape is about to give way to the Gothic style: "everything but vampires," as the garden historian Hannah Jarvis remarks to Bernard Nightingale when they stand in the same room 180 years later.
Bernard has arrived to uncover the scandal which is said to have taken place when Lord Byron stayed at Sidley Park. Tom Stoppard's masterful play takes us back and forth between the centuries and explores the nature of truth and time, the difference between the Classical and the Romantic temperament, and the disruptive influence of sex on our orbits in life–"the attraction," as Hannah says, "which Newton left out."
---
Looking for more recommendations? Check out the other themed lists featured on the Reading Group Choices blog!