If your group is interested in introducing poetry to your reading list, but isn't sure how, take a look at the books below for a variety of approaches. Beyond just reading collections of poems, you can also explore essays about poetry, novels written in verse, and memoirs that feature lyric, poetic language. Here are our recommendations for where to start!
If you'd also like some suggestions for fun ways to integrate poems into your group or for approaches to discussing poetry, check out our post that addresses these very questions.
by Mary Oliver
In Upstream, a collection of essays, revered poet Mary Oliver reflects on her willingness, as a young child and as an adult, to lose herself within the beauty and mysteries of both the natural world and the world of literature. Emphasizing the significance of her childhood "friend" Walt Whitman, through whose work she first understood that a poem is a temple, "a place to enter, and in which to feel," and who encouraged her to vanish into the world of her writing, Oliver meditates on the forces that allowed her to create a life for herself out of work and love.
Upstream follows Oliver as she contemplates the pleasure of artistic labor, her boundless curiosity for the flora and fauna that surround her, and the responsibility she has inherited from Shelley, Wordsworth, Emerson, Poe, and Frost, the great thinkers and writers of the past, to live thoughtfully, intelligently, and to observe with passion. Throughout this collection, Oliver positions not just herself upstream but us as well as she encourages us all to keep moving, to lose ourselves in the awe of the unknown, and to give power and time to the creative and whimsical urges that live within us.
---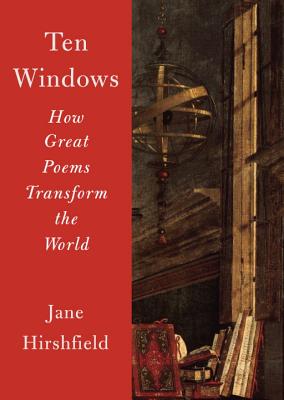 Ten Windows: How Great Poems Transform the World
by Jane Hirshfield
"Poetry," Jane Hirshfield has said, "is language that foments revolutions of being." In ten eloquent and highly original explorations, she unfolds and explores some of the ways this is done—by the inclusion of hiddenness, paradox, and surprise; by a perennial awareness of the place of uncertainty in our lives; by language's own acts of discovery; by the powers of image, statement, music, and feeling to enlarge in every direction.
The lucid understandings presented here are gripping and transformative in themselves. Investigating the power of poetry to move and change us becomes in these pages an equal investigation into the inhabitance and navigation of our human lives.
---
Twenty Poems That Could Save America and Other Essays
by Tony Hoagland
Live American poetry is absent from our public schools. The teaching of poetry languishes, and that region of youthful neurological terrain capable of being ignited only by poetry is largely dark, unpopulated, and silent, like a classroom whose shades are drawn. —Tony Hoagland
Twenty Poems That Could Save America presents insightful essays on the craft of poetry and a bold conversation about the role of poetry in contemporary culture. At the heart of this book is an honesty and curiosity about the ways poetry can influence America at both the private and public levels.
---
by Tracy K. Smith
The youngest of five children, Tracy K. Smith was raised with limitless affection and a firm belief in God by a stay-at-home mother and an engineer father. But just as Tracy is about to leave home for college, her mother is diagnosed with cancer, a condition she accepts as part of God's plan.
Ordinary Light is the story of a young woman struggling to fashion her own understanding of belief, loss, history, and what it means to be black in America. In lucid, clear prose, Smith interrogates her childhood in suburban California, her first collision with independence at Harvard, and her Alabama-born parents' recollections of their own youth in the Civil Rights era. Here is a universal story of being and becoming, a classic portrait of the ways we find and lose ourselves amid the places we call home.
---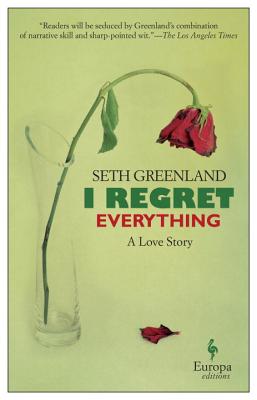 I Regret Everything: A Love Story
by Seth Greenland
A modern love story, I Regret Everything confronts the oceanic uncertainty of what it means to be alive, and in love. Jeremy Best, a Manhattan-based trusts and estates lawyer, leads a second life as published poet Jinx Bell. To his boss's daughter, Spaulding Simonson, at 33 years old, Jeremy is already halfway to dead. When Spaulding, an aspiring 19-year-old writer, discovers Mr. Best's alter poetic ego, the two become bound by a devotion to poetry, and an awareness that time in this world is limited.
Their budding relationship strikes at the universality of love and loss, as Jeremy and Spaulding confront their vulnerabilities, revealing themselves to one another and the world for the very first time.
---
by Jane Hirshfield
The Beauty, an incandescent new collection from one of American poetry's most distinctive and essential voices, opens with a series of dappled, ranging "My" poems—"My Skeleton," "My Corkboard," "My Species," "My Weather"—using materials sometimes familiar, sometimes unexpected, to explore the magnitude, singularity, and permeability of our shared existence.
With a pen faithful to the actual yet dipped at times in the ink of the surreal, Hirshfield considers the inner and outer worlds we live in yet are not confined by; reflecting on advice given her long ago—to avoid the word "or"—she concludes, "Now I too am sixty. / There was no other life."
---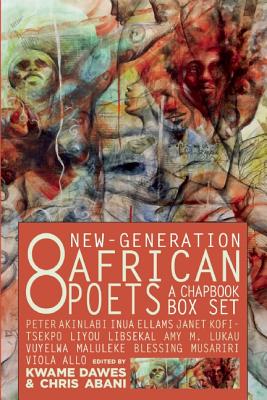 8 New-Generation African Poets: A Chapbook Box Set
by Peter Akinlabi, Viola Allo, Inua Ellams
This elegant, limited-edition box set features nine chapbooks: eight volumes of poetry, plus an introduction chapbook by editors Kwame Dawes and Chris Abani. The eight African poets included are Peter Akinlabi, Viola Allo, Inua Ellams, Janet Kofi-Tsekpo, Liyou Mesfin Libsekal, Amy Lukau, Vuyelwa Maluleke, and Blessing Musariri.
The box set is an annual project of the African Poetry Book Fund, in collaboration with Akashic Books, which seeks to identify the best poetry written by African authors working today, with a special focus on those who have not yet published their first full-length book of poetry.
---
by Jason Carney; Kaylie Jones (Editor)
Jaunty, frank, and compelling, Carney shares his instructive story with generosity and insight. —Booklist
Carney will easily win sympathy for his life, in which he has persevered to show others the hard work of his salvation. —Kirkus Review 
A lyrical, mesmerizing debut from Jason Carney who overcomes his own racism, homophobia, drug addiction, and harrowing brushes with death to find redemption and unlikely fame on the national performance poetry circuit. Woven into Carney's path to recovery is a powerful family story, depicting the roots of prejudice and dysfunction through several generations.
---
by Brian Laidlaw
The Stuntman relocates the myth of Echo and Narcissus to the mining town of Hibbing, Minnesota, and draws inspiration from the high-school relationship between Bob Dylan and Echo Helstrom – a.k.a. "The Girl From the North Country" – that took place there.
At once whimsical and refreshingly earnest, playful and yet richly grounded in one of the founding myths of Western civilization, The Stuntman deploys images that are often as quirky as they are illuminating, explores the protean nature of the self, and the challenges of being a self in social and intimate relationships.
---
by Machi Tawar and Julie Winters Carpenter (Translator)
This internationally bestselling book took the world by storm on its first publication, selling 3 million copies in Japan and 9 million copies worldwide. Covering the discovery of new love, first heartache and the end of an affair, these poems mix the ancient grace and musicality of the tanka form with a modern insight and wit.
With a light, fresh touch and a cool eye, Machi Tawara celebrates the small events in a life fully lived and one that is wonderfully touched by humor and beauty. This book will stay with you through the day, and long after you have finished it.
---
I Am the Beggar of the World: Landays from Contemporary Afghanistan
by Eliza Griswold (Translator) and Seamus Murphy (Photographer)
The landay, a folk couplet, is an ancient oral and anonymous form created by and for mostly illiterate people: the more than 20 million Pashtun women who span the border between Afghanistan and Pakistan. War, separation, homeland, love—these are the subjects of landays, which are brutal and spare, can be remixed like rap, and are powerful in that they make no attempts to be literary.
From Facebook to drone strikes to the songs of the ancient caravans that first brought these poems to Afghanistan thousands of years ago, landays reflect contemporary Pashtun life and the impact of three decades of war. With the U.S. withdrawal in 2014 looming, these are the voices of protest most at risk of being lost when the Americans leave. After learning the story of a teenage girl who was forbidden to write poems and set herself on fire in protest, the poet Eliza Griswold and the photographer Seamus Murphy journeyed to Afghanistan to learn about these women and to collect their landays. The poems gathered here express a collective rage, a lament, a filthy joke, a love of homeland, an aching longing, a call to arms, all of which belie any facile image of a Pashtun woman as nothing but a mute ghost beneath a blue burqa.
---
Letter Composed During a Lull in the Fighting: Poems
by Kevin Powers
The award-winning author of The Yellow Birds returns with an extraordinary debut poetry collection. National Book Award finalist, Iraq war veteran, novelist and poet Kevin Powers creates a deeply affecting portrait of a life shaped by war.
Letter Composed During a Lull in the Fighting captures the many moments that comprise a soldier's life: driving down the Texas highway; waiting for the unknown in the dry Iraq heat; writing a love letter; listening to a mother recount her dreams. Written with evocative language and discernment, Powers's poetry strives to make sense of the war and its echoes through human experience.
---
by Carl Adamshick
Saint Friend is that rare book that speaks in the voice of a generation. The voice comes from an acclaimed young poet who, after working years in obscurity, was fêted with the prestigious Walt Whitman Award for his first collection.
This, his second book, is a freewheeling explosion of celebrations, elegies, narratives, psychologically raw persona pieces (one in the voice of Amelia Earhart), and a handful of punchy lyric poems with a desperate humor. It is, as the title suggests, a book exalting love among friends in our scattered times.
---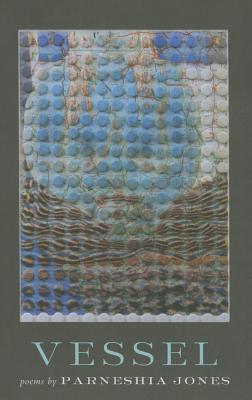 by Parneshia Jones
The imagination of a girl, the retelling of family stories, and the unfolding of a rich and often painful history: Parneshia Jones explores the intersections of these elements of experience with refreshing candor and metaphorical purpose.
A child of the South speaking in the rhythms of Chicago, Jones writes across time and place, knitting "a human quilt" with her own identity at the center. She tells of the men and women she grew up with, from the awkward trip to Marshall Fields with her mother to buy her first bra to the late whiskey-infused nights of her father's world. Vibrant descriptions unlock the smells and sounds of a place: in the South, "lard sizzles a sermon from the stove"; in Chicago, we feast on an "opera of peppers and pimento." Jones also reaches into a shared history of struggle and growth, and the stories of her own family intertwine with those of historical Black figures, including Marvin Gaye and Josephine Baker.
---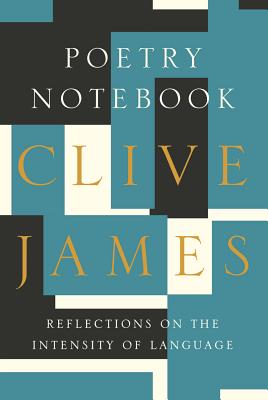 Poetry Notebook: Reflections on the Intensity of Language
by Clive James
With his customary wit, delightfully lucid prose style and wide-ranging knowledge, James explains the difference between the innocuous stuff so prevalent today and a real poem: the latter being a work of unity that insists on being heard entire and threatens never to leave the memory.
A committed formalist and an astute commentator, James examines the poems and legacies of a panorama of 20th-century poets. In some cases he includes second readings or re-readings from later in life just to be sure he wasn't wrong the first time. Whether demanding that poetry must be heard beyond the world of poetry or opining on his five favorite poets, James captures the whole truth of life's transience in this unforgettably eloquent book on how to read and appreciate modern poetry.
---
by Terrance Hayes
A dazzling new collection of poetry by Terrance Hayes, the National Book Award–winning author of Lighthead. In How to Be Drawn, his daring fifth collection, Hayes explores how we see and are seen. While many of these poems bear the clearest imprint yet of Hayes's background as a visual artist, they do not strive to describe art so much as inhabit it. Thus, one poem contemplates the principle of blind contour drawing while others are inspired by maps, graphs, and assorted artists.
The formal and emotional versatilities that distinguish Hayes's award-winning poetry are unified by existential focus. Simultaneously complex and transparent, urgent and composed, How to Be Drawn is a mesmerizing achievement.
---
by Skila Brown
A novel in verse inspired by actual events during Guatemala's civil war, Caminar is the moving story of a boy who loses nearly everything before discovering who he really is. Carlos knows that when the soldiers arrive with warnings about the Communist rebels, it is time to be a man and defend the village, keep everyone safe. But Mama tells him not yet — he's still her quiet moonfaced boy. The soldiers laugh at the villagers, and before they move on, a neighbor is found dangling from a tree, a sign on his neck: Communist. Mama tells Carlos to run and hide, then try to find her. . . . Numb and alone, he must join a band of guerillas as they trek to the top of the mountain where Carlos's abuela lives. Will he be in time, and brave enough, to warn them about the soldiers? What will he do then?
---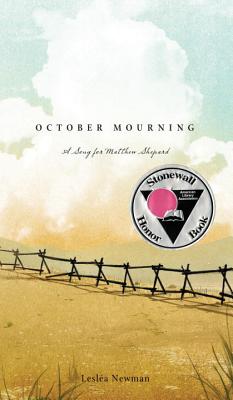 October Mourning: A Song for Matthew Shepard
by Lesléa Newman
Winner Of A 2013 Stonewall Honor
On the night of October 6, 1998, a gay 21-year-old college student, Matthew Shepard, was lured from a Wyoming bar by two young men, savagely beaten, tied to a remote fence, and left to die. Gay Awareness Week was beginning at the University of Wyoming, and the keynote speaker was Lesléa Newman, discussing her book Heather Has Two Mommies. October Mourning, a novel in verse, is Newman's deeply felt response to the events of that tragic day.
Using her poetic imagination, the author creates fictitious monologues from various points of view, including the fence Matthew was tied to, the stars that watched over him, the deer that kept him company, and Matthew himself. More than a decade later, this stunning cycle of sixty-eight poems serves as an illumination for readers too young to remember, and as a powerful, enduring tribute.
---
by Joohee Yoon
Poetry and children belong together, and for a long time, the music and playfulness of verse wove itself through children's days and lives. Beastly Verse aims to help return the wonder of poetry to children's lives through sixteen exquisitely illustrated poems, four of which have the surprise and pleasure of being foldouts.
Consisting of playful as well as powerfully memorable poems, the reader is transported to a richly worded world of tigers, hummingbirds, owls, elephants, pelicans, yaks, snails, and even telephones A playful romp through verse, rhyme, and gorgeous images, this book carries children into the poetic realm in a way that is not only fun and inviting, but inspiring as well.
---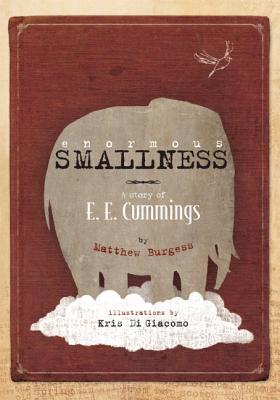 Enormous Smallness: A Story of e.e. cummings
by Matthew Burgess and Kris Di Giacomo (Illustrator)
Enormous Smallness is a nonfiction picture book about the poet E.E. cummings. Here e.e.'s life is presented in a way that will make children curious about him and will lead them to play with words and ask plenty of questions as well.
Lively and informative, the book also presents some of Cummings's most wonderful poems, integrating them seamlessly into the story to give the reader the music of his voice and a spirited, sensitive introduction to his poetry. In keeping with the epigraph of the book: "It takes courage to grow up and become who you really are," Matthew Burgess's narrative emphasizes the bravery it takes to follow one's own vision and the encouragement e.e. received to do just that.
---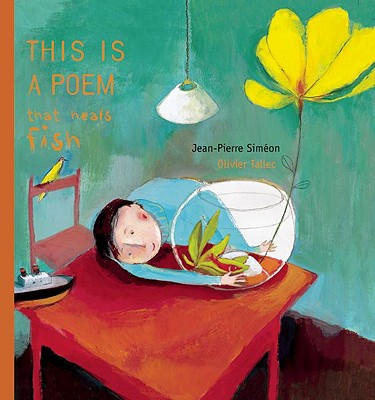 This is a Poem that Heals Fish
by Jean-Pierre Simeon and Olivier Tallec (Illustrator)
What is a poem? This is what Arthur must figure out. And then, will he be able to find one in time to save his fish? He asks the baker, his grandparents, old Mahmoud, even his canary, but each of them has something different to say, and no one seems able to explain just what a poem is. Clearly "poem" is a mysterious word, but it is a mystery that needs to be understood if Arthur is to save Leon's life. Playful, funny, lyrical and yes…poetic.