You've Got Mail: Books Featuring Letters
As the world moves faster, there's one object that will always hold appeal: the letter.
The epistolary novel, one told through letters, has long held its place in literary works. The exchange of mail and messages still carries a mysterious and romantic allure: long-distance mail or notes never sent; friendships and romances built upon correspondence.
We have assembled a group of books where letters play an important role.
Sometimes hand-delivered mail or letters sent overseas can be part of a plot offering clues or confessions. Sometimes the story is built from letters entirely. We recommend you close down your email and settle in with one of these books. These books all celebrate how words put on paper and sent out into the world can create stories and relationships, can connect people and events, and can offer an often intimate perspective.
We hope you enjoy these books and share the list with your group too! (Or better yet, write them a letter…)
---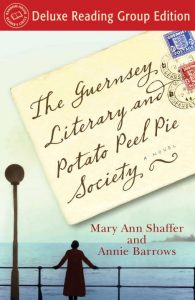 The Guernsey Literary and Potato Peel Pie Society by Mary Ann Shaffer & Annie Barrows
Unfolding in a series of letters, this enchanting novel introduces readers to the indomitable Juliet Ashton. Nothing can quell her enthusiasm for the written word. One day, she begins a different sort of correspondence, responding to a man who found her name on the flyleaf of a cherished secondhand book. The letter had been forwarded in the mail from a previous life's address. He tells her that his name is Dawsey Adams, a native resident of Guernsey, one of the Channel Islands recently liberated from Nazi occupation. Soon Juliet is drawn into Dawsey's remarkable circle of friends, courageous men and women who formed the Guernsey Literary and Potato Peel Pie Society as a cover to protect them from the Germans.
---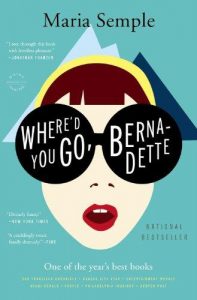 Where'd You Go, Bernadette by Maria Semple
Bernadette Fox has vanished. When her daughter Bee claims a family trip to Antarctica as a reward for perfect grades, Bernadette, a fiercely intelligent shut-in, throws herself into preparations for the trip. But worn down by years of trying to live the Seattle life she never wanted, Ms. Fox is on the brink of a meltdown. And after a school fundraiser goes disastrously awry at her hands, she disappears, leaving her family to pick up the pieces. Which is exactly what Bee does, weaving together an elaborate web of emails, invoices, and school memos that reveals a secret past Bernadette has been hiding for decades.
---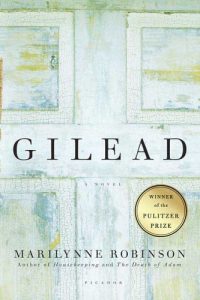 Gilead by Marilynne Robinson
Told through the eyes of a Midwestern minister nearing the end of his life, Gilead unfolds in the form of a letter. As Reverend Ames writes to his young son, we learn of the family's legacy, a heritage steeped in abolition, economic hardship, and conflicting views on religion and war as each generation comes of age. Throughout the novel, he recalls a life shaped by love—for his faith, his vocation and his church, for prayer, for his town and all it has meant, for his father and grandfather, for his books, for baseball, for his lifelong friends, for his physical life and the splendors of the physical world, for his memories, and for the young wife and infant child to whom he remains loyal over solitary decades.
---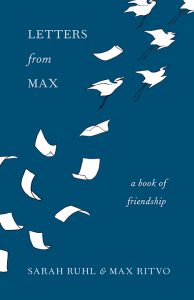 Letters From Max by Max Ritvo & Sarah Ruhl
In 2012, Sarah Ruhl was a distinguished author and playwright, twice a finalist for the Pulitzer Prize. Max Ritvo, a student in her playwriting class at Yale University, was an exuberant, opinionated, and highly gifted poet. He was also in remission from pediatric cancer. Over the next four years—in which Ritvo's illness returned and his health declined, even as his productivity bloomed—the two exchanged letters that spark with urgency, humor, and the desire for connection. Reincarnation, books, the afterlife as an Amtrak quiet car, good soup: in Ruhl and Ritvo's correspondence, all ideas are fair, nourishing game, shared and debated in a spirit of generosity and love.
---
The Lacuna by Barbara Kingsolver
In this powerfully imagined, provocative novel, Barbara Kingsolver takes us on an epic journey from the Mexico of artists Diego Rivera and Frida Kahlo to the America of Pearl Harbor, FDR, and J. Edgar Hoover. Told through documents and mail saved by the protagonist's stenographer, The Lacuna is the poignant story of a man pulled between two nations as well as an unforgettable portrait of the artist—and of art itself.
---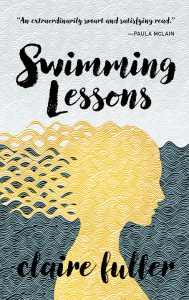 Swimming Lessons by Claire Fuller
Ingrid Coleman writes letters to her husband, Gil, about the truth of their marriage, but instead of giving them to him or dropping them in the mail, she hides them in the thousands of books he has collected over the years. When Ingrid has written her final letter she disappears from a Dorset beach, leaving behind her beautiful but dilapidated house by the sea, her husband, and her two daughters, Flora and Nan. Twelve years later, Gil thinks he sees Ingrid from a bookshop window, but he's getting older and this unlikely sighting is chalked up to senility. Flora, who has never believed her mother drowned, returns home to care for her father and to try to finally discover what happened to Ingrid. But what Flora doesn't realize is that the answers to her questions are hidden in the books that surround her.