Reading In The Shadow of the Eiffel Tower
Paris, 2017: Two blocks from the Eiffel Tower you'll find the rue du Général Camou, and there, at number 10, the American Library in Paris. The library has existed for nearly 100 years. It was established in the days of the First World War, when it served as a resource for Americans stationed abroad.
Today it opens its doors to anyone who wishes to join, and features the largest English-language circulating collection on the European continent.
Among the benefits of membership to the library is its book clubs. New groups run for four months at a time and tackle a variety of topics, whether a theme, region, social issue, or particular author. Options this fall include groups focused on the American healthcare system, World War II homefronts in the US and abroad, and a selection of classic Shakespeare plays.
Reading Group Choices caught up with the leaders of two groups—one on the Middle East, one on world voices—for an interview about how book clubs fit into French culture, challenges when leading a discussion, how to choose books, and more.

Maury Lanman and Laurie Calvet are currently running Readings on the Middle East. The group's purpose is to "explore the mostly recent history of the middle east in order to better understand the region today… While it is impossible to cover such a broad and complicated topic in any comprehensive fashion in only four books, our selections should provide insight into the Middle East puzzle and help us understand in more depth the present challenges of the region."
The group is reading these titles:
The Middle East: A Brief History of the Last 2,000 Years by Bernard Lewis
All the Shah's Men by Stephen Kinzer
A Rage for Order: The Middle East in Turmoil, from Tahrir Square to ISIS by Robert F. Worth
My Promised Land: The Triumph and Tragedy of Israel by Ari Shavit
Maury has lived in Paris off and on since 2001, originally as a telecommunications engineer with Alcatel, but retired since 2012. His reading interests include physics, genetics, AI, neuroscience, and modern philosophy. Prior to moderating the group with Laurie, he had no previous experience with book groups.
Laurie is an American educated at Columbia, Yale, and Harvard. She came to France in 2004 and is currently a researcher in nanoscience/nanotechnology at the Université Paris-Sud. She originally joined the book group in 2012, when it was focused on technology topics, and has moderated for four years.
The other group we're spotlighting is World Voices, led by Grant Rosenburg. Originally from Chicago, Grant has been the Programs Manager at the American Library since 2013, overseeing the evening speaker events as well as the book groups. This fall is the first time he is leading a group. The aim of World Voices is to "read a selection of books that have been highlights of the Library's' 'Evenings With Authors' series, from authors and/or protagonists who are not Western: a Libyan, a Guatemalan, a Kuwaiti, and a Liberian speak to us in these books."
The reading list includes:
The Return, a memoir by Hisham Matar
The Polish Boxer / Monastery, two connected novels by Eduardo Halfon
The Hidden Light of Objects, a short story collection by Mai Al-Nakib
A Marker to Measure Drift, a novel by Alexander Maksik
Our interview was conducted by email with Maury, Laurie, and Grant.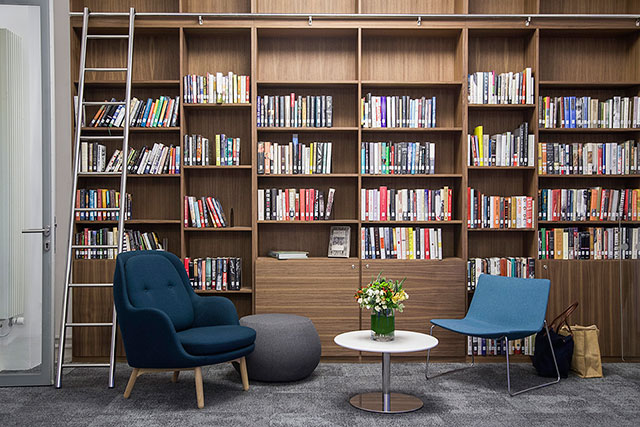 RGC: There doesn't seem to be much of a presence for book groups in France, and it's not unusual to have to explain what a book group is to someone who is French. If that has been your experience as well, what do you think accounts for this difference?
Maury & Laurie: The education style in France is very different—discussion is not as encouraged as in Anglophone countries, so the notion of discussing a book in a group is unusual. In France after the bac [baccalauréat, taken after high school] few people study literature seriously. In prep schools in France, for instance, students view books they have to read as formulaic. French students tend to develop discussions of literature through writing rather than orally.
Grant: I grew up with family and friends in book groups as a part of American culture, though never took part in one myself. I didn't realize they were not a part of French life.
RGC: What were your criteria for deciding which books to include on the reading list? Were there candidates that didn't make the cut?
M&L: We organize our book groups in general around a nonfiction theme. Three starting criteria are: length (rarely over 300 pages), quality of book (for instance did it receive a prize or have a stellar review in the New York Review of Books or New York Times), and relevance to the theme of the group.
In general having two leaders helps enormously to find four good books. It is easy to find "a couple of really good books" on a topic but hard to find four…
G: I knew I wanted it to be authors who had been to the library so we could have the insight and personal connection to the books. I began to look at the ones I liked the most and I saw a pattern emerge. The first few were not White, Western voices or characters, and I decided that it was an interesting way to approach it—at least this first iteration.
What was even more interesting was how it became clear that it was less about ethnic background than it was the notion of home and exile, something of particular interest to those of us in the groups who are either living in a country that is not their native one, or having done so for years before returning to France. I also wanted each book to be different, so one is a memoir, one a kind of hybrid with what the French call auto-fiction, one a collection of short stories, and a novel.
RGC: What are any particular strategies you use to guide the discussion, or challenges you may have encountered?
M&L: The discussion is not really actively guided. We generally have an opening round where everyone gets a few minutes to give general impressions on the book (style, content readability, themes, etc). We may choose to follow up on interesting or controversial comments made during this round. We each also prepare a list of open-ended questions about the content, impacts, and themes of the book that we may (or may not) use to stimulate discussion.
A continual problem is off-topic or long comments. We try to direct the conversation back to the topic. Another problem could be critical personal remarks of one member towards the comments of another. We try to be positive about all comments, but debates on substance are always welcome! We watch for and try to be sure that the less-forceful folks can get their comments heard by occasionally directing the conversation toward them.
All of this certainly benefits from there being two of us!
G: Even though I oversee all the book groups, I'd never sat in on one for more than ten minutes, so I didn't have a feel for a full 1.5 or 2 hours. Before our first meeting, I met up with two book group leaders who I see have good, engaged relationships with the members. I asked advice on how they handle certain things and how they get a feel for the dynamic of the group in terms of discussion. And yes, I had prepared some things I wanted to bring up in our discussion.
I think I have a little bit of a feel now for who wants to talk more than others and how our personal experiences affect how we talk about these books, particularly since we are discussing living overseas and the experience of migration or at least adopting new cultures.
​RGC: ​What is a book group you'd most like to join, given no boundaries or requirements or other practical considerations? (And of course this may be your current one!)
M&L: Our own! It seems that long-standing groups seem to cohere and have many repeat members regardless of the topic.  (E.g., for this session all but one of the 18 members had been in previous groups of ours.) We also encourage this coherence by having an informal "rump session" at a local cafe after the meeting for drinks and/or dinner.
GR: I'd love to be in a book group reading the most monumental books of various eras at the time they were published. To really understand what it was like when books like Uncle Tom's Cabin, Story of O, The Jungle, Slaughterhouse Five, Catch-22, Portnoy's Complaint, 1984, Lolita, to name of few, came out and had such an impact on the culture to the point of influencing government policy or social change. Today, when transgressive books (for reasons of politics or social mores or geopolitics) are read, they may seem less astonishing, but to really try to understand what it was like to read them at the time of their release would be quite something.
Visit the American Library in Paris website to learn more about the groups and access their reading lists. And consider how a theme or topic can guide your own group when selecting your next picks!