BACK TO SCHOOL: 13 Books to Get You Back in the Mood for School
This collection of thirteen binge-able books—including novels, long-form reportage, essay, and history—will get you back in the mood for school.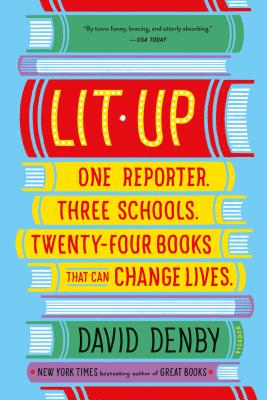 Lit Up: One Reporter. Three Schools. Twenty-Four Books That Can Change Lives By David Denby
Can teenagers be turned on to serious reading? What kind of teachers can do it, and what books? To find out, Denby sat in on a tenth-grade English class in a demanding New York public school for an entire academic year, and made frequent visits to a troubled inner-city public school in New Haven and to a respected public school in Westchester county. He read all the stories, poems, plays, and novels that the kids were reading, and creates an impassioned portrait of charismatic teachers at work, classroom dramas large and small, and fresh and inspiring encounters with the books themselves, including The Scarlet Letter, Brave New World, 1984, Slaughterhouse-Five, Notes From Underground, Long Way Gone and many more. Lit Up is a dramatic narrative that traces awkward and baffled beginnings but also exciting breakthroughs and the emergence of pleasure in reading. In a sea of bad news about education and the fate of the book, Denby reaffirms the power of great teachers and the importance and inspiration of great books.
---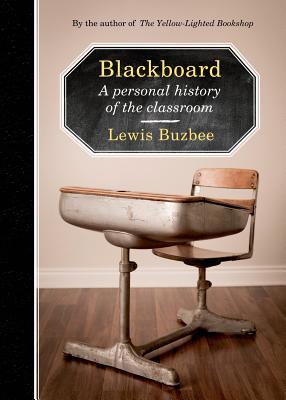 Blackboard: A Personal History of the Classroom by Lewis Buzbee
Lewis Buzbee looks back over a lifetime of experiences in schools and classrooms, from kindergarten to college and beyond. He offers fascinating histories of the key ideas informing educational practice over the centuries, which have shaped everything from class size to the layout of desks and chairs. Buzbee deftly weaves his own biography into this overview, approaching his subject as a student, a father, and a teacher. In so doing, he offers a moving personal testament to how he, "an average student" in danger of flunking out of high school, became the first in his family to graduate from college. He credits his success to the well-funded California public school system and bemoans the terrible price that state is paying as the result of funding being cut from today's budgets. For Buzbee, the blackboard is a precious window into the wider world, which we ignore at our peril.
---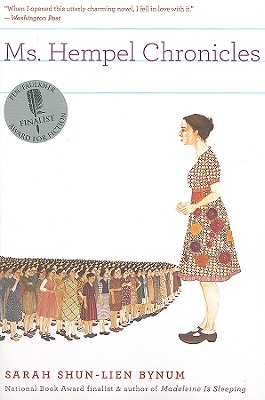 Ms. Hempel Chronicles by Sarah Shun-lien Bynum
Ms. Beatrice Hempel, teacher of seventh grade, is new—new to teaching, new to the school, newly engaged, and newly bereft of her idiosyncratic father. Grappling awkwardly with her newness, she struggles to figure out what is expected of her in life and at work. Is it acceptable to introduce swear words into the English curriculum, enlist students to write their own report cards, or bring up personal experiences while teaching a sex-education class?
Sarah Shun-lien Bynum finds characters at their most vulnerable, then explores those precarious moments in sharp, graceful prose. From this most innovative of young writers comes another journey down the rabbit hole to the wonderland of middle school, memory, daydreaming, and the extraordinary business of growing up.
---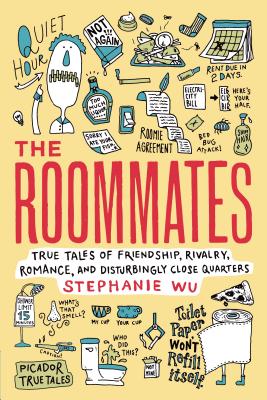 The Roommates: True Tales of Friendship, Rivalry, Romance, and Disturbingly Close Quarters by Stephanie Wu (Author), Hanya Yanagihara (Editor)
In Stephanie Wu's The Roommates, people of all ages reveal their disastrous, hilarious, and sometimes moving stories of making their best friend for life or lifelong nemesis. Learn what it's like to share a room in places as unusual as a thirty-person beach house, a billionaire's yacht, a reality show mansion, and a retirement hotel, and those as familiar as sleepaway camps, boarding schools, and college dorms. Put down your roommate's dirty dishes and passive-aggressive Post-it's for this eye-opening glimpse into how people live together in the modern age.
---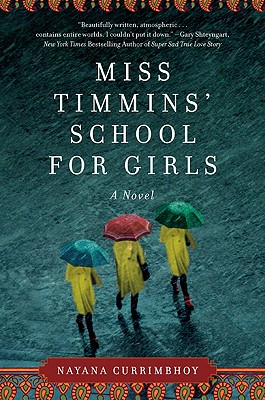 Miss Timmins' School For Girls by Nayana Currimbhoy
A murder at a British boarding school in the hills of western India launches a young teacher on the journey of a lifetime. In 1974, three weeks before her twenty-first birthday, Charulata Apte arrives at Miss Timmins' School for Girls in Panchgani. Shy, sheltered, and running from a scandal that disgraced her Brahmin family, Charu finds herself teaching Shakespeare to rich Indian girls in a boarding school still run like an outpost of the British Empire. In this small, foreign universe, Charu is drawn to the charismatic teacher Moira Prince, who introduces her to pot-smoking hippies, rock 'n' roll, and freedoms she never knew existed.
Then one monsoon night, a body is found at the bottom of a cliff, and the ordered worlds of school and town are thrown into chaos. When Charu is implicated in the murder—a case three intrepid schoolgirls take it upon themselves to solve—Charu's real education begins. A love story and a murder mystery, Miss Timmins' School for Girls is, ultimately, a coming-of-age tale set against the turbulence of the 1970s as it played out in one small corner of India.
---
What If? Serious Scientific Answers to Absurd Hypothetical Questions by Randall Munroe
Millions of people visit xkcd.com each week to read Randall Munroe's iconic webcomic. His stick-figure drawings about science, technology, language, and love have a large and passionate following. Fans of xkcd ask Munroe a lot of strange questions. What if you tried to hit a baseball pitched at 90 percent the speed of light? How fast can you hit a speed bump while driving and live? If there was a robot apocalypse, how long would humanity last? In pursuit of answers, Munroe runs computer simulations, pores over stacks of declassified military research memos, solves differential equations, and consults with nuclear reactor operators. His responses are masterpieces of clarity and hilarity, complemented by signature xkcd comics. The book features new and never-before-answered questions, along with updated and expanded versions of the most popular answers from the xkcd website. What If? will be required reading for xkcd fans and anyone who loves to ponder the hypothetical.
---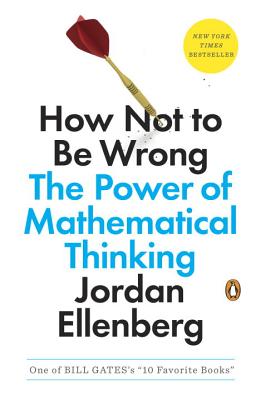 How Not to Be Wrong: The Power of Mathematical Thinking by Jordan Ellenberg
In How Not to Be Wrong, Jordan Ellenberg shows us how terribly limiting this view is: Math isn't confined to abstract incidents that never occur in real life, but rather touches everything we do—the whole world is shot through with it. Math allows us to see the hidden structures underneath the messy and chaotic surface of our world. It's a science of not being wrong, hammered out by centuries of hard work and argument. Armed with the tools of mathematics, we can see through to the true meaning of information we take for granted: How early should you get to the airport? What does "public opinion" really represent?
---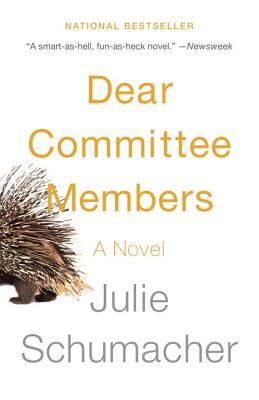 Dear Committee Members by Julie Schumacher
Jason Fitger is a beleaguered professor of creative writing and literature at Payne University, a small and not very distinguished liberal arts college in the midwest. His department is facing draconian cuts and squalid quarters, while one floor above them the Economics Department is getting lavishly remodeled offices. His once-promising writing career is in the doldrums, as is his romantic life, in part as the result of his unwise use of his private affairs for his novels. His star (he thinks) student can't catch a break with his brilliant (he thinks) work Accountant in a Bordello, based on Melville's Bartleby. In short, his life is a tale of woe, and the vehicle this droll and inventive novel uses to tell that tale is a series of hilarious letters of recommendation that Fitger is endlessly called upon by his students and colleagues to produce, each one of which is a small masterpiece of high dudgeon, low spirits, and passive-aggressive strategies.
---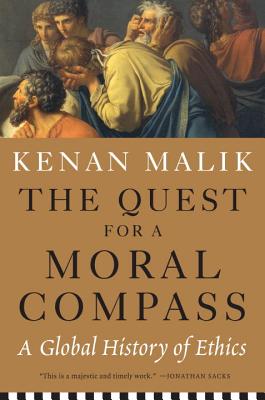 The Quest for a Moral Compass: A Global History of Ethics by Kenan Malik
In this remarkable and groundbreaking book, Kenan Malik explores the history of moral thought as it has developed over three millennia, from Homer's Greece to Mao's China, from ancient India to modern America. It tells the stories of the great philosophers, and breathes life into their ideas, while also challenging many of our most cherished moral beliefs. Engaging and provocative, The Quest for a Moral Compass confronts some of humanity's deepest questions. Where do values come from? Is God necessary for moral guidance? Are there absolute moral truths? It also brings morality down to earth, showing how, throughout history, social needs and political desires have shaped moral thinking. It is a history of the world told through the history of moral thought, and a history of moral thought that casts new light on global history.
---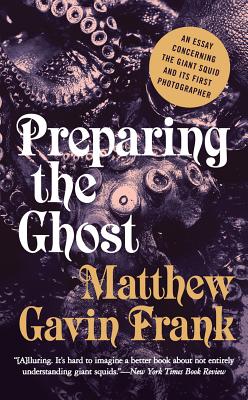 Preparing the Ghost: An Essay Concerning the Giant Squid and Its First Photographer by Matthew Gavin Frank
Memory, mythology, and obsession collide in this strikingly original and enigmatic account of the first man to photograph a giant squid. Moses Harvey was the eccentric Newfoundland reverend and amateur naturalist who first photographed the near-mythic giant squid in 1874, draping it over a shower curtain rod to display its magnitude. In Preparing the Ghost, what begins as Moses's story becomes much more, as fellow squid-enthusiast Matthew Gavin Frank boldly winds his narrative tentacles around history, creative nonfiction, science, memoir, and meditations about the interrelated nature of them all. In a full-hearted, lyrical style reminiscent of Geoff Dyer, Frank weaves in playful forays about his research trip to Moses's Newfoundland home, Frank's own childhood and family history, and a catalog of bizarre facts and lists that recall Melville's story of obsession with another deep-sea dwelling leviathan. Though Frank is armed with impressive research, what he can't know about Harvey he fictionalizes, quite explicitly, as a way of both illuminating the scene and exploring his central theme: the big, beautiful human impulse to obsess.
---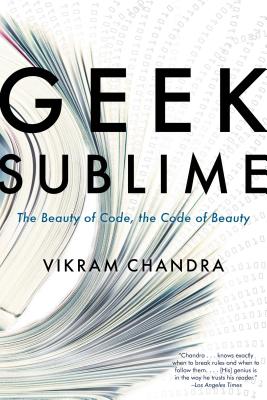 Geek Sublime: The Beauty of Code, the Code of Beauty by Vikram Chandra
Vikram Chandra has been a computer programmer for almost as long as he has been a novelist. In this extraordinary new book, his first work of nonfiction, he searches for the connections between the worlds of art and technology. Coders are obsessed with elegance and style, just as writers are, but do the words mean the same thing to both? Can we ascribe beauty to the craft of writing code? Exploring such varied topics as logic gates and literary modernism, the machismo of tech geeks, the omnipresence of an "Indian Mafia" in Silicon Valley, and the writings of Abhinavagupta, the eleventh-century Kashmiri thinker, Geek Sublime is both an idiosyncratic history of coding and a fascinating meditation on the writer's art. Part literary essay, part technology story, and part memoir, it is an engrossing, original, and heady book of sweeping ideas.
---
Gnarr! How I Became the Mayor of a Large City in Iceland and Changed the World by Jón Gnarr
It all started when Jón Gnarr founded the Best Party in 2009 to satirize his country's political system. The financial collapse in Iceland had, after all, precipitated the world-wide meltdown, and fomented widespread protest over the country's leadership. Entering the race for mayor of Reykjavík, Iceland's capital, Gnarr promised to get the dinosaurs from Jurassic Park into downtown parks, free towels at public swimming pools, a "drug-free Parliament by 2020". . .and he swore he'd break all his campaign promises. But then something strange started happening: his campaign began to succeed. And in the party's electoral debut, the Best Party emerged as the biggest winner. Gnarr promptly proposed a coalition government, although he ruled out partners who had not seen all five seasons of The Wire. And just like that, a man whose previous foreign-relations experience consisted of a radio show (in which he regularly crank-called the White House and police stations in the Bronx to see if they had found his lost wallet) was soon meeting international leaders and being taken seriously as the mayor of a European capital. Here, Gnarr recounts how it all happened and, with admirable candor, describes his vision of a more enlightened politics for the future. The point, he writes, is not to be afraid to get involved—or to take on the system.
---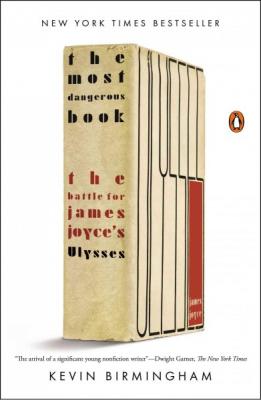 The Most Dangerous Book: The Battle for James Joyce's Ulysses by Kevin Birmingham
For more than a decade, the book that literary critics now consider the most important novel in the English language was illegal to own, sell, advertise or purchase in most of the English-speaking world. James Joyce's big blue book, Ulysses, ushered in the modernist era and changed the novel for all time. But the genius of Ulysses was also its danger: it omitted absolutely nothing.  The New York Society for the Suppression of Vice immediately banned the novel as "obscene, lewd, and lascivious." The Most Dangerous Book tells the remarkable story surrounding Ulysses, from the first stirrings of Joyce's inspiration in 1904 to its landmark federal obscenity trial in 1933.