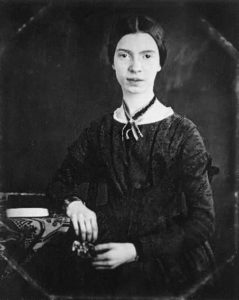 Emily Dickinson didn't become a household name in poetry until long after her death, and it seems like the world is trying to catch up with its attention. Given the number of new books, exhibitions, and opportunities out there celebrating the (now) famous poet, this year might be justly called the Year of Emily.
Why the renewed attention? First, because her work is considered masterful, bold for its time in structure and subject. And then there's her staggering output: over 1800 poems, with fewer than a dozen published during her lifetime. But above all, Dickinson is surrounded in mystery. Popular myths have followed her since her death in 1886, such as a reputation for being a complete recluse, never having friends or lovers, confined to her bedroom in Amherst, Massachusetts while she wrote.
Let's take a look at the latest attempts to appreciate and more fully capture one of the writing world's most enigmatic figures.
I'm Nobody! Who are you?
Are you – Nobody – too?
Then there's a pair of us!
Earlier this year, the Morgan Library & Museum in New York staged I'm Nobody! Who are you?, a large exhibition on the life and work of Dickinson. Her poetry was featured, offering visitors a glimpse of two dozen poems in their original drafts. But the exhibition also included letters and photographs from the time to present a wider picture of the poet. Her correspondence points to close relationships with friends and family, far from the total reclusion that most readers imagine. And though she never married or had children, she did have relationships—one requited, one not—that provide proof of a romantic life (and gave fuel for her writing, no doubt).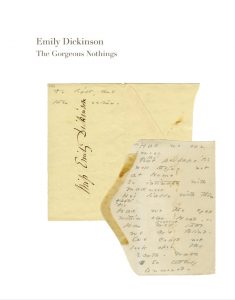 Fame is a bee.It has a song—
It has a sting—
Ah, too, it has a wing.
For much of her life, Emily Dickinson wrote and then organized her poems into small packets. But the last phase of her output wasn't collected that way, and what remained after her death were drafts written on scraps of envelopes. Facsimiles of these final pieces were published in 2013 in a book called The Gorgeous Nothings. Last fall they were republished in a smaller edition by New Directions Press, and 2017 marks the release of the Kindle version.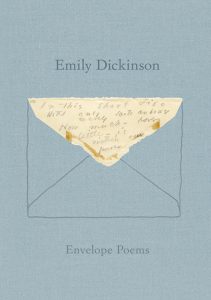 Envelope Poems is a chance for readers to see Dickinson's original handwriting and markings, followed by a transcription for easier reading. What remains is a direct experience of her poetry in its most raw form. But it may not be as close as you can get to the poet…
Sweet hours have perished here;
This is a mighty room
Perhaps the best way to uncover the truth is to go straight to the source: the Emily Dickinson Museum in Amherst, Massachusetts, located in the family home where she lived. Dickinson composed all of her poems in her corner bedroom, which the museum has restored to its appearance during the time she inhabited it. Not only can visitors view the room, but they can now rent it by the hour.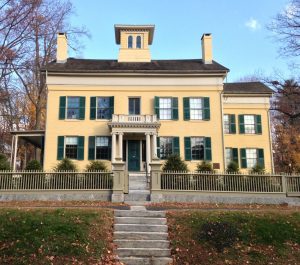 That's right: You can bring your laptop or pencil and paper, sit at a desk, gaze from the same window that Emily did, and wait (or hope?) for the creative spirit to inspire you. The opportunity is popular. Spots are sold out through the summer, and new ones for the fall open up in August. Rates start at $200 for one person for two hours.
But who knows? Perhaps sitting in the room, surrounded by the authentic furnishings and wallpaper and writerly atmosphere, is the true way to touch one of literature's great—and mysterious—poets.