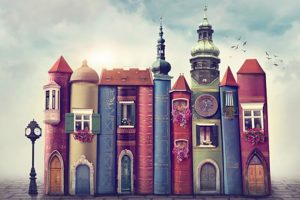 Being in a book group can mean more than a monthly discussion around a living room or coffee shop table. Some groups have found ways to reach beyond the reading circle to share their love of books and literacy in the community. Curious about how? Here are some creative ideas suggested by our reading groups:
Donate Books
Weeding is hard for any book lover. Fortunately there are great organizations out there looking for donations. Your group can have a "donation" day to pool together your used books and deliver them to a good cause. Contact your local library, schools, or even hospitals and clinics to see if they accept books for the kids and adults they serve. Or, if you're looking to extend your reach, check out these organizations that target specific reading populations: Books For Africa sends donated tomes to children of all ages in Africa, Reader to Reader provides books to under-resourced school and public libraries, and Books Through Bars distributes free books and educational materials to individuals in prison. It's a charitable way to make room on your shelves and enrich the lives of others.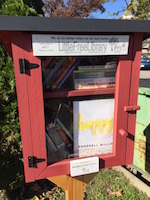 Build a Little Free Library
You've seen them in front of houses and businesses, on lawns and street corners—those small, handmade shelters where you can leave and take books. Little Free Library is a nonprofit that provides pre-built libraries, do-it-yourself plans, and other support for anyone to begin an exchange. You can set one up as a group in your neighborhood, and then serve as the stewards, stocking the library throughout the year!
Attend Library Events
Authors love it when they meet a room full of readers, and libraries love seeing a packed house! Support both by checking the event calendar at your local library and organizing an outing for your book group. Choose an author you know nothing about, or one who is promoting a first book. Your presence will mean a lot to the library and boost their efforts to continue bringing writers to the community. And who knows: You just might discover a new favorite author. 
Help Kids and Adults (& Dogs) Read
Many avid readers, young and old, have a hard time doing that very thing they love. Here's where your book group comes in! Contact a local literacy organization about volunteering your time. 826 National operates a number of centers in the United States and focuses on reading and homework help for elementary through high school students. AARP runs Create the Good, a database of opportunities to pair volunteers with seniors and people with disabilities who can no longer read on their own, or who benefit from having good company. And let's not forget the dogs: Sit Stay Read in Chicago seeks volunteers to help bring animals into low-income classrooms. The children read to the animals, gain confidence, and have fun. Whether you have a kid-friendly dog who can serve as a book buddy, or just want to help with the process, contact Sit Stay Read or your public school system to find a program in your community. 
Raise Funds
Yard sales, bake sales, craft sales, impromptu book sales: Whatever your interest, host a fun sale (or throw a party!) and donate the earnings to a literacy organization or nonprofit like the ones listed above. Contact them first to learn about their donation policies, and then have fun! No amount of money raised is too small. Organizations will be glad to have the support, and your group will feel good about using your love of books and reading to improve your community.