RGC's Little Free Libraries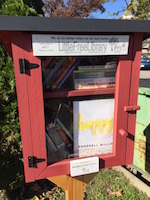 RGC partnered with The Little Free Library Organization on their National Build Day in Madison, Wisconsin in 2015. RGC employees and friends built a library, and then donated two libraries to two communities in Wisconsin.
One of the LFLs is at the family student housing community at the University of Wisconsin. It is located on the path between the student housing community and the K-5 elementary school so there is great foot traffic! It is well used and appreciated by children and parents from all over the world.
RGC received a special donation of books for this LFL from Lee & Low Books. Those books were so popular they were picked up the first week! We continue to restock with donations and from our local library book sales.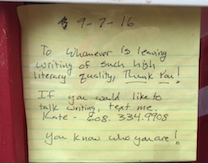 Thank you to the Little Free Library Organization and Lee & Low Books for helping to make this wonderful little red library available for so many appreciative families and children!
Here is a letter this LFL received from one of the families. It was fun to show up and see this!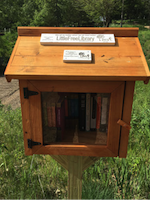 The second LFL is in place at American Players Theatre in Spring Green, Wisconsin. APT is a professional theater situated on 110 acres of hilly woods and meadows, which includes an 1140-seat outdoor amphitheater and a 200-seat indoor theatre. From June through October, APT produces 8 plays in rotating repertory, and receives an annual attendance of over 100,000. APT is the country's second largest outdoor theater devoted to the classics. This LFL will serve the APT audience of all ages from all over the world!
This LFL is Shakespeare/Theater themed so we also provided a large inventory of Shakespeare and theater themed books, which we received as donations from authors and publishers. It's great to see the library stocked with The Millionaire and the Bard, The Tutor, Will in the World, and How to Be a Victorian, along with works by Shakespeare himself!
Thank you again to the Little Free Library Organization and to our publishing partners for helping to make this wonderful library available for so many lovers of literature!