November's Spotlight is Be Nice and Read a Book!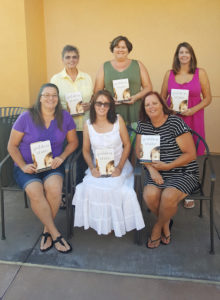 We are a group of six best friends (including one mother-daughter) that decided to start a book club in March, 2016. Our book club meetings have become the highlight of our month.
We love taking our monthly photo and try to be as creative as we can. LOL! In addition to our monthly meetings we have an annual overnight book club retreat, a tea, a picnic potluck, a dress up dinner party, a Halloween spaghetti dinner, and a Christmas Party. We use any excuse we can to get together and discuss our books. We are all thrifty at heart and our reads usually consist of free Kindle downloads, library books, thrift store books or Kindle downloads that cost $2 or less. It is very rare we spend a lot on our books.