September 2022 Spotlight: Book Club Girls Sparta
Our September 2022 Spotlight gets creative with monthly meetings and celebrations!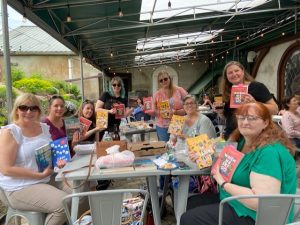 Book Club Girls Sparta will be celebrating our 4th anniversary this November. We meet on zoom every January, February, and March, and in person the rest of the year. Our anniversary month, November, is set aside for a big celebration with a holiday cookie exchange, and a wine raffle. This is our highlight and it's a lot of fun for everyone. What's better than wine and cookies? We have had our challenges like many groups with covid, but we managed to still meet and discuss great titles. Each month a member leads the discussion with a book of their choosing, so we get to read a lot of different genres. Our favorite is suspense/thriller and we read lots of historical fiction as well.  We are blessed to have not one, but two sets of mother/daughter members in our group. We started with just a few friends around a kitchen table and now we have 19 members. We sometimes take field trips instead of meeting at home and this past May we went to a winery and celebrated a members milestone birthday. Next month we will be having a member host in her new home, complete with lunch and tea. We bring our read books to meetings, share titles with one another, and donate the rest to little free libraries in town as well as our local library for their Booksale.
This year some of our most favorite titles were:
Malibu Rising by Taylor Jenkins Reid
Not a Happy Family by Shari Lapena
The Hour of the Witch by Chris Bojalian
Dark and Shallow Lies by Ginny Myers Stein
Blind Tiger by Sandra Brown
We loved Ginny's book so much; we reached out to her to zoom with us to discuss her new release for our March 2023 meeting. We are occasionally gifted titles to read and review which is a huge blessing for us as we would have never discovered this upcoming author on our own, which is what we really enjoy as a group. Learning about debut authors, making connections to their work, and sometimes having the ability to zoom and meet with them, is enjoyed by all.
We have formed such wonderful friendships through the short years we have been together and we are blessed to be brought together by the love of reading and discussing titles each month. Each of us reading the same book, but never reading the same story. We recommend anyone who loves to read to try and find a group to connect with other bookworms, engage in meaningful conversation, and enjoy a night out once a month where we share ideas and enjoy one another's company. Books and people coming together makes for a perfect combination filling a need we all have for human connection and friendship.
All of our Spotlight Groups receive a box of books for discussion! Tor Books will be sending the members of the Book Club Girls Sparta free copies of these great titles:
The Atlas Six by Olivie Blake
Carolina Moonset by Matt Goldman
The Last House on Needless Street by Catriona Ward
To enter to become an RGC Spotlight group, email a picture and description of your group to info@readinggroupchoices.com.