March 2022 Spotlight: The Telltale Book Club
Our March 2022 Spotlight created a challenge to promote reading among their members!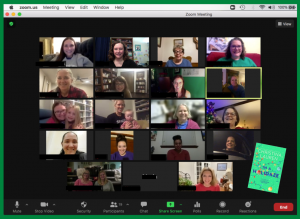 The Telltale Book Club started meeting in July 2019 with an amazing group of women from Oklahoma. We are a fun and interesting group as many of us are Labor and Delivery/Postpartum nurses. We average 16 participants in our monthly discussions and we meet every 4 weeks.
We have been meeting virtually via Zoom since March 2020. We really miss meeting in-person, but Zoom has provided us the ability to discuss our monthly book, share what's happening in our lives and what other books we are reading or have read. The attached picture was from our Christmas meeting in 2021. Prior to March 2020, besides discussing our book, our in-person monthly meetings had a food theme and members were encouraged to bring a dish to share. We are hopeful that we will be able to meet in person again soon!
Our book club also has an optional reading challenge that consists of 24 challenges to complete during the year. At the beginning of the year, members pay $5 to participate in the challenge and, in December, a completed reading challenge card allows the member's name to be entered into a drawing to win the pot of money collected at the beginning of the year. For the past two years, the pot has been over $100! We encourage each other throughout the year to complete the challenges, and, thanks to the size of our group, we are always able to help each other out with book suggestions for the challenges.
We have read many great books over the past 31 months! Some of our favorite books have been The Firekeeper's Daughter by Angeline Boulley, The Prettiest Star by Carter Sickels, In a Holidaze by Christina Lauren, Nothing to See Hereby Kevin Wilson, As Bright As Heaven by Susan Meissner, Kindred by Octavia Butler, The Good Nurse by Charles Graeber, Before We Were Yours by Lisa Wingate, Keeping Lucyby T. Greenwood, The Grace Year by Kim Liggett, The Mother-In-Lawby Sally Hepworth, and Verity by Colleen Hoover. The majority of our books are fiction, but we do throw in some non-fiction. This year members voted on recommendations made by other members and we have a great list of books lined up for 2022.