July 2022 Spotlight: Athena Readers Book Club
Our July 2022 Spotlight has used the power of technology to stay connected!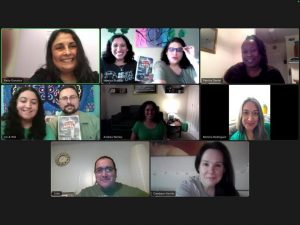 The Athena Readers Book Club started in 2016 at the Johnston Branch of the San Antonio Public Library. The "founding members" voted on a title for the group and started with the Veronica Roth's Divergent series. Over the years we have enjoyed suspenseful mysteries, gory murder thrillers, a couple inspiring biographies and contemporary fiction. We have been hooked on several authors such as Stephen King, Peter Swanson, Kevin Kwan and Sally Hepworth. We meet the 3rd Monday of the month at 6 pm and currently use Zoom to discuss titles although we have tried hybrid meetings and hope to come together this summer at the Guerra Branch of the San Antonio Public Library since the Librarian (myself) transferred to Guerra Library in October of 2021.
Throughout the years, the club has welcomed all ages and has enjoyed a rotating cast of military families, long distance members and our summer friends who visit seasonally. Zoom has allowed for more participation and the joy of sharing stories. We end every meeting by sharing what have been reading and the variety of genre's is inspiring and heartwarming every time.
We are currently reading Last Summer at the Golden Hotel by Elyssa Friedland.
All of our Spotlight Groups receive a box of books for discussion! Bloomsbury Publishing will be sending the members of the Athena Readers Book Club free copies of these great titles:
A Life in Light by Mary Pipher
We Measure the Earth with Our Bodies by Tsering Yangzom Lama
The House of Fortune by Jessie Burton
To enter to become an RGC Spotlight group, email a picture and description of your group to info@readinggroupchoices.com.