November 2023 Spotlight: The RaRa Sisters Book Club
Our November 2023 Spotlight is celebrating 23 years as a book club!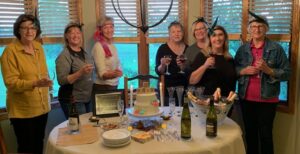 The RaRa (Readers Anonymous) Sisters Book Club was created in 2000. The picture is from our Roaring 20s party that celebrated our 20 years together. It's crazy to believe that we have been together for 23 years! We've had many adventures together and have read nearly 150 books. Together, we have supported one another through many of life's events: some happy, some scary, and some tragic, but we're always there for one another. Six of the seven members are registered nurses and our seventh member is an amazing grade school principal.
Our genre tends to be primarily fiction. We enjoy fiction based on historical events and have read many books centered around the second world war.  We have read Nebraska authors such as Willa Cather, Leslie Byers (who called into our book club), Leslie Kagan, Bess Streeter Aldrich, and Alex Kava. The RaRas have traveled to hear many authors speak such as Jodi Picoult, Rebecca Skloot, and Jeanette Walls. Two of our favorite books we've discussed are The Book Woman of Troublesome Creek and The Silent Patient.
Our book club meets every other month at a different member's house. We occasionally match our food to the theme of the book and we always enjoy wine with our gatherings. The host chooses the book for the next meeting and leads the discussion. At our annual Christmas party, we donate money to charitable causes to support our community or agencies that support reading.
We have also had many themed parties, such as a murder mystery, a Christmas tea, pajama party, Roaring 20s, Pandemic Picnic, St. Patrick's Day, Easter Bonnet Brunch, and of course the Academy Awards. Going to movies based on books we have read is always a fun outing, too.
We stand for the freedom to read whatever we want, whenever we want, and to whomever we want! Each amazing woman in our group is intelligent, loving, and kind—and it shows!
All of our Spotlight Groups receive a box of books for discussion! Harper Perennial and Harper Paperbacks will be sending the members of the RaRa Sisters Book Club copies of The Death of a Jaybird by Jodi M. Savage, We All Want Impossible Things by Catherine, Five Bad Deeds by Caz Frear, and Meet the Benedettos by Katie Cotugno.
To enter to become an RGC Spotlight group, email a picture and description of your group to info@readinggroupchoices.com.