Honoring the Achievements of African Americans
In honor of Black History Month, check out these books of poetry, fiction, and nonfiction that celebrate African-American stories, artistry, and history.
by Claudia Rankine
National Book Award Finalist
Rankine's bold new book recounts mounting racial aggressions in ongoing encounters in 21st-century daily life and in the media. Some encounters are slights, seeming slips of the tongue, and some are intentional offensives in the classroom, at the supermarket, at home, on the tennis court with Serena Williams and the soccer field with Zinedine Zidane, online, on TV—everywhere, all the time. The accumulative stresses come to bear on a person's ability to speak, perform, and stay alive. Our addressability is tied to the state of our belonging, Rankine argues, as are our assumptions of citizenship. In essay, image, and poetry, Citizen is a testament to the individual and collective effects of racism in our contemporary, often named "post-race" society.
---
by Jeffery Renard Allen
At the heart of this remarkable novel is Thomas Greene Wiggins, a 19th-century slave and improbable musical genius who performed under the name Blind Tom. It is 1866 and Tom and his guardian struggle to adjust to their fashionable apartment in the city in the aftermath of riots that had driven them away a few years before. But soon a stranger arrives from the mysterious island of Edgemere—inhabited solely by African settlers and black refugees from the war and riots—who intends to reunite Tom with his mother. As the novel ranges from Tom's boyhood to his performing career, the savant is buffeted by opportunistic teachers, crooked managers, crackpot healers and militant prophets. In his symphonic novel, Allen blends history and fantastical invention to bring to life a radical cipher, a man who profoundly changes all who encounter him.
---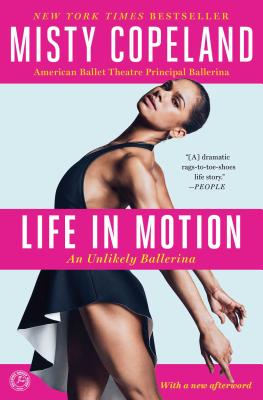 Life in Motion: An Unlikely Ballerina
by Misty Copeland
Misty Copeland makes history as the only African American soloist dancing with the prestigious American Ballet Theatre. When she discovered ballet, Misty was living in a shabby motel room, struggling with her five siblings for a place to sleep on the floor. A true prodigy, she was dancing en pointe within three months of taking her first dance class and performing professionally in just over a year: a feat unheard of for any classical dancer. But when Misty became caught between the control and comfort she found in the world of ballet and the harsh realities of her own life, she had to choose to embrace both her identity and her dreams, and find the courage to be one of a kind. Life in Motion is an insider's look at the cutthroat world of professional ballet, as well as a moving story of passion and grace for anyone who has dared to dream of a different life.
---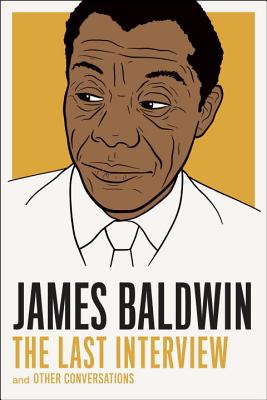 James Baldwin: The Last Interview and Other Conversations
by James Baldwin; Quincy Troupe
"I was not born to be what someone said I was. I was not born to be defined by someone else, but by myself, and myself only." When, in the fall of 1987, the poet Quincy Troupe traveled to the south of France to interview James Baldwin, Baldwin's brother David told him to ask Baldwin about everything—Baldwin was critically ill and David knew that this might be the writer's last chance to speak at length about his life and work. The result is one of the most eloquent and revelatory interviews of Baldwin's career, a conversation that ranges widely over such topics as his childhood in Harlem, his close friendship with Miles Davis, his relationship with writers like Toni Morrison and Richard Wright, his years in France, and his ever-incisive thoughts on the history of race relations and the African-American experience. This book showcases, above all, Baldwin's fearlessness and integrity as a writer, thinker, and individual, as well as the profound struggles he faced along the way.
---
by Asali Solomon
Kenya Curtis is only eight years old, but she knows that she's different. It's not because she's black—most of the other students in the fourth-grade class at her elementary school are too. Maybe it's because she celebrates Kwanzaa, or because she's forbidden from reciting the Pledge of Allegiance. Maybe it's because she calls her father—a housepainter-slash-philosopher—"Baba" instead of "Daddy," or because her parents' friends gather to pour out libations "from the Creator, for the Martyrs" and discuss "the community." Disgruntled, effortlessly funny and achingly poignant, follows Kenya from West Philadelphia to the suburbs, from public school to private, from childhood through adolescence, as she grows increasingly disgruntled by her inability to find any place or thing or person that feels like home. A coming-of-age tale, a portrait of Philadelphia in the late eighties and early nineties, an examination of the impossible double-binds of race, Disgruntled is a novel about the desire to rise above the limitations of the narratives we're given and the painful struggle to craft fresh ones we can call our own.
---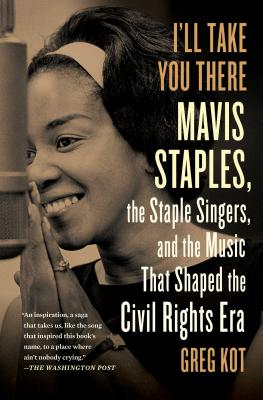 I'll Take You There: Mavis Staples, the Staple Singers, and the March Up Freedom's Highway
by Greg Kot
This is the untold story of living legend Mavis Staples–lead singer of the Staple Singers and a major figure in the music that shaped the civil rights era. One of the most enduring artists of popular music, Mavis and her talented family fused gospel, soul, folk, and rock to transcend racism and oppression through song. Honing her prodigious talent on the Southern gospel circuit of the 1950s, Mavis and the Staple Singers went on to sell more than 30 million records, with message-oriented soul music that became a soundtrack to the civil rights movement–inspiring Martin Luther King, Jr. himself. Critically acclaimed biographer and "Chicago Tribune" music critic Greg Kot cuts to the heart of Mavis Staples's music, revealing the intimate stories of her sixty-year career. From her love affair with Bob Dylan, to her creative collaborations with Prince, to her recent revival alongside Wilco's Jeff Tweedy, this definitive account shows Mavis as you've never seen her before.
---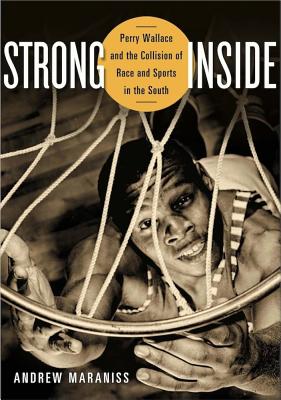 Strong Inside: Perry Wallace and the Collision of Race and Sports in the South
by Andrew Maraniss
This fast-paced, richly detailed biography of Perry Wallace, the first African American basketball player in the SEC, digs deep beneath the surface to reveal a more complicated and profound story of sports pioneering than we've come to expect from the genre. Wallace entered kindergarten the year that Brown v. Board of Education upended "separate but equal." As a 12-year-old, he watched the sit-ins at Nashville's lunch counters. A week after Martin Luther King Jr.'s "I Have a Dream" speech, Wallace entered high school, and later saw the passage of the Civil Rights and Voting Rights acts. On March 16, 1966, his high school team won Tennessee's first integrated state tournament—the same day Adolph Rupp's all-white Kentucky Wildcats lost to the all-black Texas Western Miners in an iconic NCAA title game. The world seemed to be opening up at just the right time, and when Vanderbilt recruited him, Wallace courageously accepted the assignment to desegregate the SEC. His experiences on campus and in the hostile gymnasiums of the Deep South turned out to be nothing like he ever imagined.
---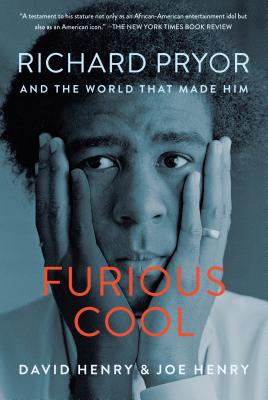 Furious Cool: Richard Pryor and the World That Made Him
by David Henry; Joe Henry
Richard Pryor was arguably the single most influential performer of the second half of the twentieth century, and certainly he was the most successful black actor/comedian ever. Now, this groundbreaking and revelatory work brings him to life again both as a man and as an artist, providing an in-depth appreciation of his talent and his lasting influence, as well as an insightful examination of the world he lived in and the myriad influences that shaped both his persona and his art. A testament to Pryor's stature not only as an African-American entertainment idol but also as an American icon, the Henrys' exuberant tribute may well evoke renewed interest in a performance genius who remade the face of American stand-up comedy.
---
by Jacqueline Woodson
National Book Award Winner
Raised in South Carolina and New York, Woodson always felt halfway home in each place. In vivid poems, she shares what it was like to grow up as an African American in the 1960s and 1970s, living with the remnants of Jim Crow and her growing awareness of the Civil Rights movement. Touching and powerful, each poem is both accessible and emotionally charged, each line a glimpse into a child's soul as she searches for her place in the world. Woodson's eloquent poetry also reflects the joy of finding her voice through writing stories, despite the fact that she struggled with reading as a child. Her love of stories inspired her and stayed with her, creating the first sparks of the gifted writer she was to become.
---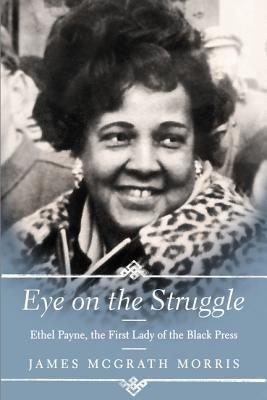 Eye on the Struggle: Ethel Payne, the First Lady of the Black Press
by James McGrath Morris
Acclaimed biographer James McGrath Morris brings into focus the riveting life of one of the most significant yet least known figures of the civil rights era—pioneering journalist Ethel Payne, the "First Lady of the Black Press"—elevating her to her rightful place in history at last. A self-proclaimed "instrument of change" for her people, Payne broke new ground as the Washington correspondent for the Chicago Defender. She publicly prodded President Dwight D. Eisenhower to support desegregation, and her reporting on legislative and judicial civil rights battles enlightened and activated black readers across the nation. In 1972, she became the first female African American radio and television commentator on a national network, working for CBS. Her story mirrors the evolution of our own modern society. Inspiring and instructive, moving and comprehensive, Eye on the Struggle illuminates this extraordinary woman and her achievements, and reminds us of the power one person has to transform our lives and our world.
---
by Ilyasah Shabazz; Kekla Magoon
Malcolm Little's parents have always told him that he can achieve anything, but from what he can tell, that's a pack of lies—after all, his father's been murdered, his mother's been taken away, and his dreams of becoming a lawyer have gotten him laughed out of school. There's no point in trying, he figures, and lured by the nightlife of Boston and New York, he escapes into a world of fancy suits, jazz, girls, and reefer. But Malcolm's efforts to leave the past behind lead him into increasingly dangerous territory. Deep down, he knows that the freedom he's found is only an illusion—and that he can't run forever. X follows Malcolm from his childhood to his imprisonment for theft at age twenty, when he found the faith that would lead him to forge a new path and command a voice that still resonates today.
---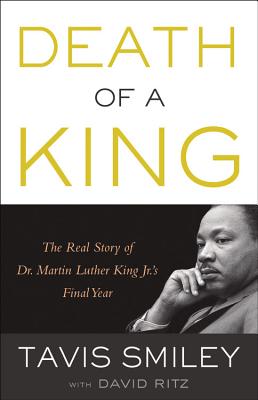 Death of a King: The Real Story of Dr. Martin Luther King Jr.'s Final Year
by Tavis Smiley & David Ritz
Martin Luther King, Jr. died in one of the most shocking assassinations the world has known, but little is remembered about the life he led in his final year. New York Times bestselling author and award-winning broadcaster Tavis Smiley recounts the final 365 days of King's life, revealing the minister's trials and tribulations—denunciations by the press, rejection from the president, dismissal by the country's black middle class and militants, assaults on his character, ideology, and political tactics, to name a few—all of which he had to rise above in order to lead and address the racism, poverty, and militarism that threatened to destroy our democracy. Smiley's Death of a King paints a portrait of a leader and visionary in a narrative different from all that have come before. Here is an exceptional glimpse into King's life—one that adds both nuance and gravitas to his legacy as an American hero.