Expand your Reading Repertoire with Poetry
For even the most avid readers, the prospect of delving into poetry can be intimidating…but it doesn't have to be! We've compiled a list of where you might begin, from poet Matthew Zapruder's convincing argument as to why reading poetry is important, to some of the most breathtaking, beautiful, and bold poetry books published in recent years.
To get started, select a book and then check out our suggestions for how to introduce poetry into your reading group and spark discussion.
---
Why Poetry by Matthew Zapruder
In Why Poetry, award-winning poet Matthew Zapruder takes on what it is that poetry—and poetry alone—can do. Zapruder argues that the way we have been taught to read poetry is the very thing that prevents us from enjoying it. In lively, lilting prose, he shows us how that misunderstanding interferes with our direct experience of poetry and creates the sense of confusion or inadequacy that many of us feel when faced with it.
---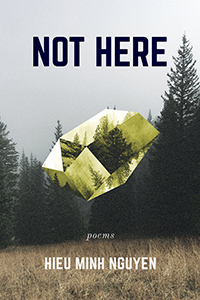 Not Here by Hieu Minh Nguyen
This is what Ocean Vuong said about Hieu's work in Literary Hub:
"Hieu Minh Nguyen's Not Here (Coffee House Press, 2018) is a book I brace for, in awe and relief. His work is so tight, searing, and unabashedly sharp and full at once. His poems turn me into a horizontal entity. Reading them, I have to lie down. They remind me of gravity, how it pins me to the world without ever touching me. Hieu's work is like that. A kind of force. Or better yet, a force of kindness."
---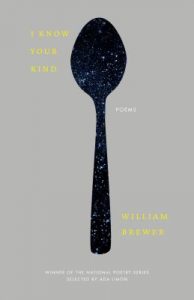 I Know Your Kind by William Brewer
Selected for the National Poetry Series by Ada Limón, I Know Your Kind is a haunting debut collection about the American opioid epidemic and poverty in rural Appalachia. Brewer demonstrates an immersive, devastating empathy for both the lost and the bereaved, the enabled and the enabler. Underneath runs the Appalachian landscape—a location, like the experience of drug addiction itself, of stark contrasts.  Brewer and the collection were also featured on PBS Newshour, as part of their nationwide series "America Addicted."
---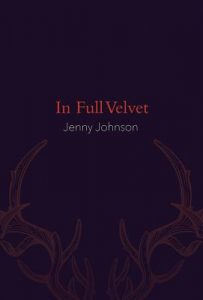 In Full Velvet by Jenny Johnson
From a starred review in Publishers Weekly:
"In this stunningly lyrical debut, Johnson probes issues of queer culture and love from an array of existential perspectives, creating a melodic and thought-provoking symphony on queer identity. This enchanting display features gay bonobos; 'a streaming metropolis of// masculinities vested in/ tweed, plaid, velvet, seersucker'; and nods to the queer literary canon, such as references to The Price of Salt, Elizabeth Bishop, and Gertrude Stein. A friend performing karaoke is described as 'gleaming like a gem on Liberace's finger.'"
---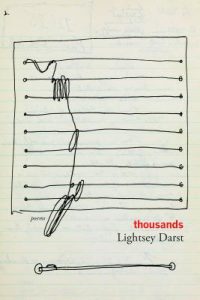 Thousands by Lightsey Darst
From a starred review in Publishers Weekly:
"Darst writes of a wife's admission of infidelity and the subsequent fallout, wielding words like knives and inciting a visceral reaction. "I'm always seeking a haunting// That was someone's husband," the speaker proclaims. The pain interwoven with a particular memory can prompt self-punishment and self-reflection. For example, in the second of the book's five sections, Darst writes, "I slipped my skin/ walked off & left myself & left// feeling the first snow of the season falling/ cold on my face running to catch that downtown bus leaving." The unadorned language and its languorous rhythm enhance the imagery, in addition to evoking battling feelings of simultaneous freedom and isolation. Darst asks, "Dear spirit, what shall I do with my life?/ Came back from the well: What shall I do with my death?" For Darst, to remember is to claim ownership of one's pain and, by extension, one's humanity."
---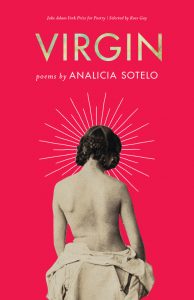 Virgin by Analicia Sotelo
Selected by Ross Gay as winner of the inaugural Jake Adam York Prize, Analicia Sotelo's debut collection of poems is a vivid portrait of the artist as a young woman. In Virgin, Sotelo walks the line between autobiography and mythmaking, offering up identities like dishes at a feast. These poems devour and complicate tropes of femininity—of naiveté, of careless abandon—before sharply exploring the intelligence and fortitude of women, how "far & wide, / how dark & deep / this frigid female mind can go." Already receiving advance praise from Shelf Awareness, Boston Review, Kenyon Review, and Houston City Book, the collection was also featured in Queen Mob's Teahouse "Latinx books for the next 100 days and beyond" feature. Analicia Sotelo is already proving herself to be a force to be reckoned with.
---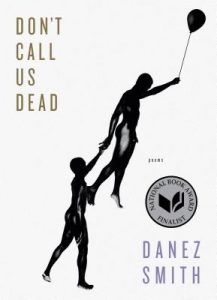 Don't Call Us Dead by Danez  Smith
From Stephanie Burt's review at the American Academy of Poets:
"Danez Smith has become one of a generation's most noticed poets, and for good reason: at once a stunning performer and a tersely effective arranger of words on the page, Smith can address the Black Lives Matter movement, the erasure of black humanity by malign police, and then pivot to vivid, sexy, or scary records from a complex queer sexuality."
---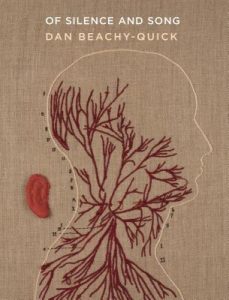 Of Silence and Song by Dan Beachy-Quick
From "one of the preeminent American visionaries of our moment" (G. C. Waldrep), a singular reflection on living well in a time of distraction and despair. Midway through the journey of his life, Dan Beachy-Quick found himself without a path, unsure how to live well. Of Silence and Song follows him on his resulting classical search for meaning in the world and in his particular, quiet life. In essays, fragments, marginalia, images, travel writing, and poetry, Beachy-Quick traces his relationships and identities. As father and husband. As teacher and student. As citizen and scholar. And as poet and reader, wondering at the potential and limits of literature.
---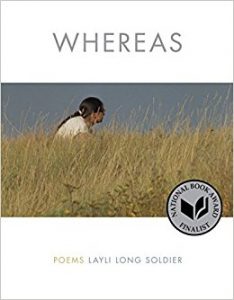 Whereas by Layli Long Soldier
Winner of the PEN/Jean Stein Book Award and a finalist for the National Book Award for Poetry, Whereas by Layli Long Soldier "reminds readers of their physical and linguistic bodies as they are returned to language through their mouths and eyes and tongues across the fields of her poems" according to The New York Times Book Review.
---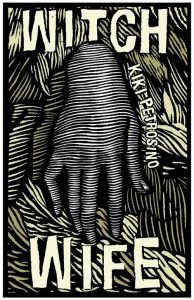 Witch Wife by Kiki Petrosino
From "The Best Poetry of 2017" featured in The New York Times
"Petrosino is a canny, wide-ranging and formally nimble writer with a magician's command of atmosphere. Consider the beginning of her unsettling villanelle 'Nursery': "We opened the door to the fairy house / & took our tea on matching pebble seats. / Somehow we got out of there alive / though something crystalline of us / remains in that dark, growing its facets…" Stranger things indeed. (A bonus is this collection's fantastic cover, which is a reminder of how potently poems and art can reinforce each other.)"