Lost manuscripts, stolen paintings, forged masterpieces. Crimes of the "art" are a perennial favorite, and we love to take part in them as readers.
Perhaps a love of books makes us fascinated by mysteries and crimes that involve books themselves. Perhaps we all dream of finding the never-before-seen novel, or discovering that our thrift-store canvas is actually worth millions…
Reading Group Choices has assembled a list of reads that focus on literary and artistic crimes. Stories of black markets and priceless treasures, great fakes and people who may not be who they seem. They raise good questions about what's real and what isn't, about power and wealth, and whether some crimes deserve to be committed…
And at their heart they explore and celebrate what it means to love books and art.
For your next group meeting, lose yourself in one of these eight selections, including one work of nonfiction. (All with discussion questions, of course!) Let the mystery begin…
---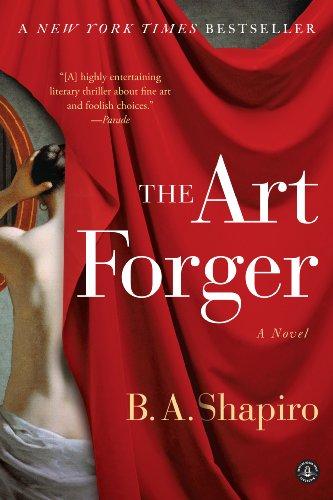 The Art Forger by B.A. Shapiro
Almost twenty-five years after the infamous art heist at the Isabella Stewart Gardner Museum—still the largest unsolved art theft in history—one of the stolen Degas paintings is delivered to the Boston studio of a young artist. Claire Roth has entered into a Faustian bargain with a powerful gallery owner by agreeing to forge the Degas in exchange for a one-woman show in his renowned gallery. But as she begins her work, she starts to suspect that this long-missing masterpiece—the very one that had been hanging at the Gardner for one hundred years—may itself be a forgery.
---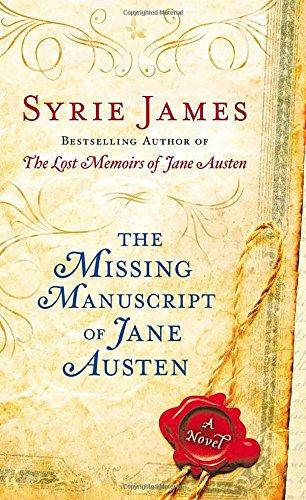 The Missing Manuscript of Jane Austen by Syrie James
"The minute I saw the letter, I knew it was hers. There was no mistaking it: the salutation, the tiny, precise handwriting, the date, the content itself, all confirmed its ancient status and authorship…"
Samantha McDonough cannot believe her eyes–or her luck. Tucked in an uncut page of a two-hundred-year old poetry book is a letter she believes was written by Jane Austen, mentioning with regret a manuscript that "went missing at Greenbriar in Devonshire." Could there really be an undiscovered Jane Austen novel waiting to be found? Could anyone resist the temptation to go looking for it?
---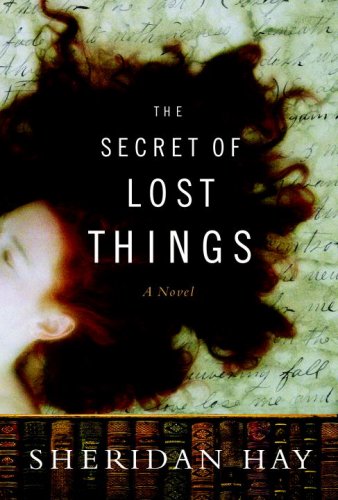 The Secret of Lost Things by Sheridan Hay
Eighteen years old and completely alone, Rosemary arrives in New York from Tasmania with little more than her love of books and an eagerness to explore the city she's read so much about. The moment she steps into the Arcade bookstore, she knows she has found a home. And it is Rosemary who first reads a letter from someone seeking to "place" a lost manuscript by Herman Melville. Mentioned in Melville's personal correspondence but never published, the work is of inestimable value, and proof of its existence brings the simmering ambitions and rivalries of the Arcade staff to a boiling point.
---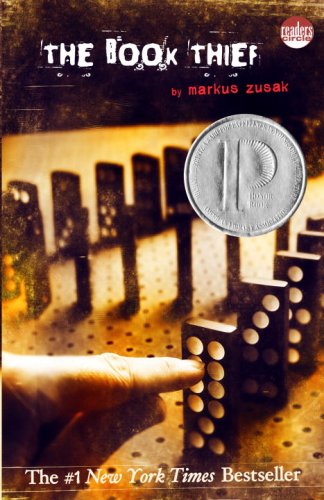 The Book Thief by Markus Zusak
Liesel Meminger is only nine years old when she is taken to live with the Hubermanns, a foster family, on Himmel Street in Molching, Germany, in the late 1930s. During the next few years, Hitler becomes more powerful, life on Himmel Street becomes more fearful, and Liesel becomes a full fledged book thief. She rescues books from Nazi book-burnings and steals from the library of the mayor. Liesel is illiterate when she steals her first book, but Hans Hubermann uses her prized books to teach her to read. This is a story of courage, friendship, love, survival, death, and grief.
---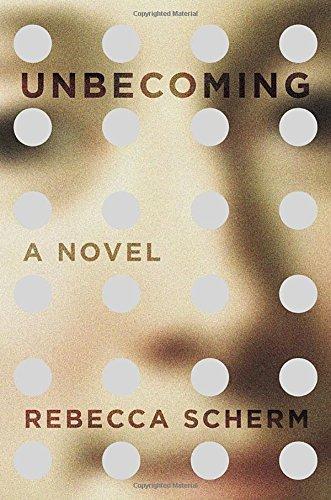 Unbecoming by Rebecca Scherm
On the grubby outskirts of Paris, Grace restores bric-a-brac. She calls herself Julie, says she's from California, and slips back to a rented room at night. Regularly, furtively, she checks the hometown paper on the Internet. Home is Garland, Tennessee, and there, two young men have just been paroled. One, she married; the other, she's in love with. Both were jailed for a crime that Grace herself planned in exacting detail. The heist went bad—but not before she was on a plane to Prague with a stolen canvas rolled in her bag. And so, in Paris, begins a cat-and-mouse waiting game as Grace's web of deception and lies unravels.
---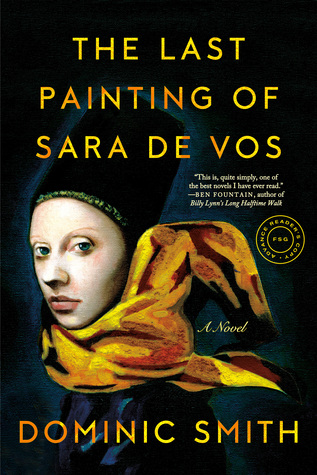 The Last Painting of Sara De Vos by Dominic Smith
In 1631, Sara de Vos is admitted as a master painter to the Guild of St. Luke's in Holland, the first woman to be so recognized. Three hundred years later, only one work attributed to de Vos is known to remain–a haunting winter scene, At the Edge of a Wood, which hangs over the bed of a wealthy descendant of the original owner. An Australian grad student, Ellie Shipley, struggling to stay afloat in New York, agrees to paint a forgery of the landscape, a decision that will haunt her. Because now, half a century later, she's curating an exhibit of female Dutch painters, and both versions threaten to arrive.
---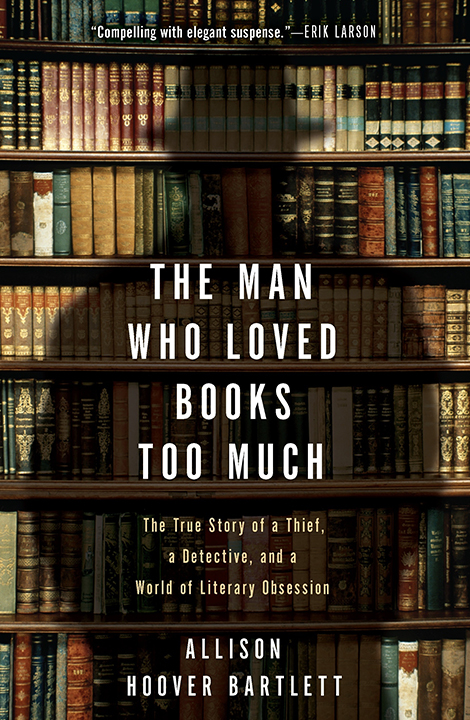 The Man Who Loved Books Too Much by Allison Hoover Bartlett
John Charles Gilkey is an obsessed, unrepentant book thief who has stolen hundreds of thousands of dollars' worth of rare books from book fairs, stores, and libraries around the country. Ken Sanders is the self-appointed "bibliodick" (book dealer with a penchant for detective work) driven to catch him. And journalist Allison Hoover Bartlett befriended both men and found herself caught in the middle of efforts to recover hidden treasure. With a mixture of suspense, insight, and humor, she weaves the true story of a thief, a detective, and a world of literary obsession.
---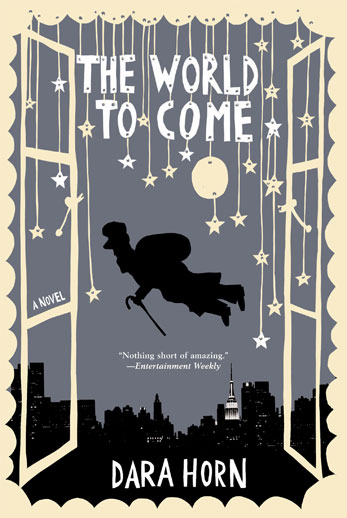 The World to Come by Dara Horn
A million-dollar painting by Marc Chagall is stolen from a museum. The unlikely thief is Benjamin Ziskind, a thirty-year-old quiz-show writer. As Benjamin and his twin sister try to evade the police, they find themselves recalling their dead parents and their stories about trust, loss, and betrayal. What is true, what is fake, what does it mean? Eighty years before the theft, these questions haunted Chagall and the enigmatic Yiddish fabulist Der Nister ("The Hidden One"), teachers at a school for Jewish orphans. Both the painting and the questions will travel through time to shape the Ziskinds' futures.