February 2020 Spotlight: Wildflowers Bookclub
Our February Spotlight Group members each have the name of a flower!
The Wildflowers Bookclub is comprised of 10 friends who all have chosen a flower name when we began 18 years ago: they are Rose, Magnolia, Hyacinth. Hydrangea, Lilac, Briony, Sweet Pea, Iris, Bird of Paradise, and Dahlia. We rotate turns in choosing a book. In 2019, we read Unsheltered, Educated, Born a Crime, The Island of Sea Women and seven other books!
Seven of us are retired educators and all of us are good friends! We meet sometimes in our homes and sometimes in a local restaurant. We have very spirited and introspective conversations on our books! We enjoy being together and sharing our friendships and views. We have catalogued every book we have read since 2002.
T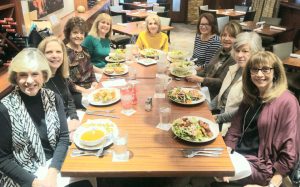 o enter to become a Spotlight group, email a picture and description of your group to info@readinggroupchoices.com. If your group is chosen, we will send you and your group a box of discussable books and a copy of our most recent edition of Reading Group Choices!
---
Want to meet our previous Spotlight Groups? Read about them here!