Author Kim Michele Richardson talks about her novel The Book Woman of Troublesome Creek, inspired by the true story of the Pack Horse Librarians in Kentucky.
For her interview with Reading Group Choices, Kim Michele Richardson talks about the power of literacy and librarians, surviving prejudices and abuse, and how history and her homeland inspired her latest novel…
Reading Group Choices: The local Pack Horse supervisors, Harriett and Eula, ceaselessly taunt and belittle Cussy Mary. Yet when she gives Harriett a book that will please her, the torments are momentarily forgotten. Cussy reflects: "I loved the way Harriett loved her books. It changed her into something different, better, and for a minute I forgot who she was — who I wasn't." Can you talk about the way books can remove us, however briefly, from our prejudices?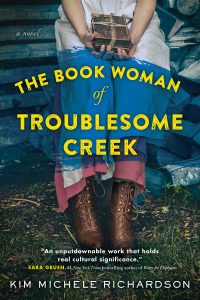 Kim Michele Richardson: Harriet's love of books softened her bitter heart and helped humanize her. Books can inform, educate as well as entertain—but more importantly, lead to change. In The Book Woman of Troublesome Creek we see this with the school children, Pa, R.C., Devil John and others throughout, and recognize the powerful impact literacy has on people.
RGC: Cussy and the other librarians create scrapbooks from recipes, newspaper clippings, handwritten home remedies, and more to circulate among their patrons. What personal document or contribution would you include in such a book?
KMR: Part of The Future Farmers of America Creed would've fit nicely.
"I believe in less dependence on begging and more power in bargaining; in the life abundant and enough honest wealth to help make it so–for others as well as myself; in less need for charity and more of it when needed; in being happy myself and playing square with those whose happiness depends upon me." —The creed was written in 1930 by E.M. Tiffany and adopted at the Third National FFA Convention.
RGC: The government rules for Pack Horse librarians prohibit a married woman from keeping the job. Pa's efforts to find a husband for Cussy put her in the middle of this conflict. The choices that women continue to face between work and home make her situation keenly felt, still relevant to our social expectations and issues like parental leave. Can you comment on the parallels between Cussy's world in the 1930s and women's lives nearly 100 years later?

KMR: Changes for women do not feel as if they are coming fast enough sometimes, though we have progressed with the #MeToo movement and the push of celebrity voices. Still, I would like to see more changes, and wish a spotlight could also focus on survivors who are not famous. I'm a survivor of abuse and know how difficult it is to be heard.
Over a decade ago my memoir on the subject was submitted to publishing houses. One editor gave it glowing praise but rejected it with a comment that said he would've preferred the story to have been about a male, from a male victim's point of view. It was crushing. And although I'm sure that wasn't the intent, hearing this was akin to saying your life, your pain and suffering has less value because you're a female.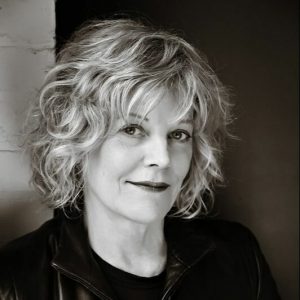 I can also remember living in foster care and being whipped with a belt. The neighbors called the police. When they arrived, the foster parent shoved me toward the officers, then yanked down my pants and underwear to show the surprised policemen my red bottom, insisting that as man of the house, he had a right to discipline me any way he saw fit.
It was painful and humiliating and I wanted to crawl into a hole. Up until as late as the 1990s, police had their hands tied when dealing with domestic violence. A woman or child could be standing in front of officers, bruised and bloody, but state law mandated that police in Kentucky and other states had to witness the misdemeanor assault, a battering against a woman or child before they could arrest the perpetrator on the scene. This of course resulted in violent deaths for countless women and children.
RGC: Cussy is so much more than a carrier of books. She's entrusted with tasks ranging from reading family letters to delivering marriage intentions to alerting doctors to the injuries of rural residents. Can you reflect on how the roles of librarians and libraries extend into the personal lives of their patrons?
KMR: Librarians are nothing short of having a national treasure in your community. We hear their selfless stories daily. From a librarian helping a patron fill out job applications to libraries having a tie and briefcase collection on loan for patrons to use for job interviews. One reader told me how a librarian helped her family gather all her loved one's medical test results, and then also had the info emailed and faxed to the right medical facility for free. Another reader recalled how she used the library to escape domestic violence in her home.
On my Facebook author page, KimMicheleRichardson, you can read the hundreds of inspirational praises that readers have left for libraries and librarians. Librarians provide powerful lifelines, and in addition to helping match the perfect book to a reader, they are fostering literacy by helping books find their way into the hands and hearts of readers.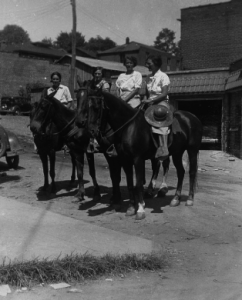 RGC: The mountain residents give the Book Woman an assortment of gifts, ranging from bread to a single pineapple Life Saver. What's a valuable gift you've received, tangible or otherwise, from telling this story or during your encounters with readers?
KMR: To be able to tell my tale about a little-known American portrait of the indomitable spirit of literacy pioneers that highlights the remarkable journey of my brave, Kentucky sisters who worked for the packhorse librarian initiative project has been a wondrous gift and a privilege and one of my greatest honors.
Other cherished gifts included early praise for The Book Woman of Troublesome Creek from Texas librarian Kelly Moore— "As I turned the last page, I found myself wanting to be more kind, compassionate, tolerant and charitable as I began a new year." When writing this novel, I knew it wouldn't change the world, but if I'd planted seeds of kindness, courage and empathy in the tumultuous and charged world we now live in, I think that's all I could hope for.
Another; waking up to a surprise email from Douglas Fugate, a former librarian and a descendant of the blue-skinned people of Kentucky. Mr. Fugate had just finished reading The Book Woman of Troublesome Creek and gave the work glowing praise and his highest rating. It was the strongest validation I could ever receive for my most important work. I may've cried a lot that day.
Author and dear friend, Sara Gruen, created a cool graphic inspired by The Book Woman of Troublesome Creek. Then the folks at the Alleghany Public Library in N.C. secretly commissioned an artist who then made it into a pillow using old overalls to surprise me. Singer Ruby Friedman Orchestra, whose songs have been heard on the Justified FX series, Netflix's Godless series, HBO's Mean Streets and more, read the book. Inspired, Ruby created a beautiful, soul-stirring tribute song titled "Book Woman of Troublesome Creek".
I am so very grateful for the gift of smart and gracious readers who have embraced Cussy Mary's journey and reached out and shared their inspirational stories about the power of books. There have been so many priceless and thoughtful gifts, it would take pages to honor them.
RGC: Books are feared at times by Cussy's patrons. One wants only to read the Bible, while another, Devil John Smith, complains that his children are using up valuable resources and time to read. What do you feel is at the heart of the suspicion about the written word, then and now?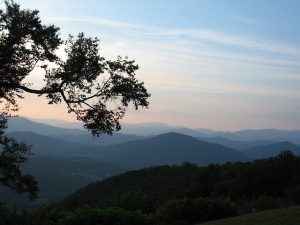 KMR: In the early history of eastern Kentucky, mountainfolk lived in isolation except for visits from peddlers and traveling preachers, etc. They mined timber and coal, survived off the land, hunted, farmed and raised livestock. The mid-1800s saw missionaries, churches, government and the coal companies coming in, calling for change, pushing their ideology, and buying up the Kentucky man's land at cheap prices.
By the time the packhorse initiative arrived in 1935, eastern Kentucky was in the midst of its most violent era, the bloody coal mine wars. Many were wary, as well weary of outsiders' new ideas, agendas—especially any ideas the government might push on them. The people of eastern Kentucky have long endured many hardships and sufferings. Even in today's news we witness the Kentucky coal miners working 16-hour shifts down in the mines, and the appalling theft of paychecks by rich coal companies—the wealthy who come in to stomp down on the poor's back to make themselves stand taller.
RGC: Cussy's blue skin is a source of trouble, given the dangerous prejudices that exist, but also a source of power, given the doctor's interest in her and his promise of protection. Can you talk about this complex relationship, and how you captured the experience of being one of the blue-skinned Kentuckians?
KMR: Doc is a complicated man, and at first we see that he is motivated to help Cussy Mary only to advance his standing in the medical community, gain fame and fortune and be given prestigious recognition in medical journals. Then we see a different kinship slowly unfold as he spends more time with the young packhorse librarian…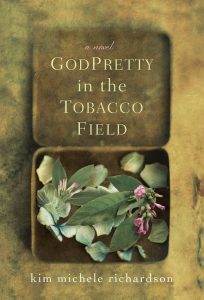 As a Kentuckian, I have a great love for the land and my people. I can relate to marginalized people and have much empathy for Cussy and her family and the people of eastern Kentucky—anyone who has faced or faces prejudices and hardship. It's not hard to feel pain deeply, particularly if you've gone through hardships in your own life.
RGC: After meeting Cussy's clients, who are often in the grip of extreme poverty and hunger, yet yearning for books, along with the treacherous conditions of arriving at their homes, it's hard not to finish The Book Woman of Troublesome Creek without gratitude for the ability to own and access books. Did writing this story have the same effect for you? Can you share a book you're particularly grateful for lately?
KMR: One of the greatest joys is having access to books, and the freedom to read any book of your choosing. I was raised in a rural Kentucky orphanage for my first ten years. On rare occasions, a tattered children's book would make its way into our dormitories. A rarity, and a gift, I didn't take for granted. To be able to be transported beyond the ugly, dull institution's walls to a magical place was joy. I was enthralled over the influence of the written word, the empowerment of literacy, and where a single book could lead you.
There are so many glorious reads I'm grateful for so it would be difficult to single-out just one. I'm also excited for a lot of books coming out in 2020 that I've had the opportunity to read in advance and I would love to share them with you. Before Familiar Woods by Ian Pisarcik is a haunting debut with unforgettable characters set in a poor and desolate landscape, along with Ashley Blooms' Every Bone A Prayer, a powerful, heart wrenching and healing tale set in Appalachia. Oona Out of Order by Margarita Montimore will mesmerize and blow your mind. For the nonfiction reader, the paperback release of The Ghosts of Eden Park by Karen Abbott arrives in the spring. It's a stranger than fiction tale, the nonfiction answer to The Great Gatsby, and the best nonfiction tale you've read in years.
---
Visit Kim Michele Richardson's website to read more, and discover other great author interviews on the Reading Group Choices blog!