February Spotlight:
Morsels for the Mind
The February Spotlight Group is Morsels for the Mind!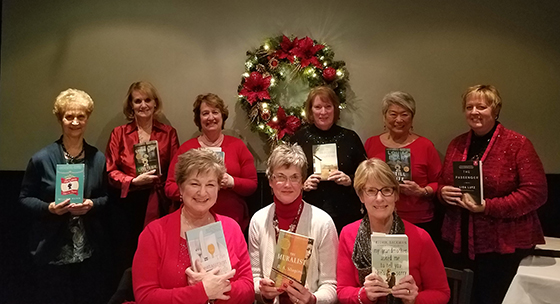 This month we're featuring the book group Morsels for the Mind which has been reading books together for 27 years!
Morsels for the Mind is from Grand Rapids, Michigan. They usually select books in January, at a potluck. Each member hosts one of the selections, researches the author, and provides food/drink that ties in with the book. They've discussed books in a hot tub, a red tent, and have gone on field trips and retreats together. This past year they had some very memorable discussions.
Their favorite books were: A Gentleman in Moscow by Amor Towles, Last Bus to Wisdom by Ivan Doig, and Hero of the Empire by Candice Millard.
Their website contains a wealth of book-loving fun, from pictures of discussions and book-themed snack spreads, to book lists and recipes!
Check out their book-themed recipes, such as the following spread, for A Gentleman in Moscow:
Blini
Latvian Stew with Apricots and Prunes
Dark Pumpernickel Rye Bread
Roasted Beet Salad
Mille-Feuille (Napoleons)
Russian Tea
To enter to become a Spotlight group, email a picture and description of your group to info@readinggroupchoices.com. If your group is chosen, we will send you and your group a box of discussable books and a copy of our most recent edition of Reading Group Choices!