Literary Wisdom on Graduation Day
Graduation day is the perfect day to share an inspiring and thought-provoking book. And we have a wide variety of recommendations just for you!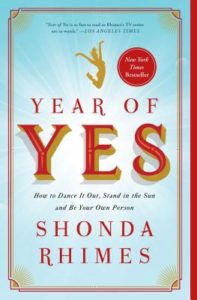 Year of Yes by Shonda Rhimes
She's the creator and producer of some of the most groundbreaking and audacious shows on television today. With three children at home and three hit television shows, it was easy for Shonda to say she was simply too busy. But in truth, she was also afraid. And then, over Thanksgiving dinner, her sister muttered something that was both a wake up and a call to arms: You never say yes to anything. Shonda knew she had to embrace the challenge: for one year, she would say YES to everything that scared her.
This poignant, intimate, and hilarious memoir explores Shonda's life before her Year of Yes–from her nerdy, book-loving childhood to her devotion to creating television characters who reflected the world she saw around her. The book chronicles her life after her Year of Yes had begun–when Shonda forced herself out of the house and onto the stage; when she learned to explore, empower, applaud, and love her truest self. Yes.
---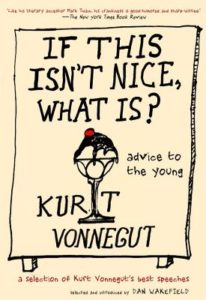 If This Isn't Nice, What Is?: Advice for the Young by Kurt Vonnegut
Selected and introduced by fellow novelist and friend Dan Wakefield, the speeches in If This Isn't Nice, What Is? capture this side of Kurt Vonnegut for the first time in book form. There are nine speeches, seven given at colleges, one to the Indiana Civil Liberties Union, one on the occasion of Vonnegut receiving the Carl Sandburg Award. In each of these talks Vonnegut takes pains to find the few things worth saying and a conversational voice to say them in that isn't heavy-handed or pretentious or glib, but funny and serious and joyful even if sometimes without seeming so.
---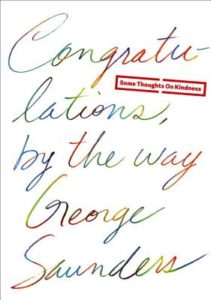 Congratulations, by the way: Some Thoughts on Kindness by George Saunders
Three months after George Saunders gave a convocation address at Syracuse University, a transcript of that speech was posted on the website of The New York Times, where its simple, uplifting message struck a deep chord. Within days, it had been shared more than one million times. Why? Because Saunders's words tap into a desire in all of us to lead kinder, more fulfilling lives. Powerful, funny, and wise, Congratulations, by the way is an inspiring message from one of today's most influential and original writers.
---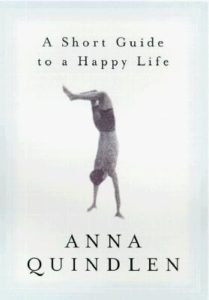 A Short Guide to a Happy Life by Anna Quindlen
Anna Quindlen, the bestselling novelist and columnist, reflects on what it takes to "get a life"—to live deeply every day and from your own unique self, rather than merely to exist through your days. Her mother died when Quindlen was nineteen: "It was the dividing line between seeing the world in black and white, and in Technicolor. The lights came on for the darkest possible reason. . . . I learned something enduring, in a very short period of time, about life. And that was that it was glorious, and that you had no business taking it for granted." Quindlen guides us with an understanding that comes from knowing how to see the view, the richness in living.
---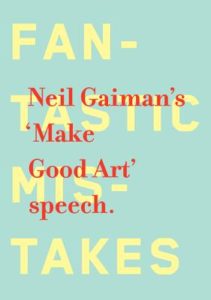 Make Good Art by Neil Gaiman
In May 2012, bestselling author Neil Gaiman delivered the commencement address at Philadelphia's University of the Arts, in which he shared his thoughts about creativity, bravery, and strength. He encouraged the fledgling painters, musicians, writers, and dreamers to break rules and think outside the box. Most of all, he encouraged them to make good art. The book Make Good Art, designed by renowned graphic artist Chip Kidd, contains the full text of Gaiman's inspiring speech.
---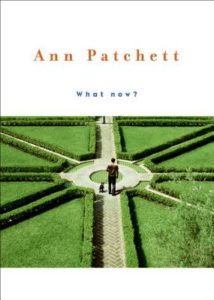 What now? by Ann Patchett
Based on her lauded commencement address at Sarah Lawrence College, this stirring essay by bestselling author Ann Patchett offers hope and inspiration for anyone at a crossroads, whether graduating, changing careers, or transitioning from one life stage to another. With wit and candor, Patchett tells her own story of attending college, graduating, and struggling with the inevitable question, What now?  She highlights the possibilities the unknown offers and reminds us that there is as much joy in the journey as there is in reaching the destination.
---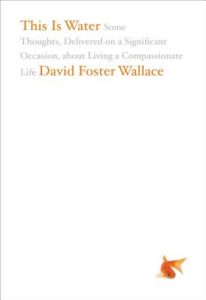 This is Water: Some Thoughts, Delivered on a Significant Occasion, about Living a Compassionate Life by David Foster Wallace
Only once did David Foster Wallace give a public talk on his views on life, during a commencement address given in 2005 at Kenyon College. The speech is reprinted for the first time in book form in This is Water. How does one keep from going through their comfortable, prosperous adult life unconsciously? How do we get ourselves out of the foreground of our thoughts and achieve compassion? The speech captures Wallace's electric intellect as well as his grace in attention to others. After his death, it became a treasured piece of writing reprinted in The Wall Street Journal and the London Times.
---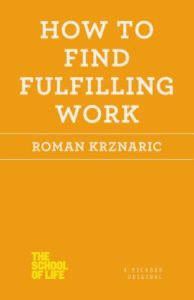 How to Find Fulfilling Work by Roman Krznaric
A practical and inspirational guide to examining your career and deciding whether it truly makes you happy—this book will show you the steps it takes to find a job that truly makes you thrive. The desire for fulfilling work is one of the great aspirations of our age. This book reveals explores the competing claims we face for money, status, and meaning in our lives. Drawing on wisdom from a variety of disciplines, Krznaric sets out a practical guide to negotiating the labyrinth of choices, overcoming fear of change, and finding a career in which you thrive. Overturning a century of traditional thought about career change, Krznaric reveals just what it takes to find life-enhancing work.
---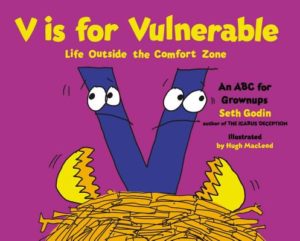 V is for Vulnerable: Life Outside the Comfort Zone by Seth Godin and Hugh MacLeod (Illustrator)
V is for Vulnerable is not for kids, it's for hardworking adults. It highlights twenty-six of Seth Godin's principles about treating your work as a form of art. Use it to make your work smaller, safer, and more likely to please everyone (and fail in the long run). Or use it as a lever to further push you to embrace what you fear and what you're capable of. This is unlike any previous Godin book and makes a great gift, both for loyal fans and those who've never read him before.
---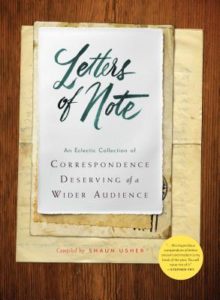 Letters of Note: An Eclectic Collection of Correspondence Deserving of a Wider Audience by Shaun Usher
This spectacular collection of more than 125 letters offers a never-before-seen glimpse of the events and people of history—the brightest and best, the most notorious, and the endearingly everyday. Entries include a transcript of the letter; a short contextual introduction; and, in 100 cases, a captivating facsimile of the letter itself. The artfulness of Shaun Usher's eclectic arrangement creates a reading experience rich in discovery.  Colorfully illustrated with photographs, portraits, and relevant artworks, this handsome hardcover is a visual treat too, making Letters of Note an utterly distinctive gift, and an instant classic.
---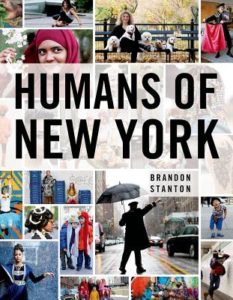 Humans of New York by Brandon Stanton
Now an instant #1 New York Times bestseller, Humans of New York began in the summer of 2010, when photographer Brandon Stanton set out to create a photographic census of New York City. Armed with his camera, he began crisscrossing the city, covering thousands of miles on foot, all in an attempt to capture New Yorkers and their stories. The result of these efforts was a vibrant blog he called "Humans of New York," in which his photos were featured alongside quotes and anecdotes.
---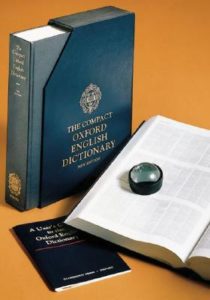 The Compact Oxford English Dictionary by Edmund S. Weiner (Editor); John Simpson (Editor); E. S. C. Weiner (Editor)
More than 100 years in the making, The Oxford English Dictionary is now universally acknowledged as the world's greatest dictionary–the supreme arbiter on the usage and meaning of English words, a fascinating guide to the history and evolution of the language, and one of the greatest works of scholarship ever produced. The Washington Post has written that "no one who reads or writes seriously can be without the OED." Now with the Compact, the world's greatest dictionary is within the reach of anyone who wants one.