Perfectly-Picked Titles From Around the Globe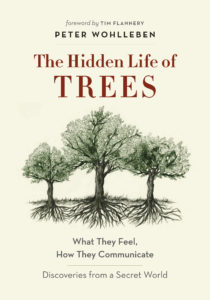 The Hidden Life of Trees
by Peter Wohlleben
How do trees live? Do they feel pain, or have awareness of their surroundings? Research is now suggesting trees are capable of much more than we have ever known. In The Hidden Lives of Trees, forester Peter Wohlleben tells their fascinating stories, revealing the delightfully complex life of the trees around us and the incredible role forests play in our world.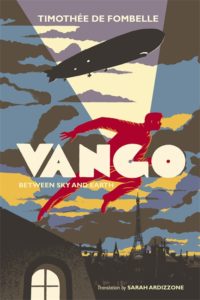 Vango: Between Sky and Earth
by Timothee De Fombelle; Sarah Ardizzone (Translator)
A breathless adventure from international award winner Timothée de Fombelle follows a young man on the cusp of taking priestly vows who is suddenly made a fugitive. A mysterious, unforgettable, and romantic protagonist, Vango crisscrosses the continent via train, boat, and even the Graf Zeppelin airship, with adventures that take him from Parisian rooftops to Mediterranean islands to Scottish forests.
A Prince Without a Kingdom: Vango Book Two
by Timothee De Fombelle; Sarah Ardizzone (Translator)
Narrow escapes, near misses, and a dash of romantic intrigue will rivet adventurous readers to their seats as Vango continues to unravel the mysteries of his past. In the shadow of a rapidly changing world, can Vango find those who have hunted him for so long and uncover his true identity?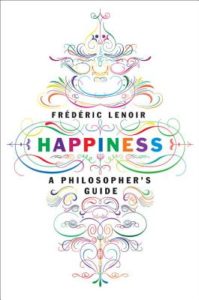 Happiness: A Philosopher's Guide
by Frederic Lenoir; Andrew Brown (Translator)
A huge bestseller in Europe, Frederic Lenoir's "Happiness" is an exciting journey that examines how history's greatest philosophers and religious figures have answered life's most fundamental question: " What is happiness and how do I achieve it?"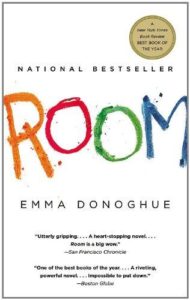 Room
by Jonas Karlsson; Neil Smith (Translator)
Room is home to Jack, but to Ma it's the prison where she has been held for seven years. Through her fierce love for her son, she has created a life for him in this eleven-by-eleven-foot space. But with Jack's curiosity building alongside her own desperation, she knows that Room cannot contain either much longer.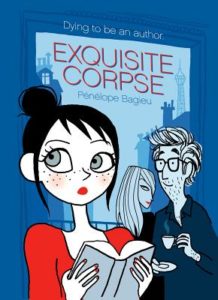 Exquisite Corpse
by Penelope Bagieu

Zoe isn't exactly the intellectual type, which is why she doesn't recognize world-famous author Thomas Rocher when she stumbles into his apartment . . . and into his life. Zoe doesn't know Balzac from Batman, but she's going to have to wise up fast . . . because Rocher has a terrible secret, and now Zoe is sitting on the literary scandal of the century.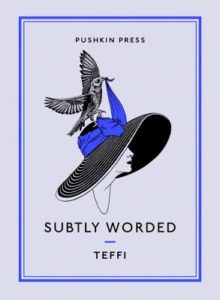 Subtly Worded
by Teffi; Anne Marie Jackson & Robert Chandler (Translators)
Teffi's genius with the short form made her a literary star in pre-revolutionary Russia, beloved by Tsar Nicholas II and Vladimir Lenin alike. These stories, taken from the whole of her career, show the full range of her gifts. Extremely funny—a wry, scathing observer of society—she is also capable, as capable even as Chekhov, of miraculous subtlety and depth of character.
The Eye Stone: A Novel of Venice
by Roberto Tiraboschi; Katherine Gregor (Translator)
Edgardo D'Arduino, a cleric and a professional copyist, is going blind–a curse for a man who makes his living copying sacred texts. But he has heard stories, perhaps legends, that in Venice, city of glassmakers, there exists a stone, the lapides ad legendum, that can restore one's sight. However, finding men who have knowledge of this wondrous stone proves almost impossible. After much searching, Edgardo meets a mysterious man who offers him a deal. Equal parts The Name of the Rose and The Da Vinci Code, Roberto Tiraboschi's English-language debut is a gripping historical thriller and a magnificent recreation of Venice in the Middle Ages.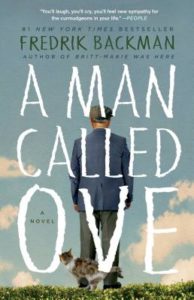 A Man Called Ove
by Fredrik Backman; Henning Koch (Translator)
A feel-good story in the spirit of The Unlikely Pilgrimage of Harold Fry and Major Pettigrew's Last Stand, Fredrik Backman's novel about the angry old man next door is a thoughtful exploration of the profound impact one life has on countless others. "If there was an award for 'Most Charming Book of the Year, ' this first novel by a Swedish blogger-turned-overnight-sensation would win hands down" (Booklist, starred review).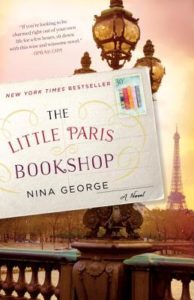 The Little Paris Bookshop
by Nina George; Simon Pare (Translator)
Monsieur Perdu calls himself a literary apothecary. From his floating bookstore in a barge on the Seine, he prescribes novels for the hardships of life. Using his intuitive feel for the exact book a reader needs, Perdu mends broken hearts and souls. The only person he can't seem to heal through literature is himself; he's still haunted by heartbreak after his great love disappeared.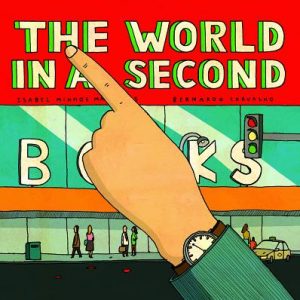 The World in a Second
by Isabel Minh Martins; Bernardo Carvalho (Illustrator); Claudia Zoe Bedrick (Translator)
Inspired by the question, -What are they doing right at this moment on the other side of the world?- this book focuses on natural and human events happening all over the world in the same second. Talking about the world and how it's so different in places but also so similar and shared, so incredible and surprising, the books takes us to New York, Chicago, Mexico, Portugal, Angola, Turkey, Greece, Italy, Hungry, Brazil, and South Africa, among others.
Nine Open Arms
by Benny Lindelauf; John Nieuwenhuizen (Translator)
Nine Open Arms, a vivid historical novel, is compellingly mysterious as well as dramatic, humorous, and entertaining. A ghost story, a fantasy, and a family saga all wrapped into one, the novel begins with the Boon family's move to an isolated, dilapidated house that seems to have turned its back on the world.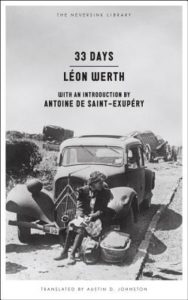 33 Days: A Memoir
by Leon Werth; Austin D. Johnston (Translator); Antoine de Saint-Exupéry (Introduction)
In June of 1940, Leon Werth and his wife fled Paris before the advancing Nazis Army." 33 Days" is his eyewitness account of that experience, one of the largest civilian displacements in history.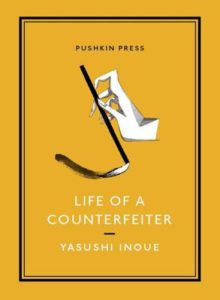 Life of a Counterfeiter
by Yasushi Inoue; Michael Emmerich (Translator)
A master forger lives in obscurity and disappointment, oppressed by the shadow of the artist whose work he copies.Unglamorous, unadorned lives such as this form the focus of Yasushi Inoue's tenderly observed, elegantly distilled short stories – two of which are appearing in English for the first time. With a haunting emotional intensity, they offer glimpses of love lost and lives wasted.
Notes from a Dead House
by Fyodor Dostoyevsky; Richard Pevear and Larissa Volokhonsky (Translators)
In 1849, Dostoevsky was sentenced to four years at hard labor in a Siberian prison camp for participating in a socialist discussion group. The novel he wrote after his release, based on notes he smuggled out, not only brought him fame, but also founded the tradition of Russian prison writing." Notes from a Dead House"(sometimes translated as"The House of the Dead") depicts brutal punishments, feuds, betrayals, and the psychological effects of confinement, but it also reveals the moments of comedy and acts of kindness that Dostoevsky witnessed among his fellow prisoners.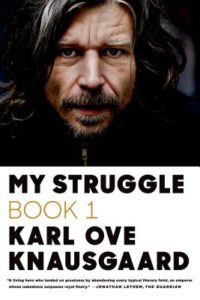 My Struggle
by Karl Ove Knausgaard; Don Bartlett (Translator)
"My Struggle: Book One" introduces American readers to the audacious, addictive, and profoundly surprising international literary sensation that is the provocative and brilliant six-volume autobiographical novel by Karl Ove Knausgaard. It has already been anointed a Proustian masterpiece and is the rare work of dazzling literary originality that is intensely, irresistibly readable. Unafraid of the big issues death, love, art, fear and yet committed to the intimate details of life as it is lived, "My Struggle "is an essential work of contemporary literature.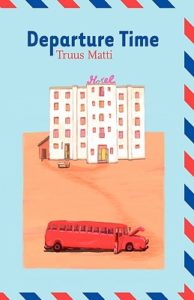 Departure Time
by Truus Matti; Nancy Forest-Flier (Translator)
A tale of a girl in two stories, one involving a fox and rat, the other involving her constantly-traveling father.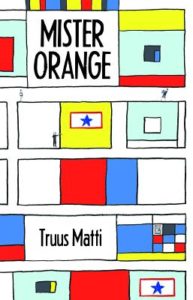 Mister Orange
by Truus Matti; Laura Watkinson (Translator)
The year: 1943. The place: Manhattan. Linus Muller works at the family grocery store in the east 70s. When his oldest brother, Albie, leaves to fight in World War II, Linus takes over the grocery deliveries. One of his customers is an artist from somewhere in Europe who arranges to have a crate of oranges delivered every other week. Over the course of these deliveries, an intimacy develops between Linus and the man, whom he knows only by the name he gives him, Mister Orange. In the peacefulness of Mister Orange's spare kitchen, they discuss the war, the future, freedom and imagination. Through these conversations, Linus begins to grow up as he wrestles with the realities of war and the place of comic books, superheroes and the imagination in human life.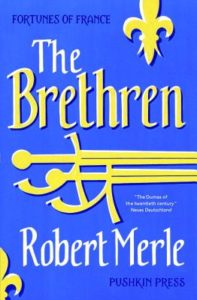 The Brethren: Fortunes of France: Volume 1
by Robert Merle; T. Jefferson Kline (Translator)
Consisting of 13 books written across 26 years, the adventure-filled epic Fortunes of France is one of France's best-loved historical fiction series. Two veteran soldiers retire to a castle in the wildly beautiful Perigord of sixteenth century France. But the country is descending into chaos, plagued by religious strife, famine, pestilence, bands of robbers… and, of course, the English.
In the course of their story we are introduced to a slew of vivid characters, including the fiery Isabelle, mistress of the castle, refusing to renounce her religious beliefs despite great pressure; the petty and meal-mouthed Francois, unlikely heir to the estate; the brave and loyal Jonas who lives in a cave and keeps a wolf as a pet; the swaggering soldier Cabusse; the outrageously superstitious Maligou, and Sarrazine, who once roamed as part of a wild gypsy band.