June Spotlight:
Women's Diversity Book Group
The June Spotlight Group is Women's Diversity Book Group!
Pictured at their annual local author dinner with featured author, Sabeeha Rehman who talked about her memoir Threading My Prayer Rug.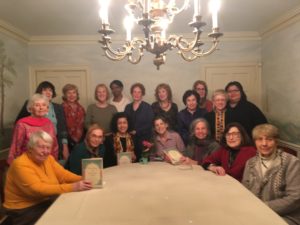 The group picks books for the year from over 100 choices at a Dutch Treat dinner at a local diner in January; the selections usually focus on these themes: February, Black History Month; March, Women's History Month; April, local author dinner; May, Asian/Pacific Islander Heritage Month; June, LGBT Pride Month; July, classic written by a woman; August, age issues; September, Latin Heritage Month; October, Disability Employment Awareness Month; November, Native American Heritage Month; December potluck dinner, Spirituality.
Selections preferred feature women authors and are widely available in local libraries. The group is co-sponsored by non-profit Women's Rights Information Center in Englewood and the Englewood Public Library. It was inspired by Washington, D.C.-based American Association of University Women's Adelante! Book Group.
To enter to become a Spotlight group, email a picture and description of your group to info@readinggroupchoices.com. If your group is chosen, we will send you and your group a box of discussible books and a copy of our most recent edition of Reading Group Choices!