March 2020 Spotlight: The Dinner & Breakfast Clubs
Our March Spotlight Group members cross borders with a student group!
Portland High School has a student book club as well as a "staffulty" book club.  The students' group is "The Breakfast Club," as we meet in the mornings before school.  The staffulty group is "The Dinner Club" since we meet after school.  The staffulty consists of 2 librarians, 12 teachers, 2 guidance counselors, 1 retired principal, 1 retired teacher, and 1 staff member. The librarians take suggestions for what books to read and then compile the reading list for the year.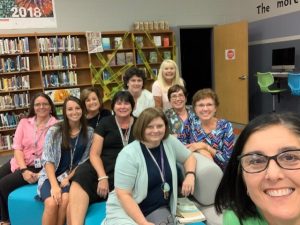 We meet at a different restaurant each month to discuss that month's book and enjoy fellowship outside the school walls. For the summer months, the club meets in June for a day out to McKay's Book Store, followed by lunch and a book discussion. Then in July we meet by the pool to discuss the last book before break, share lunch, and get ready for a new school year and reading list.
Through this group, each of us has read books we normally would not have picked up. Each of us has stepped outside our "book box". We read a variety of genres but have discovered we like mysteries and thrillers the best. The librarians have even worked in some of the young adult titles read by the students' club that came back with high remarks. We're currently reading The Hate U Give by Angie Thomas. Our next read is Behind Closed Doors by B.A. Paris.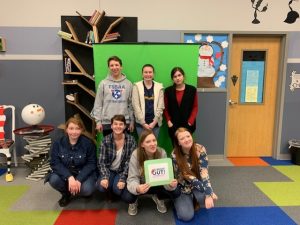 To enter to become a Spotlight group, email a picture and description of your group to info@readinggroupchoices.com. If your group is chosen, we will send you and your group a box of discussable books and a copy of our most recent edition of Reading Group Choices!
---
Want to meet our previous Spotlight Groups? Read about them here!