September's Spotlight is The Grant Book Club!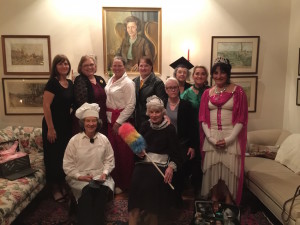 The Grant Book Club began meeting in the library just 3 years ago. We grew from a beginning of 6 to the 10 regulars we are today. Our group of ladies is multi-generational bringing a wealth of experiences and reading choices to the table. Monthly books range from current bestsellers to time worn classics. We have read Wuthering Heights and A Light Between Oceans, Ernest Hemingway and Fannie Flagg and much in-between.
Last fall we gathered for a murder mystery dinner party at a member's home where everyone was assigned a character ahead of time. Each lady stayed in character the entire evening making the event a marvelous success.