April 2019 Spotlight: Food for Thought
The members in our April 2019 Spotlight Group span the ages!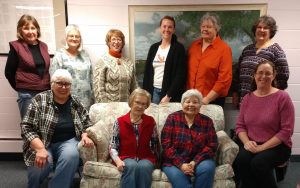 Food for Thought has been around since 2008. Typically 12-15 members meet in the Gering Library Community Room once a month to discuss a book.
"We make sure to include the One Book One Nebraska selection every year," says leader Sherry Preston. Our members range in age from their 30s to their 90s, which makes for great discussions and varied experiences.
To enter to become a Spotlight group, email a picture and description of your group to info@readinggroupchoices.com. If your group is chosen, we will send you and your group a box of discussable books and a copy of our most recent edition of Reading Group Choices!
---
Want to meet our previous Spotlight Groups? Read about them here!